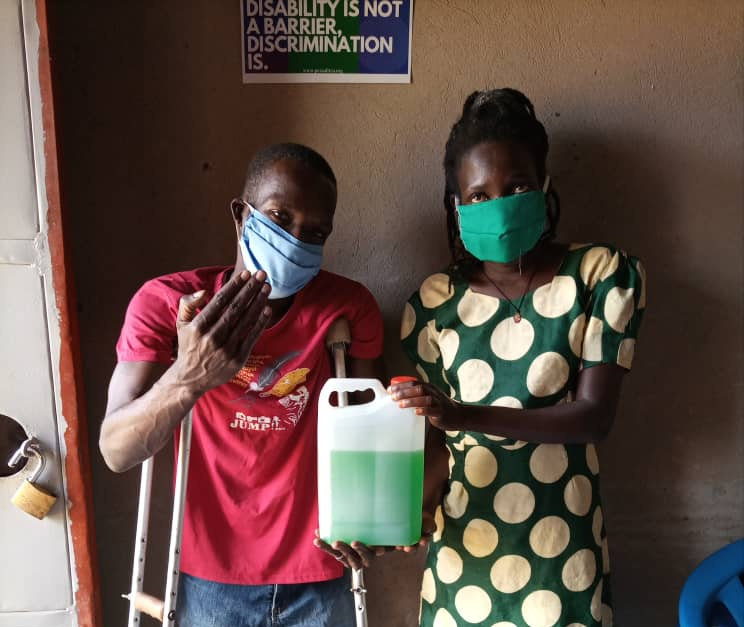 This report is being sent to friends of The Advocacy Project who have supported the production and sale of Clean Wash liquid soap in Gulu, Uganda. Since we first appealed for funds, in June, nine donors have given $2,123 to support this promising initiative. Thank you!
First the background. When the pandemic struck in March, the government of Uganda imposed a strict lock-down. Public transport was halted. Markets were closed. Schools were shut. The impact was particularly severe on persons with a disability, who had traditonally made a living doing informal work on the fringes of Gulu Town. They suddenly found their lives upended.
Soap has provided one answer. We have supported soap startups in Mali and Zimbabwe and found that it is, indeed, multipurpose! There is always a market for soap. Making soap is quite easy. It teaches a skill and builds teamwork. Also, selling your own soap does wonders for morale. Soap brings in money to people who need it. Last - and probably most important duing a public health crisis - soap improves hygiene.
We broached the idea with our long-time Ugandan partner, the Gulu Disabled Persons Union (GDPU). Patrick, the GDPU coordinator, put out the word to GDPU members and was contacted by Freeman, a professional soap-maker with limited mobility. Patrick and Freeman found four more volunteers including Margaret, Richard and Benson (photos) and presented AP with a modest proposal and budget. We advanced $350 to start training and launched this microproject in June.
Freeman's team got off to a quick start. They made 600 liters of high quality, all-purpose liquid soap within a month and gave it the sparkling brand name of Clean Wash. One of our talented assistants in Washington, Grace, produced a bright and frothy label. 2020 Peace Fellow Wilson provided remote weekly guidance to Patrick from Washington and contributed generously to our appeal. By mid-June the startup was off and running!
Clean Wash was one of two startups launched by GDPU with help from AP in response to the COVID-19 crisis. The second initiative helps Mama Cave, a professional tailor, to produce Mama masks and it is also doing well.
GDPU staff have taken on the task of marketing the soap and masks and both are now selling briskly. As of writing, GDPU has sold 450 liters of soap and is confident of meeting the target of 600 liters by the end of the year. Your donations have covered the production costs and paid a modest monthly salary of 150,000 Ugandan shillings ($43) to each member of Freeman's team. Profits from sales are reinvested in the business.
Like Mama masks, Clean Wash soap is benefitting from the government's response to the pandemic. Uganda is gingerly re-opening while well aware that COVID-19 is far from beaten. (Around 12,200 Ugandans have been infected and just over 100 have succumbed to the virus.) Public transport has restarted and schools were partially re-opened on October 15 for the graduating class only. Primary schools are expected to open fully in January.
This will guide GDPU's market strategy for selling soap and masks. All students attending school must own two facemasks. The schools are also required to provide hand-washing stations and soap, and ensure that students and staff are trained in hygiene.
GDPU has excellent contacts with schools and has approached six in recent weeks. All have expressed interest in buying soap and masks, and two have already put in orders. GDPU is offering a discount for bulk sales and selling 20 liters at a markdown price of 28,000 shillings ($8).
This promising response has led Freeman and Patrick to set a target of 6,000 liters in 2021. Schools are buying an average of 20 liters every two weeks, which means they will need 480 liters a year. If twelve schools were to buy soap from GDPU, it would bring in 8.4 million shillings ($2,400) - not enough to cover the entire cost of producing 6,000 liters in 2021 ($5,500) but a good start. We at AP are committed to supporting the startup through 2021 and hope to see our subsdiy reduced.
There is, of course the possibility that demand could greatly outstrip Freeman's capacity to produce, but Patrick would be happy to face that challenge. Most GDPU members are out of work and many would jump at the chance to make soap.
Finally, Clean Wash soap and Mama masks are part of a long-term program by AP and GDPU to improve the quality of education and hygiene in Gulu primary schools. As explained in these pages, we have installed accessible toilets and handwashing at 4 schools with a student population of over 3,000. The fifth school, Lapuda, is in desperate need of new WASH facilities and will receive our package as soon as the school reopens fully. The school's dynamic Principal Evelyn explains why the toilets are needed in this video. Evelyn has also ordered soap and masks from GDPU.
This Clean Wash soap appeal is now retired on GlobalGiving. But the work itself will gather pace and continue to offer another inspiring example of how civil society is responding to the pandemic. You will be hearing more from Freeman and his cheerful band of soap-makers!
In gratitude
Iain and the AP team.