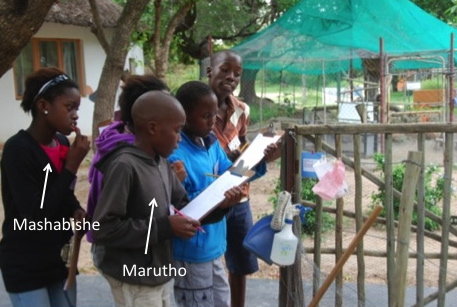 DAKTARI Bush School & Wildlife Orphanage welcomes every weeks local underprivileged children for a week of environmental education through the medium of our wildlife orphanage.
You have sponsored Marutho & Mashbishe for this week of education. These children and us thank you very much for make it possible.
Last week we picked them up at their school and they were very excited to get into the bus for their week at Daktari. Although they have heard a lot from other students who previously attended, they were very shy and curious about what they will experience.
We explained them they could be invited because generous people like you sponsored them. They were very surprised that individuals they don't know are so kind to give them this opportunity and they have also learnt about GIVING.
There was sad faces at departure time on Friday, but still, we couldn't stop them singing in the bus on the way back home. We have received numerous sms to beg for a return! Marutho & Mashabishe have now joined the wildlife club in the village and are continuing their learning toward a better environment.
Thank you very much for your support toward the education of Marutho & Mashabishe.
Best regards,
Ian and Michele Merrifield