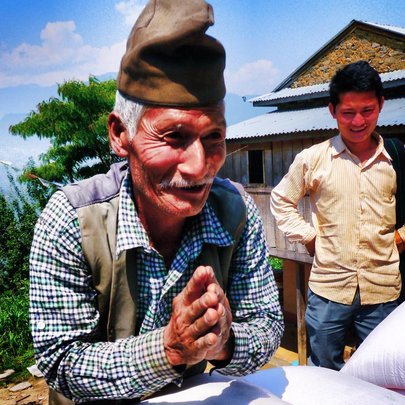 Thanks so much for supporting earthquake survivors like Gyla.
Gyla lives with his wife, their 3 children, and 2 grandchild in the community of Arukharka, which is about 65km north of Kathmandu. Gyla's family's stores of rice and lentils were buried in the earthquake rubble. What they were able to retrieve was contaminated by toxic dust from the building rubble.
This meant Gyla and his family were going hungry.
But now, thanks to you, Gyla's family, and other affected households, will have food aid, like rice and lentils, provided.
This will prevent Gyla's family, and other families in their community, from going hungry and suffering from ill health. It will also allow remind them that there is someone who cares.
To let you know how your donation is changing lives, we will be sending you regular reports about our work through GlobalGiving. If you ever have any questions about how we're using your donation please don't hesitate to email Andy@IDVolunteers.org.
One last time, thanks so much for helping to provide food aid for Gyla and his family!