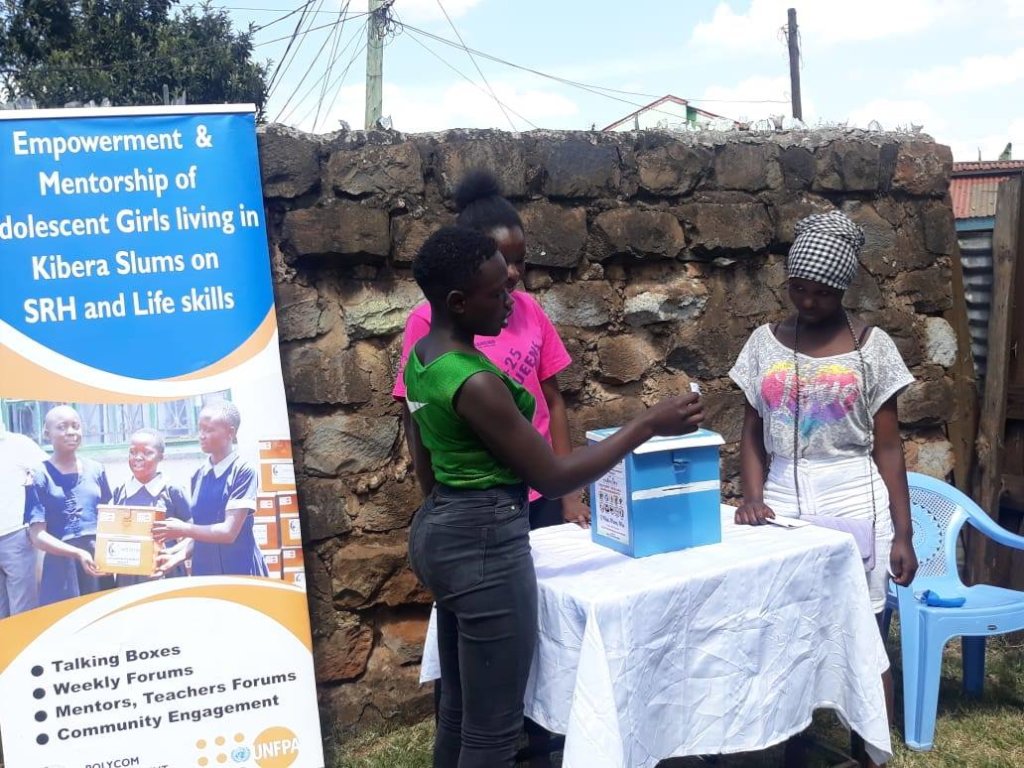 The Kenyan Ministry of Health confirmed the first COVID-19 case in Nairobi on 12thMarch 2020. This was the first one to be reported in Kenya since the beginning of the outbreak in China in December 2019. On 15th March 2020, the president ordered Kenyans to stay at home so as to avoid the fast spread of the virus. With this announcement, schools, companies, business were all affected. Polycom was not left out in this since most of our programmes are with schools and community.
To that effect we got a donor who donated a grant for the polycom team. 15 polycom team benefitted from this grant to enable them survive as the corona effects started bite. The package included; 2 packets of wheat flour, 3litres of salad, 2kg of sugar, 2kg of rice and a stipend of ksh.3,000 per person.
Polycom teamed up with parliamentary caucus on SDGs to sensitize the local community on the importance of washing hand at a local clinic. The challenge being that many residents did not understand what this animal called corona was and why so much hype was there about it. Polycom team was able to disseminate the much needed information on behavior change communication that is needed. Among those who came out women market women, small shop owners, school children, boda boda riders among others.
As an organization we took it upon ourselves to set up a water point outside the office where we were able to sensitize the community on the importance of how to correctly hand wash. In addition to that we also distributed sanitary towels and panties.
On 2nd April, we received a donation of 480 sanitary towels from the Nairobi Women Representative, We were able to distribute 420 pads to adolescent girls on 8th of April. Apart from pads we also gave out panties and masks.60 pads were donate to an organization in Homabay County..
During this COVID 19 season, times are hard for people and especially those who are in the informal settlement, where social distancing is an act that cannot be practised by virtue of the 12 by 12 shack houses that they live in. With the curfew and cessation many businesses have been affected. Even the women who used to earn their daily bread from washing clothes for people can no longer do that. In view of all these things that are going on, Polycom continued to play a key role in reaching out to those who are vulnerable and needy in the community especially the elderly, persons with disability and expectant mothers.
With the grant that we got from GlobalGiving, Polycom managed to buy and distribute food stuff to 40 households. The package included;2 packets of maize meal, 2kg of sugar, 2litres of salad oil 2kg of rice and 5 litres of detergent. 18 women, 10 elderly persons, 2 adolescent girls and 10 persons with disability benefitted from this package.
In addition to these 40 households, Polycom also distributed detergent to five health institutions within kibera on 14th of April 2020. These were Makina Clinic, Mareba clinic, Soweto Clinic, Ushirika and Benjamin Nzimbi. Water points at these institutions were labelled with COVID19 posters so as to sensitize the community on the importance and how to wash hands.
In the Rural village of Homabay County, Rachuonyo North Sub County, Polycom have managed to provide needy women with water barrels with support from Daria as well. There is no access to tap or any running water in the village. People rely on pond and stagnant water. The 10 very needy women can now trap rain water for drinking and use.
Polycom by virtue of having a good rapport with the Deputy County Commissioner of Kibra, was entrusted to do assist with food stuff distribution that was handed over to polycom on 14th April 2020 by the DCC office. The food stuff was to reach persons with disability, elderly and those who are very needy. The food was distributed on 17th of April, a total of 60 households benefitted.
On 17th of April another well wisher donated food stuff for 10 households. The package included the following, 2 packets of maize meal, 2kg of sugar, 2 litres of salad oil 2kg of rice. The donation was given as follows; one pregnant woman, one breastfeeding mother, one elderly woman, one person with disability, two sickly women, one young mother and three housewives. The food stuff was distributed on18th of April at the Polycom office.
Polycom has so far reached 650 during this pandemic, the schools are closed till January 2021, we continue to give the young girls opportunities to bring change in their communities. We leave No girls behind.