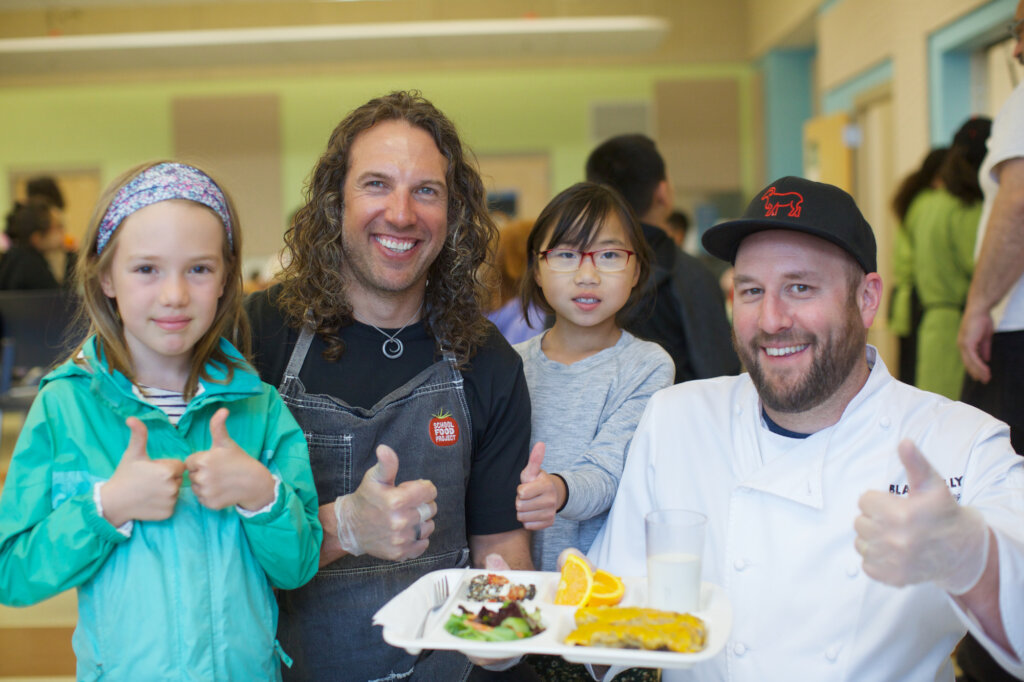 School food teams have just begun to be able to look at moving from 100% reactive to partially proactive. We have seen more and more districts reach out to us for support in ensuring they are doing more scratch cooking, trying to purchase more locally, looking at reopening salad bars, and doing all this while their departments are understaffed and facing huge supply chain issues that ricochet them back into reactive mode without warning. However, we have never felt so grateful for a community in my life. Not only are these folks showing up everyday, but they are also trying to improve even through significant obstacles.
Sometimes there are moments of serendipity, and we would say the launch of the Chef Ann Foundation/CA Community Colleges: Healthy School Food Pathways on Dec 15th, 2021 was one of them. One thing you can count on from the Chef Ann Foundation (CAF) is that no matter how complicated a solution might be, we will go after it. Innovation and progress are woven into the fabric of our organization, embedded there through Chef Ann's approach to change throughout her life. Three years ago, we started working with CA Community Colleges to build a pathway for culinary, nutrition, food service, and dietetics students to explore a career in school food. We are excited to have been able to launch the pre-apprenticeship piece of this work, and are eager to roll it out in the spring term of 2022. School food is a great career and we need more talented and passionate workers that want to grow their experience and lead scratch cook school food programs in our country. We hope that our work in California will pave the way for a national initiative that will build capacity in our school food teams nationwide.
The Chef Ann foundation has ambitious goals in 2022—and that's the way we like it. We are malleable and can flex as things change, but it's important to set your sights on some targeted outcomes. Here are just a few of ours:
FOOTHILLS FRESH
California school districts in Western Nevada County are enthusiastic about moving past the outdated model of processed food that is frozen, reheated, and wrapped in plastic, and moving to a healthier, sustainable model featuring scratch-cooked meals using local and regional foods. The nine Western Nevada County school districts will create a new formal collaborative agency, or Joint Powers of Authority (JPA), that will serve students during and after school as well as summer feeding needs.
This multi-district, rural school meal program is positioned to be a model for other rural school districts to follow across the nation and could eventually benefit millions of children. Having completed the assessment in 2021, we aim to work with these districts and our local partner Sierra Harvest to create a multi-year strategic plan, providing technical assistance to support the creation of the JPA and the start of the new school food program.

AZ CREATING YOUR KITCHEN

Greatly impacted by the challenges of COVID-19, the Chef Ann Foundation has engaged a collaboration of experts in school food, to lay the foundation for the future of scratch cooking and nutrition integrity for Arizona districts. Key to the success of the partnership is the role of the Arizona Department of Education. This collaboration will build upon the work already developed in the state through the Kitchen Creations Program. Having started the assessment process in 2021, we are excited to provide 9 school districts in Arizona with school food program assessments, strategic plans and technical assistance to support their journey in expanding scratch cooking.
VA FOOD FOR VA KIDS
Virginia Food for Virginia Kids is a statewide initiative that will advance freshly prepared locally-grown food, and food literacy in public school divisions across the state. This pioneering program will be the first of its kind to be managed and implemented directly by the state, through a new partnership with the Virginia Department of Education Office of School Nutrition Programs. We are working on this project with a group of amazing partners to assess districts' readiness to increase procurement and preparation of local food. We will be providing districts with individual assessment reports and technical assistance in addition to supporting districts with recommended School Food Institute courses.
GET SCHOOLS COOKING 5TH COHORT
An intensive 3-year program with an in-depth onsite assessment, strategic planning, technical assistance, and systems funding that provides districts with the operational knowledge and resources to transition from a heat & serve to a scratch cook operational model. Applications will open for this program in August of 2022. Some considerations as we look to continuously improve this program are increased recipe, menu and procurement support, potential partnerships that will increase procurement analytics, and modifications to our assessment process to provide more digestible content.

SALAD BARS TO SCHOOLS

Incorporating salad bars into school lunches can increase children's consumption of fresh fruits and vegetables. Schools with salad bars offer a wider variety of vegetables and fruits, and students can choose from that variety what they want to put on their trays. We are excited to open up the Salad Bars to Schools grant in partnership with the Whole Kids Foundation, and our collective goal is to grant out over 200 salad bars in 2022. We know there have been challenges with reopening salad bars, but we also know that many districts have done this successfully this school year and are excited to provide this opportunity to districts across the country.
CA COMMUNITY COLLEGE: HEALTHY SCHOOL FOOD PATHWAY
While there are tools and resources available to create change in school meal programs, the key to change is skilled labor that understands and can integrate the five key areas of school food change: Food, Finance, Facilities, Human Resources, and Marketing. Making the transition from heat-and-serve to self-operated scratch cook programs necessitates a dedicated and informed school nutrition team.
A study conducted by UC Berkeley's Center for Cities + Schools cited that one of the key challenges to expanding scratch cooking in school meal programs is having skilled staff and the necessary facilities and equipment to scratch cook. Chef Ann Foundation and California's Community Colleges have partnered in the development of a pilot pre-apprenticeship and apprenticeship program that will support education and workforce development for healthy school food change in California. The pre-apprenticeship will start in January of 2022 with a target of 55 pre-apprentices through the year. The apprenticeship program is slated to launch in the fall of 2022 with 25 apprentices in the program for school year 22/23.
FELLOWSHIP
It is time to not only lift up school food as a profession but also the impact of future leaders. The national School Food Fellowship program was designed to help with the next generation of such leaders that represent diverse communities and have the knowledge and skills to run a sustainable scratch cook meal program. They will participate in virtual learning sessions and hands-on experiences, including time in districts that are leaders in the scratch cook space. We hope to open the application for our Fellowship program in April of 2022 with the target of 12 fellows to start in the school year 22/23.
SCRATCHWORKS
As founding members of this new collective, we are excited to help build a trade network for school food operators that would like to increase scratch cooking. Our primary focus in 2022 will be to help educate legislators around the importance of scratch cooking and how it can affect change in childhood health, planetary health, career development, health equity, and academic achievement. We will do this through supporting the passage of the Child Nutrition Reauthorization and the incorporation of support and incentives for scratch cooking.
We have learned over the last two years that it is good to set goals, but that you also have to ensure you are ready to accommodate the unknown. We hope to stay on course in 2022, and we will be ready to make any adjustments necessary to ensure that we continue to move the mission forward.