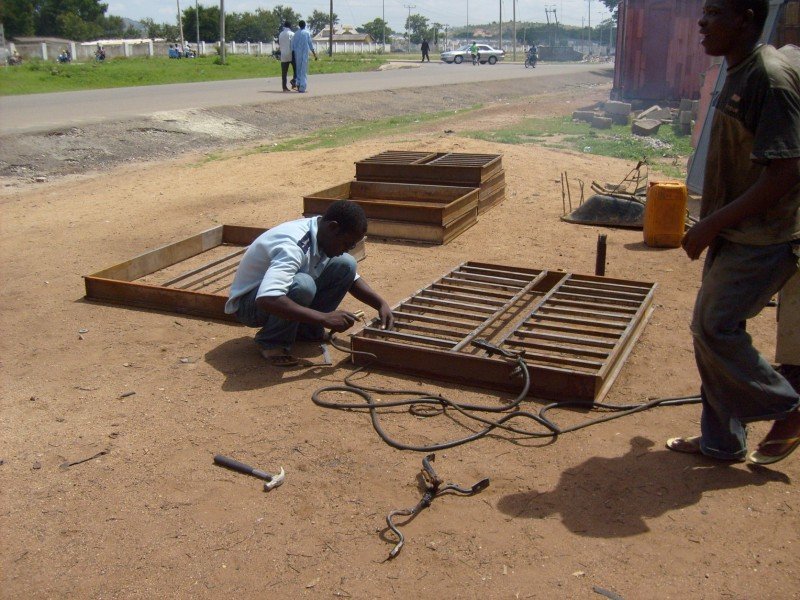 Thank you deeply for donating to expand the Hamza Welding Program in Bauchi Nigeria. Because of you and donors like you our project has been fully funded and will not start to expand and change lives!!!!
I wanted to take a moment and tell you who Hamza is, what his business has accomplished and what it will now do for his community because of your support!
*Please note this report comes directly from Hamza and our Nigeria staff on the ground and may contain some grammatical errors. Leadership Initiatives wanted to give you the donor as direct a connection on the ground as we possibly could. Please also note that we can arrange a conference call with you and Hamza our staff or any one the ground if you would like to know more!
Hamza Ya'u, was born in 1985 at Kofar Fada, but later settled at Yelwa Markaranta of Bauchi, he has thirteen (13) siblings and his father is a local farmer. His father could not afford to send him or his siblings to school. He spent most of his time on the farm with his Dad during the raining season and he just sits idle at other times. LI's intervention greatly transformed his life and that of his family. He was trained on the welding skill and He who earned nothing before and sat idle when he was not on the farm with his dad, now earns about N300 – N400 daily, giving him the financial power he needs to take care of himself and even help his family. Also he is working on enrolling in an adult education system to help him get the education he couldn't get prior to LI's intervention, and now even help to send about four (4) of his siblings to school.
Hamza started the business after LI's intervention with small number of tools and he was able to keep the business running to date. From the day the business was established to date, he was able to produce many products of higher demand in the community. Allowing him to fix doors, windows and gates for low income families and work to transform his community.

Hamza's welding business has contributed to the development of Yelwa community in terms of providing affordable services to their door steps and building the capacity of youths as well. Hamza is trying to solve the problem of youth unemployment in his own little way, which has contributed largely in helping the Yelwa community. Currently the business employed 6 people and with your support Hamza will be hiring up to 6 new staff members and expanding his business beyond the Yelwa community so he can help to build up more infrastrucre for all involved.
The success of the welding business has also lead the beneficiary developed the interest of assisting orphans and other children in the community to attend schools.
Members of Hamza's family are his brothers, sisters, uncles, and nephews are benefiting from the business in terms of family contribution especially when someone is seek among the family or by supporting his siblings' education. The community members/people who are also befitting from this business are close friends, neighbors and orphans etc. Some are benefiting by learning the skills while others receive support especially orphans when it comes to their studies.
Thank you, for your support and donation from the bottom of everyone's heart here at Leadership Initiatives. We would love have you involved with Leadership Initiatives if you ever want to help grow our programs, learn of ways you can participate or have new ideas on how to develop our programs please contact me at mbailly@leadershipinitiatives.org. Your hard work and intelligence is the greatest gift we could receive as we try and create a better world.
Also if you had a moment could you tell us why you donated and how you heard of us, we are always trying to better refine our message and reach more people with our call to change. Thank you for also helping us, understand amazing people like you better!
Wishing you, your friends and especially your family the absolute best this Spring!
Sincerely,
Marshall and the entire LI family