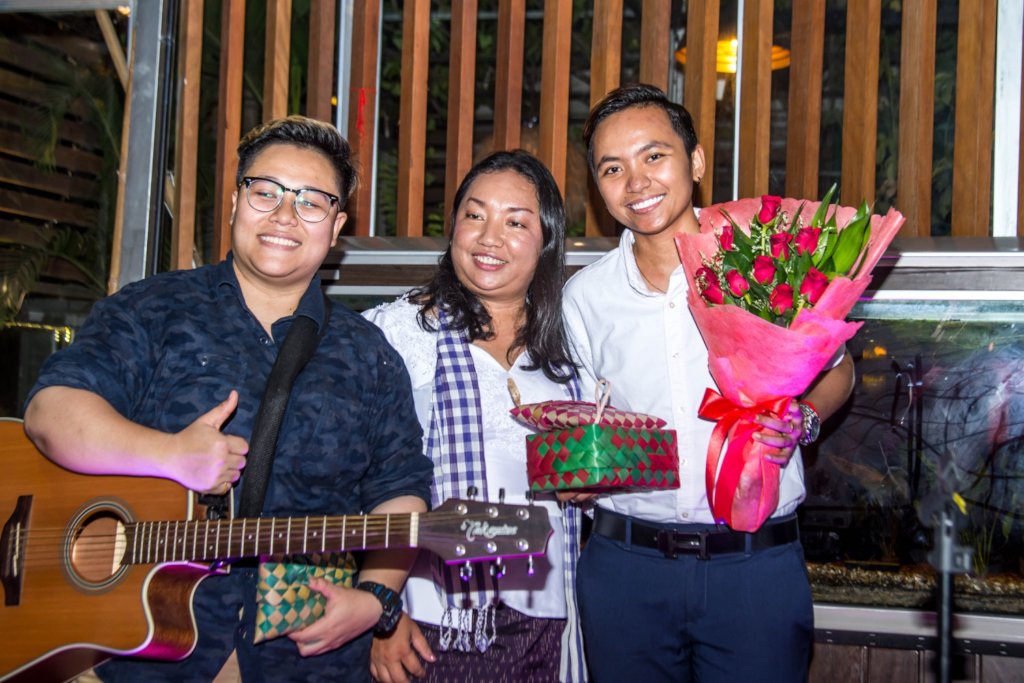 2017 was a year of growth for WRC with more people than ever attending our workshops and using our counselling services. As times are tough in the global economy some of our previous donors were unable to continue their support. In addition, the Donor Relations Manager role had been vacant for some time. The combination of these factors meant that unfortunately, our income was unable to keep up with the demand for our services. We could see that regular support was in the pipeline from our committed long term donors, but we still had a few months to get through before we would receive these funds.
In early 2018 we were very worried about the future of WRC, but determined to continue providing much needed counselling and referral services and informal education workshops to the women of Siem Reap. So much has been achieved in the last 7 years we simply had to carry on.
Our first step was to write out to our wonderful current donors and explain our predicament, asking if it would be possible for them to bring forward their support to fund the gap. We were delighted that a few of them were in a position to support us and would like to extend a huge thank you to those who supported in this way.
This step was coupled with a high level look at our operations as we dived into our budget and activities and see where we could make some changes in order to achieve more with less. As there have been changes in our activities over the last few years part of our review focussed on the staff team to explore how we could work more efficiently. Some of our roles were combined and some roles were less in demand, so absorbed by other staff. Ultimately the team was consolidated and a core team of 6 remain. We would like to thank the board for their support in this process and the staff for their understanding and patience.
Things were looking more positive, but we still needed a funding injection in order to get us through the next few months. It was at this point we decided to launch an emergency online appeal through Global Giving. We were absolutely delighted at the support that came from our friends and supporters in Siem Reap and all over the globe, your generosity knows no bounds – thank you. The dedicated page for the Emergency Appeal raised $4166, however we know the true total to be higher as the publicising of this page brought in local cash donations and donations through facebook onto our regular Global Giving page.
In addition, we organised our Annual Dinner and Auction that was very generously supported by some magnificent hotels, artists and businesses in Cambodia, and across Asia. The Siem Reap community came out in force to sponsor the event and bid on the evening and some truly amazing hotel stays and art work was won and raised $9031 for Siem Reap's women. Thanks to all sponsors - local and international for your support.
We were also honoured to be the beneficiary of Neovi Vlassopoulou Wales art show at the Strangefruit & Jam Gallery. A wonderful evening of magical artwork auctioned in our honour and raising $1200. Whilst at the Park Hyatt the local community were supporting WRC with the "Hang a Khmer Star of Hope, Peace and Love" initiative – where Khmer New Years blessing stars were bought and hung on their beautiful, monk blessed tree – this raised a fabulous $334 and was hugely championed by the WRC staff who encouraged family and friends to get invovled.
People were involved at all levels and al over the globe with board member Bouny and her friend Anne joining the fundraising efforts and raising $1675 between them through a 5k run in Canada.
Many local businesses and friends heard the call to action and reached out to see how they could help and quiz nights, book launches and community days have been organised to raise awareness and funds to keep WRC going. It's simply been amazing and in total over the last few months we have raised around $20,000 which has been a true lifeline.
We would like to take this opportunity to share a huge thank you from the whole team and the women and families of Siem Reap who we support with vital counselling and referral services and workshops.
Thank YOU for helping us keep our doors open. It is so important for us to be able to continue our vital services in Siem Reap and here is why….
Meet Phalla….
When Phalla* attended our health workshop at Women's Resource Center, she was pregnant. She is a young mother that has very limited to access information about health education regarding reproductive health, family planning and prenatal care and postnatal care. Phalla attended the workshop for 7 sessions at Women's Resource Center. Before the learning all these topics, she felt very scared and uncomfortable to discuss with her husband about contraception.
After, delivering a healthy baby boy "I am more aware about what family planning is and what contraception methods are available in Cambodia now. And after learning the session at WRC, I feel more comfortable to speak to my husband and discuss contraception and he is very supportive with my idea".
Meet Phanny….
Phanny* is 32 years old with 2 sons. She attended a Riel Change workshop at Women's Resource Center. Her expectation (vision board) before learning the 6 sessions of workshop included 3 goals;
1) Saving money to buy a bicycle for her son
2) Negotiate with her husband about the impact of using alcohol
3) Grow more vegetable to sell
She said that 'Learning saving, budgeting and tracking income is all really important for me as a small vegetable seller at the market.'
Before Phanny had no idea how much she earned and spent for her business, daily food and child's education but after attending 6 sessions at WRC about money management Phanny tracked her daily income and expenses and knew how to budget as well. She said "I have achieved my goal because I got some saving to buy a bicycle for my son as I promised him". Her husband also sees what she had learnt and more understand and respect her. He has reduced the amount of alcohol he drinks.
Not just buying the vegetable from neighbours and others, Phanny also have some habit of saving to buy crops for growing own vegetable in her garden. She is very happy about these changes.
*names changed to protect identity
We are so honoured that so many of you have stepped up to support WRC with donations, events and more. We are so pleased to have made it through the early part of the year, but are not entirely 'out of the woods' yet. Our focus remains on keeping our admin costs lean, yet not losing the quality of our services, and we continue to fundraise in order to keep going. Thank you for sharing our story and appeal and your support!