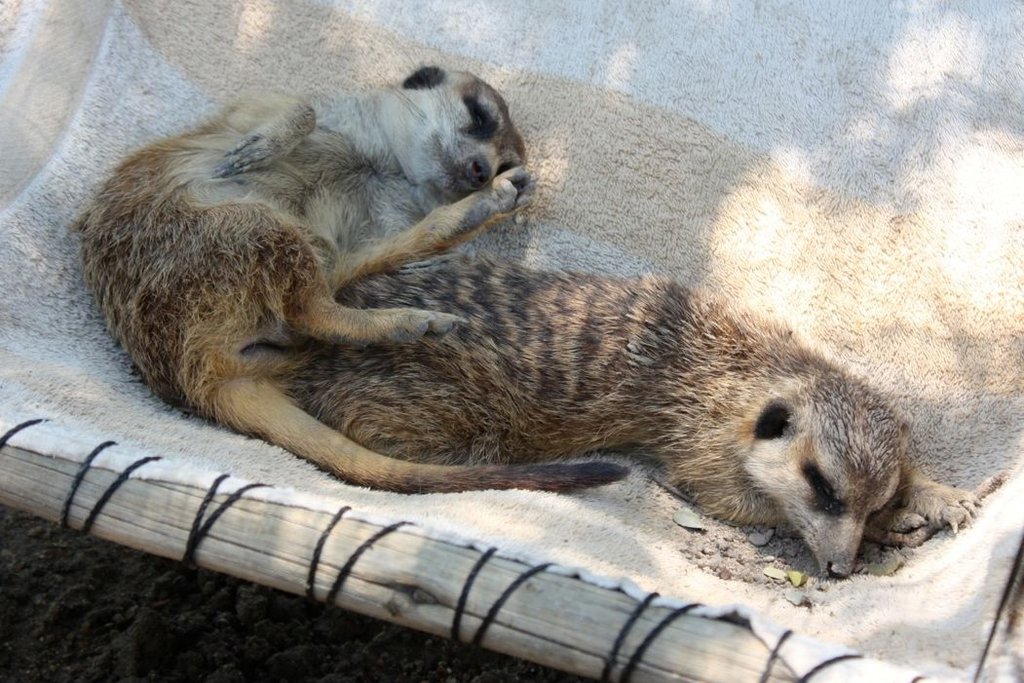 Hello and Happy New Year!
At Christmas time you made a very generous donation to one of our animals, either on behalf of a loved one, or personally from you. Here is a little update about the difference your festive gift has made...
Meerkats - Gasper and Tiki
Gasper and Tiki were hand raised as pets but when they started to bite, their owners no longer wanted them and in 2010 DAKTARI became their home. Your Christmas donations allowed us to enhance and enrich the boy's enclosure, something we haven't been able to do for a while. Their home is now much more interesting and stimulating– their favourite addition being a new hammock (pictured above) which they sunbath in together everyday!
Mongoose - Bandit and Munchkin
Bandit (pictured below) and Munchkin were both hand raised at DAKTARI after separately being found abandoned in the wild, they are now best of friends! Your Christmas donations allowed us to enhance their enclosure with new underground tunnels, a rockery cave, hanging toys and swinging hammock, which they absolutely love playing with together!
Bushbaby - Banchee
Banchee was also hand raised as a pet and when he started to bite, he was no longer wanted and in 2013 DAKTARI became his home. Your Christmas donations allowed us to improve banchee's enclosure with new jumping and climbing apparatus, making it much more interesting for him on his night time adventures! He also got one of his favourite biscuits (pictured below) which he is treated to every so often.
Caracal - Shangaan
Shangaan came to DAKTARI in 2011 after being hand raised as a pet and then becoming hard to manage. Your Christmas donations are allowing us to make Shangaan's home much more interesting, we already had plans to extend his camp, which are underway right now and with your added support we can really enrich the inside and make it exciting. He also enjoyed a large chicken on Christmas Day.
Thank you!
Once again, I would like to say a huge thank you on behalf of the DAKTARI animals for your support and belief at Christmas. We were all astounded by the overwhelming response this project received and only wish that you could see the impact every day like myself and the rest of the team do. I hope that this report gives you atleast an idea and that you enjoyed reading it - however, if you would like to see for yourself you can come and visit us! For more information on volunteering at DAKTARI simply click here.
From Gasper, Tiki, Bandit, Munchkin, Banchee, Molopo, Tugela, Shangaan and me, we hope you are enjoying the New Year and wish you all the very best for 2014.
Amy Hulme - DAKTARI Marketing Manager
E: marketing@daktaribushschool.org