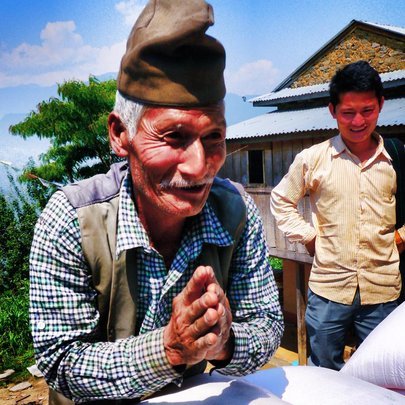 Thanks so much for helping to provide a permanent classroom Rashan.
Rashan originally comes from Sindhupalchok district, an area north east of Kathmandu that was one of the hardest hit by the earthquakes. His family's home was completely destroyed by the disasters.
Rashan recalls the complete chaos and fear that enveloped everyone in the area. The scale of death and destruction that he witnessed is obviously hard to put into words. Basic provisions of food and water were severely affected, adding to the emotional stress.
After the earthquake Rashan and his family moved to stay with family members in Bhaktapur and he is currently attending the Shree Bhim Adarsha School.
But even here the horrors of the earthquake are not far away. Rashan's new school was also damaged and this serves as a constant reminder of the earthquake that destroyed his home.
Also, because of the damage to the school Rashan and his classmates have been forced to learn in a cold, uncomfortable temporary classroom. This was further damaging Rashan's future by denying him a quality education.
But now because of your generosity, Rashan and his classmates will be able to move out of their cold, uncomfortable temporary classroom as soon as possible.This will allow them to more effectively learn the skills they need to build bright futures.
We'll send you updates about how your gift is changing the lives of Rashan and his classmates, right here on GlobalGiving. Should you ever have any questions about how we're using your donation, please don't hesitate to email Andy@IDVolunteers.org. We'd love to hear from you!
One last time, thanks so much for giving Rashan and his friends back their education.