Thanks To Crowdfunding In Cambodia, They Are Finally Free From Land Mines
With the force of the GlobalGiving community behind them, villagers in northern Cambodia are clearing dangerous land mines. Learn more about what your supports means to brave Cambodians like Leas, Jay, and Touch.
---
Meet Leas. 
She deactivates land mines in Cambodia with The HALO Trust. 
Her mother died when she was young, and her father lost his leg to a land mine during the Cambodian Civil War in the early 90s. 
Leas, 20, is the oldest child in her family and is also the sole breadwinner. Every day, as Leas works in the minefield, her father brings her lunch. He is very proud of his daughter.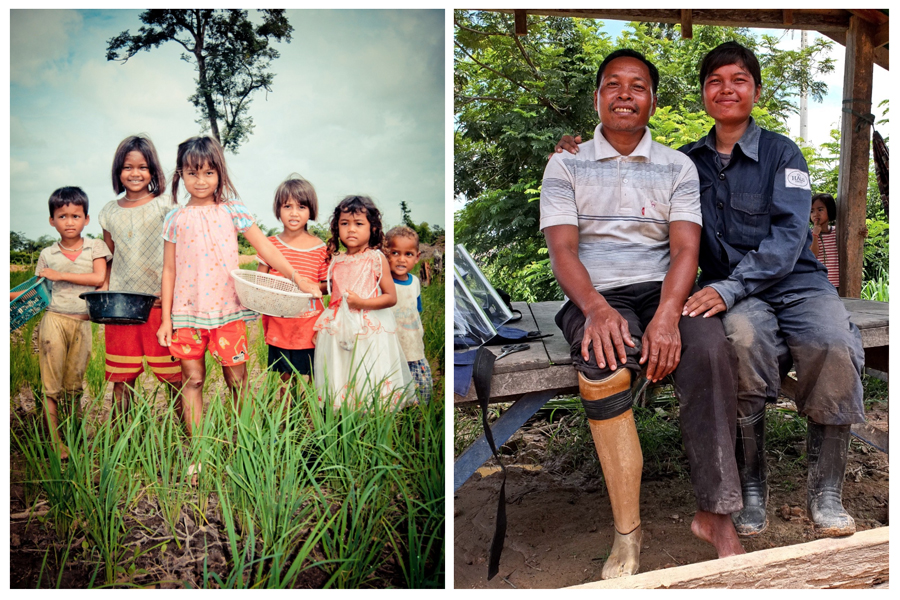 Leas, right, with her father. Children, left, collect mushrooms from a mine-cleared field.
People who lived in mine-affected villages are proud of Leas' work, too. One mom, Jay, told The HALO Trust about her tragedy and her hopes for the future: 
"Last year, my little sister and two of my sons went off to pick vegetables, and my sister trod on a mine. Our boys were walking close behind her, and they were both hurt badly, too. We knew it was a mined area, but we thought there would be a lot of vegetables to pick because no one ever goes there—and we told the kids to be careful and walk close behind my sister. We took my sister and our sons to a free hospital in Thailand for treatment, but my sister lost her leg anyway and both of our sons had deep cuts from the shrapnel all over their bodies. Still, they were lucky. We can't wait for HALO to finish working here so nobody else gets hurt."
De-mining is now complete in one man's village. The man, named Touch, lives in a village in northern Cambodia:
"I am very happy here. I am not afraid at all as there are no more mines to be destroyed where I live," he said.
The HALO Trust turned to GlobalGiving to raise money to recruit and train de-miners like Leas. The nonprofit met its crowdfunding goal of $25,000 thanks to supporters like you! For more inspiring stories about your impact, sign up for the GlobalGiving e-newsletter.