Supercharging Employee Engagement: A Conversation With Xilinx
Business leader Patty Nation gives you an inside look at how Xilinx—a technology company with more than 3,500 patents—inspires and engages its employees.
---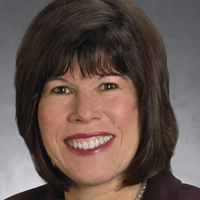 Patty Nation
Director of Global Corporate and Community Engagement, Xilinx
Who She Is:
Patty Nation has a mantra: service above self, embraced by faith, loving family, and a giving community. As the Director of Global Corporate and Community Engagement at Xilinx, Patty has been making an impact on communities in which Xilinx employees around the world live and work for over 10 years. Through her focus on reciprocal relationships in the private and public sectors, Xilinx has received numerous awards for their contribution to various communities. Patty is a graduate of San Jose State University.
Q: Xilinx has made employee engagement a priority. It fits into every nook and cranny of the business. What are the most effective programs?

A: There are three areas that resonate with our employees. First is the matching of our employees financial contributions in concert with their volunteer hours. Next is the ability for our employees to recommend to our global committees those organizations that they believe would benefit from a grant. Lastly, our signature programs. We are supporting the American Cancer Society through the Cambrian Relay for Life—we "paint" our campus purple, and we have two weeks of celebration and FUNdraising before the walk. Our largest initiative is the Global Educational Ecosystem. Through this program, our employees support schools through volunteerism, hosting field trips, and even going so far as to develop a two-week summer STEAM Academy.
Our approach is not to be "drive-by-donors" or pure philanthropists, but rather create true public-private partnerships focused on reciprocity as a community.
Q: Why have these programs been so successful?

A: Our employees really enjoy service projects, both those hosted on campus or at a nonprofit location. The employees, while gifted with their business talents, often want to do hands on projects. We were laying sprinkler pipes and new sod at one location, and one of the engineers said he specifically wanted to work on this—not only to help our community partner, but he learned a new skill he could use at home! Our employees are very generous with their time, talent, and treasures.
Q: How do you see adding corporate social responsibility activities into new areas of the company's operations over the next year?

A: We are looking at opportunities to have a deeper impact and a more global reach. We are very optimistic in the opportunity to reach our small offices and locations through online giving and simple service projects. We did the first service project of this kind in December with our offices in Plano, Texas, and it was well received by the employees and the benefiting nonprofit. The online giving platform has the potential to support philanthropy in multiple departments, including human resources and sales.
Q: Describe your employee-focused giving philosophy and how it serves XILINX.

A: Our employees are the hub of our giving. We only take requests for grants from our employees. They have the opportunity to submit a grant to the local giving committee. We then review and approve the funding to make sure it aligns with our corporate direction and giving guidelines while understanding the needs of their local community and culture. We also have corporate programs that aim to go broader. Our giving committees are in San Jose, Calif., Longmont, Colo., Dublin, Ireland, Singapore, and India. We have recently established a team in China. We strive to give globally, but act locally!

Featured Photo: Transform the Lives of 600 Unemployed Young Brazilians by Rede Cidada