GlobalGiving's Youngest Staffer Breaks Down Myths About Millennial Donors
It seems like I can't read any crowdfunding or fundraising blog without hearing about this mysterious group of donors just waiting to be tapped. Millennials. Let me dispel a myth: There is nothing mysterious about millennials. I am a millennial and odds are you know a few yourself.
---
A millennial is someone who was born between the years 1980 and 2000. We grew up with household computers, mobile phones, and ready access to information. We are the most "plugged-in" generation yet, but we also had parents that lived through the civil rights era and grew up with a culture of civic engagement. Just because millennials take less time to read articles or posts online doesn't mean we are shallow or don't care, it means that we know what we like and how to find it, quickly. Millennials spend a larger portion of our day interacting with media (Facebook, texting, TV, radio, etc.) than previous generations, 18 hours per day by some estimates!
So, the question that you want me, as a millennial, to answer is: Are millennials even interested in charity?
Yes! Research from GlobalGiving, the oldest and largest crowdfunding platform for nonprofits, indicates we are. Millennials now make up half of GlobalGiving website visitors. Many of us are exploring the GlobalGiving community just waiting to form a connection!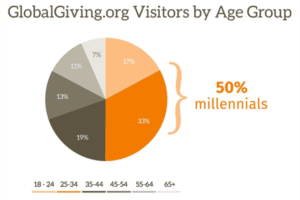 However, as you can see by the pie chart below, that same age group only donates about a third of the volume we see coming through GlobalGiving, but this could soon change as more millennials reach working age. Studies indicate that millennials may not feel as strong an allegiance to a single nonprofit organization, as was more common in other generations. We identify with the cause or the unique way your organization is working to solve a social problem. This is why branding and storytelling are so important!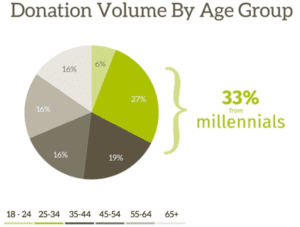 Here are four important tips, straight from this millennial's heart and mind, but also based on my experience at GlobalGiving.
1. Focus on telling stories about your programs and beneficiaries rather than about your organization.
At GlobalGiving, I get calls all the time from millennial supporters who want to give again to an organization but only remember the project photo and description of what the nonprofit does. Make your messaging unique so that you can keep supporters you already have and gain new ones.
2. Remember that, to millennials, engagement is relative.
Some millennials can feel like they are a part of a nonprofit's community of supporters just by subscribing to a mailing list, while others need to physically volunteer their time or skills to feel a connection. It's all about trying to move supporters up the engagement ladder. For example, you could try to get your Twitter followers to sign up for your newsletter, then ask them to start a fundraiser, then maybe give them an opportunity to volunteer for your cause. All of these interactions may solidify your relationship with your younger supporters so that in the next 10 years, when they have more disposable income, they will feel kinship to your organization over others with similar goals. This is called the "Act to Give" model and many nonprofits are now using this to their advantage.
3. Before you ask for money, ask for support.
It is important to keep in mind that many millennials view their time, money, and skills as equal assets. Why not try asking them for something besides donations next time? One great idea is to give them the tools to tell your story. During your next campaign, try including some sample tweets, posts, or emails with your most powerful messaging and ask supporters to spread the word. There are lots of great tools and ideas you can test out to help you engage your millennial audience that don't involve a donation ask:
Create a petition on Change.org About 10 percent of signers usually opt-in to your newsletter list so this could be a great way to engage current supporters and gain new leads.
Ask for feedback. Harness your supporters' skills and expertise by asking for their input on your new website or video. Pro tip: Use Typeforms for super-speedy surveys.
Create a fundraiser page. Give your supporters the tools to raise money for you! Regularly promote the fundraiser tool on GlobalGiving to your audience to give millennials some different options.
Post volunteer opportunities. GlobalGiving offers free volunteer listings to all nonprofits in our community.
4. If I could only bust one myth about millennials, it would be this: not all millennials are alike.
The most important thing to remember about millennials is that we are not all the same. Don't believe anyone that tells you a "secret hack" to win over an entire generation of more than 80 million people ranging from parents to kids in high school. It is more important to understand the trends and shifts in communication styles and methods that are characteristic of this generation.
As we tell our nonprofit community, it's important to test potential changes to your communications or campaigns with your own donor audience, millennials and non-millennials alike. There's no one-size-fits-all solution!
Featured Photo: CDI Apps For Good works to power a generation to change the world with technology.