Behind The Bicycles: What A Nonprofit Learned From A Simple Survey
A nonprofit armed 150 school-bound girls in rural India with bicycles. Then, its staff asked the new bicyclists a few simple questions. Here's what the executive director learned.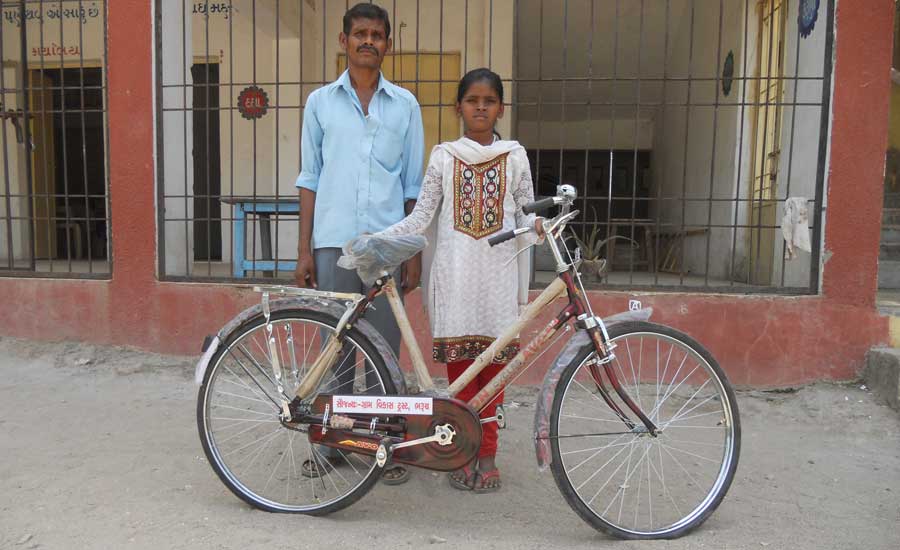 The Big Question
How do our community members feel about the services that our nonprofit provides?
What We Tested
Gram Vikas Trust enables rural women and underprivileged children to control their lives and local resources. With financial and technical support from GlobalGiving, we are able to put "an ear to the ground" in 2015. We asked people in our community how satisfied were they with our work.
Why It Matters
We work in about 200 villages of Bharuch and Narmada districts in India. We were curious to know how our community members felt about the benefits that they received.
Our Method
GlobalGiving encouraged us to start with just 3 questions:
What rank (from 1 to 10) do you give to the benefit that you received?
Why did you give that rank?
Do you have suggestions for us to improve in our future service?
This "customer satisfaction" approach helped us to understand our program impact and the ground reality through another perspective.
It was applicable to many projects and was less complicated than a full impact analysis. We covered three projects:
Giving bicycles to school-going girls
Providing scholarship to students who were economically poor
Providing food kits for malnourished children and destitute, elderly people
The Ultimate Outcome
Our survey garnered 217 responses in 47 villages.
We received a net promoter score of 51. Of those surveyed, 58 percent ranked our service at 9 or 10; and 36 percent ranked it as 7 or 8. Only 6 percent ranked us between 0 and 6. We are delighted the way our survey has worked and provided us useful lessons. 94 percent of those surveyed rated the benefits between 7 and 10. Girls who had received bicycles said they could attend school on time, were able to learn better, and cycling improved physical fitness.
"It feels good, and it helped me to become regular in school, especially in the monsoon season, and this covered my distance to school in a very short time," said Aaushiben, a bicycle rider from Mota Sanja village.
Only 6 percent ranked the benefits from 0 to 6. We got to know that the quality of four of 77 bicycles delivered was not up to the mark (and the recipients had to repair them). Food kits and milk powder were not good quality in two cases out of 134, which told us we needed to strengthen our monitoring system.
"The quality of the food kit is good. My daughter is healthier now as compared to before. Komal (a 5-year-old) was only 9.5 kg and in Red Zone in 2014, but after taking the food she gained her weight to 12kg and became safe," said Lalitaben, Komal's mother, of Govali village.
All four respondents who received scholarship support for higher studies gave rank from 8 to 10 and were happy about it.
We learned that Gram Vikas Trust sounded similar to Gram Vikas Agency (a government agency), and therefore we needed to communicate more clearly and repeatedly through verbal (in addition to written) communication to avoid any confusion. We also learned that such feedback should be obtained within one month of delivering the bicycles and within a week of delivering food kits, so that the identified problems can be taken up with the supplier sooner.
We included these lessons in our organization's five-year strategic plan. Thanks to GlobalGiving for providing us with a tool that helps us to complete the loop of program design, delivery, listening to communities, learning lessons, and re-designing the program. It was amazing that the simple three-question technique could help us discover our blind spots.
Special thanks to our interns, Janak Gohil and Sunil Gamit, who visited 47 villages in Jhagadia and Vagra blocks, met with 217 community members, and recorded their feedback. Thanks to volunteer Sanghamitra Pradhan who entered all data into SurveyMonkey!
Make It Yours
Design your own three-question feedback survey. There are free tools, like SurveyMonkey or Google Forms, that you can use to enter, analyze, and display your data. Follow Gram Vikas Trust's lead, and ask interns or volunteers to help you out!