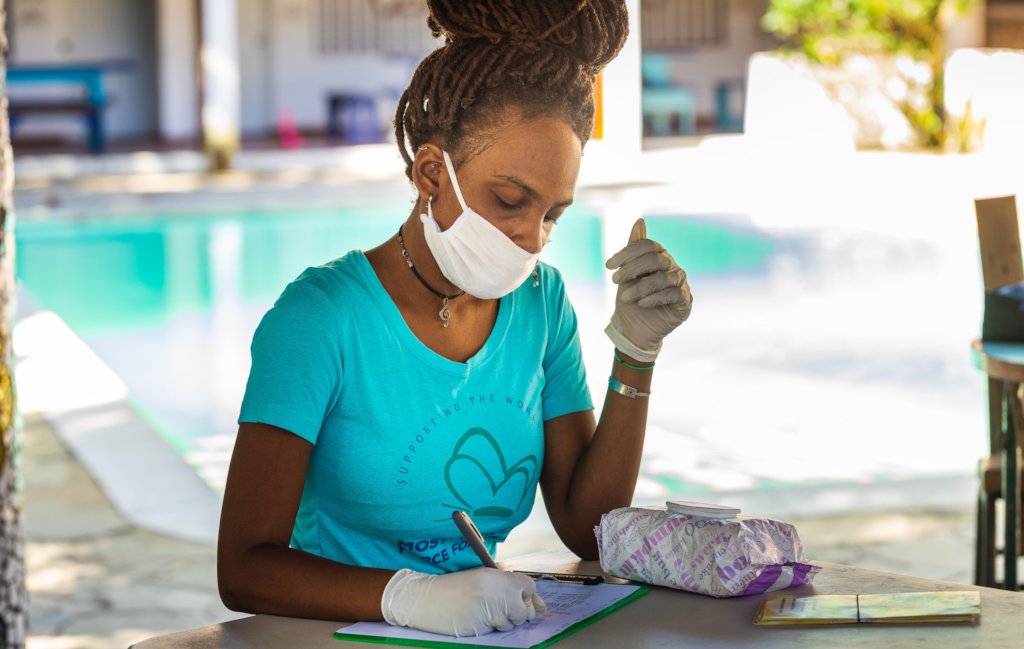 Thank you for continuing to support our cohort of nonprofits working to accelerate gender equality in their communities around the world. Though COVID-19 has brought numerous new challenges to the social sector, our incredible Girl Fund partners are stepping up and innovating to respond to those who need extra support during this trying time.
Your generosity is helping women and girls to be their own agents of change and leaders in difficult circumstances.
Earnestine teaches her community how to stay safe throughout the pandemic
Almost two-thirds of women age 15 and up in Senegal are illiterate, and only 16% of Senegalese girls go on to secondary school, UNICEF estimates. To help change the statistics, Women's Global Education Project (WGEP) is providing education access, mentoring, and tutoring to more than 500 girls in rural Senegal, helping them fight the causes and effects of poverty in their lives and raise their voices on issues that affect them.
When COVID-19 became a global crisis in mid-March, high school girls in WGEP's leadership program wasted no time in finding ways to support their communities. One student leader, Earnestine, used the public speaking and advocacy skills she learned through WGEP to volunteer with her community's Red Cross committee. During this time, she distributed hand sanitizer and helped community members follow best practices for handwashing. Earnestine shares,
"During this pandemic period, I felt challenged by the Red Cross's call to raise awareness of COVID-19 in the world and our country. Every morning, we go to the different strategic points of the city where many people pass to enter the city. From 8 a.m. to 12 p.m., passersby are asked to wash their hands with all the necessary equipment."
Viola uses her entrepreneurial skills to support herself and her baby
Because many adolescent girls in Uganda lack access to education, they are often forced into situations of low-paid work, early marriage, unwanted pregnancy, and sexual and domestic violence.
Act4Africa brings out-of-school girls in rural Uganda together to form tight support groups and receive training on sexual and reproductive health, maternal health, and skills for building sustainable livelihoods.
As a young, unmarried mother, Viola faces disproportionate challenges in achieving financial stability. But with Act4Africa's support, she says she is providing for herself during the lockdown while planning for the future:
"With the many challenges notwithstanding, this season has kept my mind so focused and innovative in creating and finding opportunities that can earn me and my relatives a livelihood, owing to the entrepreneurial skills that I attained from Act4Africa...On top of selling the vegetables from my backyard garden and tailoring, I have also learned how to make clay stoves that I plan to sell during and after this lockdown season."
These stories only scratch the surface of the ways this year's cohort is setting women and girls up for success, throughout the pandemic and beyond. From conducting virtual health education sessions with adolescent girls in Mumbai to supporting high school girls with remote learning in the Dominican Republic, your generous support of the Girl Fund is making a difference. I can't wait to share more updates with you in the future!
With Gratitude,
Claire + the GlobalGiving Team
Stay up-to-date with the work and progress of this year's Girl Fund leaders by seeing their most recent project reports: