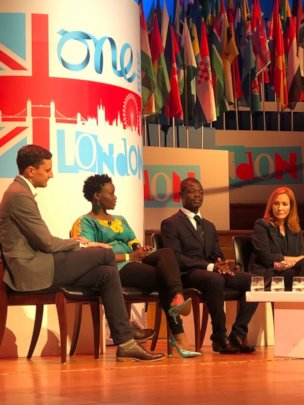 As you hear reports about the current situation in Haiti today, it's important to remember that the massive unrest in the streets is not powered by emotion only. The people you see out there are not thoughtless and they're not simply angry. There is a logic to what's happening; there's a history and so many reasons why. There is need and desperation, definitely. But implicit in what's happening is a rejection of a long-standing system—and a dream of what another Haiti could look like. And, DID look like!
Once known as the 'Pearl of the Caribbean', sadly, for many decades Haiti has become known as the 'poorest country in the Western Hemisphere'.
Remember, Haiti has always been a leader in seismic shifts in how the world functions. Their revolution of 1791–1804 that ensured that slave capitalism would eventually be doomed all over the planet. They became the first black republic in the world. They were the 'Pearl of the Caribbean', a thriving free country. They eventually ended up almost being taken over but chose to buy back their own freedom from France for the sum of (today's funds) $21 BILLION. This was to cover the cost of the income generated by the slaves and the properties the whites were relinquishing back to the Haitians. It took Haiti 122 years to pay this debt - but they did it!
In 1929, they became the first nation to cast off an American military occupation. Besides frustration about infinite corruption and zero leadership in Haiti, there is a lot of thinking now about how the country might survive outside globalized markets, and how it could return to an agricultural system of updated, self-sufficient small farming. Changes like these take a long time to accomplish, and require the support of huge majorities willing to work for these goals and other changes. It's a demanding job, to tire out an enemy who has every advantage. But it can be done—and has been done before in Haiti.
Over the past several months there has been no electricity, no fuel, no access to food, water, supplies. Schools, businesses, markets, even hospitals have closed down. Red Cross has temporarily closed down locations outside of the capital city (Port au Prince). Terres des Hommes Organization will be leaving Haiti at the end of the year. Inflation has quadrupled the cost of even the most basic survival items. Most of the country is on lock down or rioting. In a country where the majority of people feed their families with the income generated from day to day market selling, this instability causes even more suffering.
DESPITE THIS, your Little Footprints Big Steps team has continued doing all that we can: in collaboration with local authorities we continue to reunite children. Our staff have ensured that school supplies are ready to go for our students as soon as school opens up again. Backpacks provided by Move to Matter have been distributed where possible. On a day when the entire country was on lockdown, our nurse travelled by foot across fire-lit road blocks to ensure that a young man could have medical attention. Another day several children were accompanied to a medical clinic including two with broken bones; we were able to make a trip to visit to some of the families in the countryside to bring them food supplies and ensure their children are ready for school (school is open in the countryside!); construction on our property was able to continue. We have temporarily moved several children from extremely dangerous areas of town into our Transitional Safehouses. Daily tutoring sessions are taking place at the Transitional Safehouses. As much as possible, LFBS staff continue to heroically work, despite the danger, difficulties and heavy rains. On calm days we have been able to purchase supplies for our Transitional Safehouses and Outreach families. The level of commitment of the LFBS staff is remarkable!
What else can we do? We focus on doing all that we can do now, while planning for what we will do as soon as we are able. Please don't look at the current crisis in Haiti and write off the country as incapable of progress. Instead look at the faces of the children, parents and staff wishing for hope, working for positive change, and praying for peace in their country. We can't give up on the future. We can't give up on all of the parents who've worked endlessly with the single goal of providing for their families. We can't give up on the staff members who leave their own families and risk their own lives to come to work even if given the day off, because they so badly want their country to continue moving forward. Right now is when they need us most. They are people just like you, but living in a seemingly impossible situation, and never giving up hope. When the situation becomes more challenging, it means we need to try harder, do better, and become stronger.
We are SO proud of Little Footprints, Big Steps' continuous, unrelenting response and enthusiastic dedication. Heros, each and every one....as are all of you that are catalysts for the continued good work and positive impacts... that ARE possible despite this situation. YOU make a difference. In the staff meetings, they think of your care and love and concern. YOU help them stand with compassion and strength, to face each new adversity, to plan for the next steps and to share joys and hopes.
What else do you make possible? On most days, sounds of rioting and gun fire can be heard. On one of those days, Haiti Social Services called us about a 15 year old who had 8 bullets pass through his legs. They requested LFBS assistance. His family could not afford the necessary surgery, medicine, IV fluids, bandaging – or even the food and water.
Here is the account from LFBS' Head of Haiti Operations when she entered the hospital that was still marginally open: "I could immediately identify the patient. He was a small boy for his age, laying on a hospital bed with both of his legs completely bandaged and spread in front of him. A small, elderly woman sat beside his bed. I'd thought it was his mother but through conversation discovered that it was his grandmother – his mother was out trying to generate an income for the day so she could bring him a meal.
"What does your mother do?" I asked the boy. "She sells boiled eggs," he said as tears welled in his eyes and the teenager started to cry. I struggled to hold back my own tears as I slowly held his hand. It is a fairly common business to sell bananas and boiled eggs each morning – yet not something that generates a lot of income. It was about 1pm when I visited him and he hadn't eaten yet.

He explained to me how he'd been shot: he was working on a public vehicle, recruiting passengers. He was doing this so that he could help his mother pay rent. As the vehicle was returning to Les Cayes, they came across a road block. The driver tried to cross the road block. People who had set up the road block angrily began shooting – and the 15 year old boy, who had gotten off of the truck and was standing on the side of the road, ended up with 8 bullets passing through his legs. The driver dropped him off at the hospital and somehow his mother was informed that he was there.

Yellow liquid seeped through the bandaging on his legs. One leg had received 6 bullets while the other had been hit by 2 bullets. Although he felt pain in both legs, he couldn't move his toes on the leg that had been more badly damaged.

"Do you feel afraid?" I asked the boy. He nodded. He described having nightmares, and waking up afraid on his hospital bed. His mother can't even stay at the hospital with him as what she earns during the day is what allows her to feed him. He told me that once he heals, he wants to go live with his father in the countryside – he was so scarred that he didn't want to live in the city any longer.

Working with Haiti Social Services (IBESR), we will try to ensure that this child gets the medical care, nutrition and support that he needs – however with Red Cross closed, blood transfusions are not even available. We will also try to ensure he receives psychological support and assistance to empower them in the long run."
In the midst of these challenging times, an amazing milestone event! Eluxon is currently a valued and dedicated employee of the LFBS team. But, in 2011, he was one of the youth we supported in escaping life in a corrupt orphanage which denied him of many of his rights throughout 12 years of his childhood! Eluxon's work now involves reuniting families and working with other children/youth from similar situations. In October, he traveled to London, England with LUMOS Organization to participate in the One Young World Summit. He spoke, on stage, about the damage orphanages do. We are SO incredibly proud of him and grateful he is being empowered to share his story! The One Young World Summit focused on ending corrupt orphanages, and the volunteering that further damages children around the world. Here he is on stage beside LUMOS founder and Harrry Potter series author, JK Rowling!
Please continue to look past the chaos and violence highlighted in the news or images of Haiti, and see the vulnerable individuals who are being so deeply impacted by their country's situation as they struggle to meet their families' basic needs from day to day. We can make a life-changing difference for them, and now they need support more than ever. Thank you for all you make possible!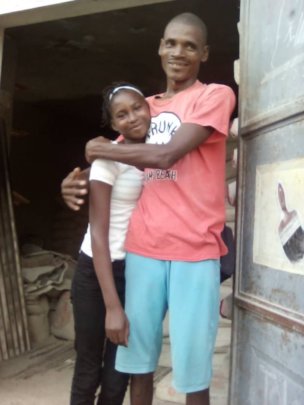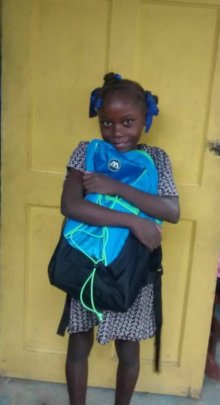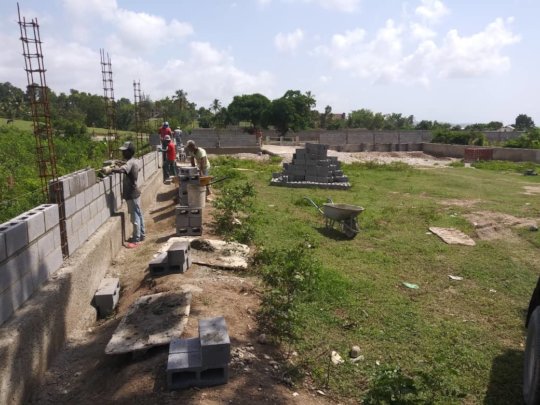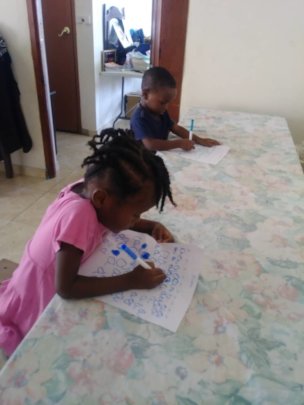 Links: