The children in Haiti are very busy studying for exam week before Christmas break. And we at Little Footprints Big Steps are excited to see the report cards that tell of the great progress in learning that has happened over the past few months.
In the new year we will also be bringing new children into the education system as, through our collaboration with Haitian Social Services, we will be reuniting 10 more street children with their families and supporting them for their basic education! Lives change quickly when learning opportunities are provided.
Morgan has taken the initiative to host a Street Child Meeting this month. This will entail gathering other organizations that have Child Protection mandates together, as well as inviting children that currently live in the streets! This unique approach is meant to provide a collaborative effort in providing the infrastructure and motivation for these children to be reunited with their families and attend school and begin their path toward self-sufficiency.
We have also begun an additional project on Global Giving to support the critical next steps on this path – Vocational Skills Training. Once the youth has mastered the basic education components, we support them to participate in various vocational training options to ensure they have the skills and confidence to enter the work force and support themselves, their countries economic development, and their families. You can visit that project at http://www.globalgiving.org/projects/self-sufficient-haiti-through-vocational-training-1/.
I have attached photos of some of our studious girls, and a lovely seasonal drawing for you!
Thank you once again for your support, interest and partnership! Best wishes for joy and peace this holiday season from all of us at Little Footprints Big Steps International Development Organization.
Links:
Attachments: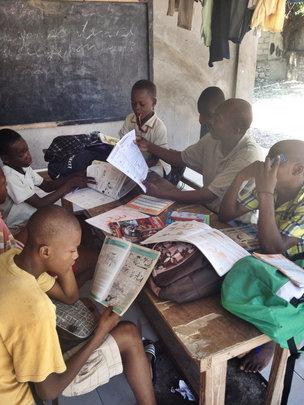 What a whirlwind it was…but now the school books with the names carefully printed on the covers are in the backpacks and in the classrooms! The new uniforms are washed and ironed weekly, shoes polished, and proudly worn to school each day. Large bowls of nutritious breakfast is gobbled up before riding their bicycles or the Little Footprints staff comes to drive them to their schools. Afternoons with tutors – and a snack – unfold eagerly.
So wonderful to see the pride and excitement of the parents. Many are in disbelief that these are their children heading off to school. Many for the first time ever. Some who have just been rescued and reunited with their families. They are not just learning 'reading, writing and arithmetic', they are learning that they are worthy of that opportunity. The tutoring through the summer months has ensured that they are ready.
Whether the child lives with their family in distant Jeremie to the south or Cabaret to the north, or in Les Cayes where our Transitional and Girls' Safehouses are – the opportunity for education is now a reality. The eagerness and gratitude for this chance is real.
What a gift you have given. Please share with others to ensure that all 153 children we work with are able to attend school regularly.
Real time impacts – future opportunties! Thank you for being a partner in making this happen.
Links: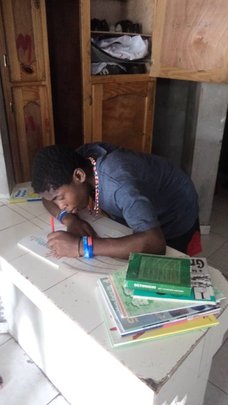 School days are on their way – and what a busy time! With your care, interest and generosity, children of all ages and stages of growth will begin a journey of possibility.
And of course, the preparation for the fall term brings a flurry of excitement and activity for Little Footprints Big Steps. All schools require uniforms, so school uniforms must be sewn. There are no stores to go to that stock sizes and school colors! And don't forget the socks and shoes – clean and finding the right size would be great too. Backpacks for each child to carry their precious supplies. Once the supplies are purchased, then they must be set aside to match the needs of each child, and then distributed across Haiti– from Les Cayes, to Jeremie to Cabaret – Little Footprints Big Steps children that have been reunited with their families live far and wide.
Little Footprints Outreach staff are busy ensuring tuition is paid for the 153 children that will have the opportunity for schooling this fall. For some a bicycle will allow them to make the long daily journey from their home to the schoolhouse. For others Little Footprints will be able to arrange transportation in groups.
The Little Footprints Safehouse staff prepare to be able to supply a meal for each child in nearby schools. Tutor schedules are established to ensure all children are able to catch up where they may not have had schooling opportunities before and to build their sense of worth and self-esteem. I have attached photos of the children preparing – Ysaac writing his name in his school books, Gawencha's report card, Ysaac's geography homework and Job's art work. You have helped make this happen.
Please continue to share this site and our website and information. We still have children hoping that this year they will be able to go to school. Children in need of a tutor's help so that they can catch up and understand. Children in need of a uniform and socks and shoes so that they will be allowed into the classroom. Children that need school books, workbooks and pens.
You are changing lives daily and setting a foundation for a future of self-sufficiency and possibility. Thank you so much!
Links:
Attachments:
WARNING: Javascript is currently disabled or is not available in your browser. GlobalGiving makes extensive use of Javascript and will not function properly with Javascript disabled.
Please enable Javascript
and refresh this page.