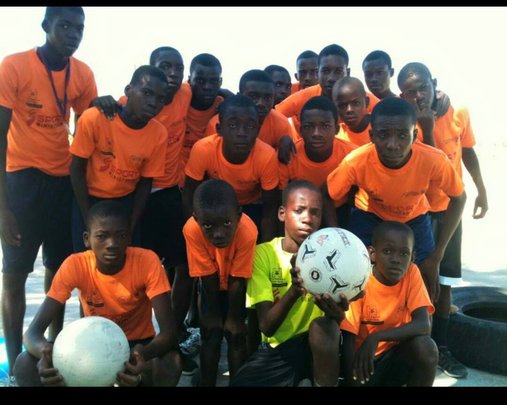 I am excited to share another update with you so that you can see what tremendous change and opportunity you have mobilized in your partnership with Little Footprints Big Steps!
In our April report, I let you know of a Leader/Mentor program pilot that we just had underway. I am excited to share the 'graduation' photo with you! These 27 boys spent 3 months meeting together twice per week, to do physical training, relaxation therapy, arts & trades training, tutoring, and more! 14 of the boys have been with us for over a year, and the other 13 are newly rescued and reunited with their families! Yet the most beautiful progress has been seeing the growth and companionship integrated into the children's interactions with each other. Pilot program was done in partnership with the Sport Ministerium of Austria & Hilfswerk Austria! This photo (1) is of the group 'graduation' from this pilot.
The school year has just ended and, through your partnership, we had over 230 children and youth successfully complete their studies! It is truly astonishing to think of so many of these children that had never had the opportunity before – and can now know the joy and pride of completing a full year of school! THIS is what you have made possible! Several have progressed to the point of being able to continue learning this summer through vocational training opportunities, a summer school English program or stimulating Summer Camps! Photo (2) is a heart made by one of your boys from a coconut shell during an art workshop <3
Yet another new and amazing collaboration! This one with a Clinton Foundation initiative toward self-sufficiency and food security. The Our Garden Haiti program leaders will be providing a summer training program in agriculture and financial management to 25 of our children/families. It will have experiential based field learning. An agronomist will work with ground staff and the children, and accompany them during field visits to other gardens in the area. Agricultural experts on soil preservation and resilient gardening techniques will give the children hands on training. The list of programs that will follow this project included: The Good Hygiene & Nutrition: Better Life Program, Entrepreneurial literacy for families, and Ti Jaden A Nou (Our Little Garden) a small scale community garden initiative at selected schools in the area. These photos (3 and 4) are of a planning meeting with the children and parents with the Agronomist and Program Coordinator at our Transitional Safehouse.
Lasting empowerment comes from the inside. We don't just want the children we work with to grow physically. We don't just want them to graduate from school. We want them to grow as considerate, caring leaders who have the vision and motivation to help others. To plant the seeds of this growth in our youth, we've started a volunteer program: LFBS youth are working with handicapped children in La Charite orphanage each Tuesday! Proudly putting on their "LFBS Agents of Change" badges, these young men - formerly living on the streets or in corrupt orphanages - are now playing with handicapped children, feeding them, and gently washing their faces after meals. YOU are part of this happening! Photo (5) shows four of our youth leaders in action.
Also in last month's report, we shared that Vedette was attending her first year of Teaching College. She will be able to practice this summer, with a job…as a tutor for some of the other LFBS children that she had been in the corrupt orphanage with! This is a concrete example that the path is leading to self-sufficiency! Included in the photo (6) with Vedette is LFBS co-founder and head of Haiti operations, Morgan Wienberg, as well as Eluckson. Eluckson has just finished his final year of high school and is moving to Les Cayes and will enter into an intensive English program for the next 6 months.
We hope you feel the pride and joy in the continued progress as much as we do - you have played a big part in all of this continuing! Please share with friends and family. PLEASE note donations made on JULY 15 will be matched by Global Giving!
If you have any questions, please do not hesitate to contact me at karen@littlefootprintsbigsteps.com
Thank you from all of us at LFBS
Karen Wienberg