Philip Dev was barely a month old when he was found fallen in a ravine along with his mother in Karbi Anglong, Assam, India. It was suspected that his mother slid into the ravine in an attempt to rescue him but couldn't find her way out through the narrow opening. With much effort and help from the Forest Department and the local villagers, Philip was pulled out of the ravine but his mother succumbed to her injuries even as efforts to rescue her were underway. Philip was admitted to the Center for Wildlife Rehabilitation and Conservation (CWRC) in May 2011 for hand-raising and will be rehabilitated and reintegrated into the wild when he of the appropriate age.
Philip was admitted to CWRC in a severely weak and dehydrated condition, with lacerations all over his body including a particularly deep one at the base of his spine acquired during his slide down the rocky mountain side into the ravine. Due to his severely weakened condition, the calf could not even stand for the first two days. Intense monitoring and round-the-clock care put him on the road to recovery, but his wounds still took more than a few weeks to heal.
Once he had stabilized and his wounds considerably healed, Philip was introduced to the older calves at the centre, namely, Junmoni, Tara and Dihing, in the last week of June. The calves were allowed to interact for a couple of hours. The other calves, especially Junmoni, approached and stroked him very tenderly. This being his first encounter with other elephants, Philip was quite scared. He has been taken for small walks since the beginning of July. Initially, he was quite reluctant to leave his room but the keepers would regularly coax him out and he soon started enjoying the company of the three calves.
Growing up to be a pampered little fellow, he's quite inquisitive and playful, and enthusiastically asks for attention. Philip's first set of teeth erupted by mid-July! Soon he was even given teeny amounts of foliage to browse.
Although he is housed indoors because he is still quite young, he visits the older calves (who are housed in the outdoor nursery) regularly and gets to spend a lot of time in the open with them.
Philip was down with a bit of a tummy upset (a suspected viral infection) in Oct but soon recovered after treatment with antibiotics – just a minor setback. He has been growing naughtier by the day, and has been ever more playful since the time he has been housed with Rani (a new calf admitted in September). The calves have been going for regular walks in Panbari Reserve Forest and are also allowed to play in the shallow stream that runs close to CWRC.
We look forward to keeping you updated on Philip's growth and progress!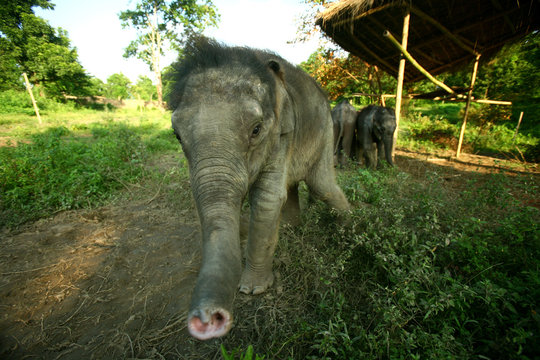 Links: