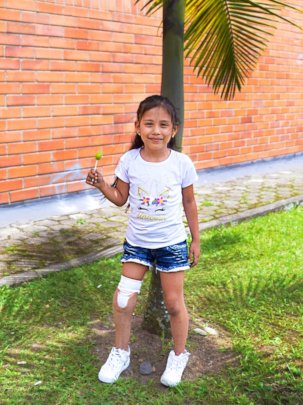 María José is five years old, she came to Mahavir Kmina from Garzón, Huila with her mother. She was born with tibial hemimelia, a strange congenital malformation in her right leg that prevented the normal development of its functions. For this reason, the medical team that took care of her birth amputated her deformed leg with the expectation that, one day, it would be possible for her to learn to walk with the help of an orthopedic device.
Five years later, María José visits Mahavir Kmina with her mother hoping to obtain one of our prostheses. It would not be the first one she would use, she had already obtained more than one through the Colombian health system, but the constant legal obstacles that she and her mother had to face to receive them ended up breaking their perseverance. They have come to the Corporation with the expectation of receiving a more agile, efficient and, above all, human service. Mahavir Kmina has not turned its back on them and the sweet little girl is walking again today.
"For a long time, I was looking for an institution that could help us, we do not have the resources to buy a prosthesis and request it through the EPS (Health Provider) has become a martyrdom for our family," says the mother of the girl. "Thanks to Mahavir Kmina and all the people who contribute to this beautiful cause, I hope that my daughter will return to school and be the cheerful girl I know," she adds.
On the other hand, María José receives her new prosthesis with great enthusiasm, because it means that she will do all those things that she likes so much. "I like to ride a bike, play in the park, jump, swim," she says, "and study too," complements her mother, "yes, yes ... study too," she says with a huge smile.
"Before coming, I didn't believe that this was going to be true, but when I arrived I felt in a fairy tale," says María José's mother. "The attention has been incredible, the work team is excellent and some of them are people who are in the same situation as my daughter, so they understand what our family has had to go through. Now I attest that Mahavir Kmina is the best thing that can happen to people who have lost a leg and their families, with their help, María José has walked again and we have both dreamed again. "
This history of overcoming has been possible thanks to the support you give us with your contributions to our cause. Mahavir Kmina provides prostheses at no cost to anyone who needs them to walk again. Today, we face the complicated situation of helping more than 600 people who are waiting to receive theirs, so we invite you to consider becoming a recurring donor of our cause through Globalgivin's platform. Together, we can give more children like María José an opportunity to start over.