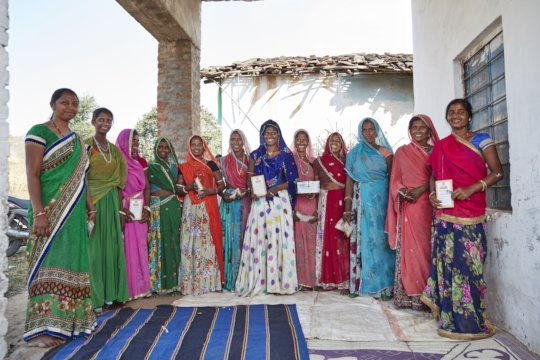 Dear Friend,
The status of women has improved considerably in the last few decades in the regions of Udaipur and Rajsamand. While there are still major hurdles to overcome, it has brought about meaningful transformations in the lives of rural and tribal women. Women have become more confident, are more visible in social and political spaces, and young women in particular are aspiring to a receive a quality education and increased autonomy.
Seva Mandir's Women's Empowerment programme continues to contribute towards this change and seeks to enhance the status of women through a variety of interventions. Working in collaboration with women, men and their communities, the programme tackles multifaceted inequality at each level, in order to cultivate more just and gender-equal relations, norms and practices. By helping women run and self-govern institutions such as the Self-Help Groups (SHGs), the programme also develops solidarity, governance and management capacities among women.
Thavri is from a remote tribal community in southern Rajasthan, where, as is often the case for women in most remote areas, she had no control of her family's or her own finances. That all changed when a Seva Mandir facilitated Self-Help Groups (SHGs) opened in her village. Tharvi immediately joined as a member. Before the SHG, Tharvi was unable to save any money, and she would have to borrow money from a local moneylender at 5% interest but she was often unable to keep up with the payments.
As a member of the SHG, she was able to avoid such moneylenders. Tharvi took a loan of Rs 45,000 (USD $627) to pay for her son's wedding at an interest rate of just 1%. She takes comfort in knowing that the interest in re-invested into the SHG to help other women like herself.
This is just one of the examples of how the SHGs help women during their time of need. Without your support none of this would be possible.
We would also like to share that Seva Mandir is delighted to congratulate long-time academic collaborators and supporters of its work, Abhijit Banerjee and Esther Duflo and Michael Kremer, who have just won the Nobel Memorial Prize in Economic Science 'for their experimental approach to alleviating global poverty.'
On receiving the award, Abhijit paid tribute to Seva Mandir: 'I really owe to those with whom we work, whose lives we study in many ways. And also the people who work with them. We've learned a huge amount from organisations like Seva Mandir and Pratham, for example. In my personal experience, these organisations work on a very large scale with very poor people.'
This is not the first time that one of Seva Mandir's research partners has received a Nobel prize. In 2015, Professor Angus Deaton won the Sveriges Riksbank Prize in Economic Sciences for his analysis of consumption, poverty and welfare. With Banerjee and Duflo, and in partnership with Seva Mandir, Professor Deaton conducted a survey of rural households and health facilities in Udaipur district, discussed in their joint paper Health Care Delivery in Rural Rajasthan, 2003.
Seva Mandir will continue to work with many other prestigious international and national academics to solve the problems faced by people living in poverty.
I am also happy to share with you that we have a new website (www.sevamandir.org)! We invite you to explore it!
Thank you again for your generosity in choosing to support the project of Seva Mandir. Together, we can transform lives.
Regards
Atul Lekhra & the Seva Mandir Team
Follow us on www.facebook.com/sevamandir
Links: