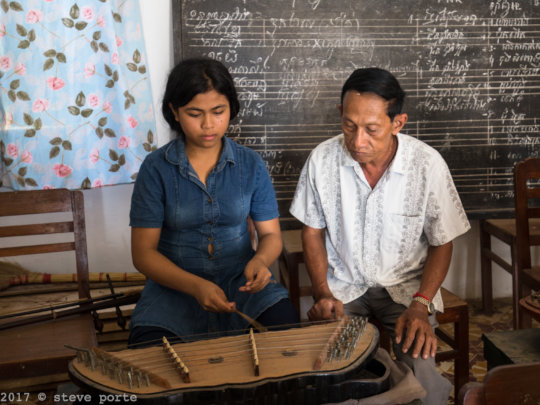 Dear friends and supporters of our school,
Thank you so much for having supported us all through this last year. Your generosity has helped keep our school open and running. Thanks to your help we have reached out to many children from local villages, who come daily to our school for their music and performing arts lessons.
We have been teaching Pin Peat and Mohori music, Yike theatre and shadow puppet theatre. This year our Mohori teacher has had health problems. He was held prisoner by the Khmer Rouge and miraculously survived, but this and the years of deprivation took a toll on his health. We wish him good health and strength for the New Year!
Cambodia is often assessed as doing quite well economically in comparison to ten years ago. However those who make these kinds of assessments are looking only at the capital city Phnom Penh and the rise of urban development there. Yet the majority of Cambodians live in rural areas. Their lives have not improved and many live without clean water, electricity, toilets, or proper health centres. Although schools are supposed to be free, the reality is that rural children have to bring gifts of money or rice to ensure that they can get the schooling that they need. When someone in a family gets sick, family members have to sell livestock, even their houses to get medical treatment for their loved ones. Even then many people die of preventable diseases, because of lack of expertise in medical doctors and poor hygiene in hospitals.
People who are in their late thirties and upwards suffer from trauma linked to the decades long war and the Khmer Rouge genocide. This has resulted in severe affectivity problems, depression and Post Traumatic Stress Disorder, having a knock-on effect on the younger generation of Cambodians. There is now a sharp increase in drug-use, glue sniffing and alcoholism amongst the young. Many very poor people in the middle-age bracket, to alleviate their suffering take to gambling and alcohol with cheap rice spirits, devestating to their health. The government is mired in corruption and Buddhist religious institutes are no longer the bulwarks or role models they were ten or twenty years ago. This means there is no symbolic figure or meaning in people's lives to focus on and help them look up to a better future or better ideals.
Teaching young children and youth who face difficulties in their families, or who come from a life of poverty, helps them to look to new horizons. It helps them train as professional musicians. The very act of learning music and concentrating on something that is in itself so harmonious and positive, brings wonderful pyschological and emotional benefits. It also disciplines the mind and increases concentration levels. Because traditional Cambodian culture is in danger of dying out, it is extremely important to give high quality tuition by real masters to pass their knowledge and skills onto the next generation of Cambodians.
If you would like to really help these children who come during the day, as well as our orphaned and blind children who are resident at our school, then please join our End of Year Campaign 2017.
The End of Year Campaign has been running since November 29th and will end at 23.59.59 on December 31st 2017. Global Giving will give prizes to those NGOs who raise the most funds and the most donors. Please tell your friends and relatives to join in too.
You can donate to this project here. Donations can be made using Paypal, Credit/Debit cards, Gift cards and transfer.
The End of Year Campaign is of vital importance to our school, because it helps us raise significant funds to keep our school going. Cambodia no longer receives the attention or aid it used to, this has an effect on projects working with children and youth, like our school. If you help support our school, not only do you ensure tuition is given to local village children, you also help those of our children resident at our school who have no parents and who have nowhere else to go.
Our school does not have any expatriate overheads or administrative costs, so that each donation goes straight to the heart of our programs and to the children we assist.
Thank You for Your Help!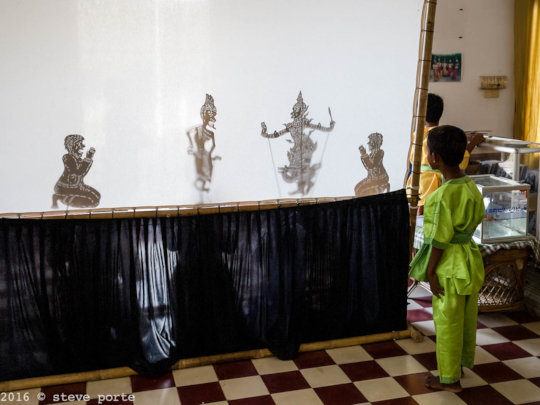 Links: