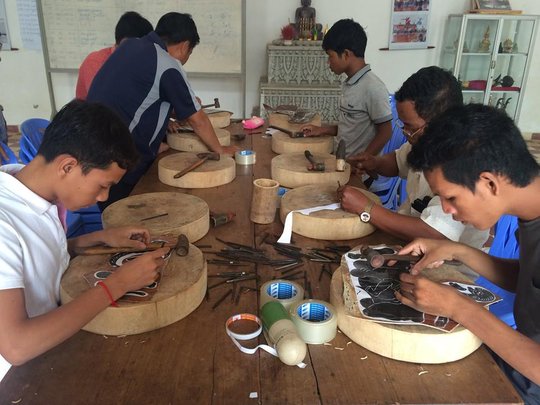 Dear friends and supporters of Kampot Traditional Music School,
We are very happy to share with you our latest news. Finally after over 40 years since it's disappearance in Kampot Province, we have begun the revival of Lakoun Sabaik Toch.
What is Lakoun Sabaik Toch and why did it Disappear?
Lakoun Sabaik Toch is the ancient Cambodian art of shadow puppets. It is thought that it's origins are as old as a thousand years and that it was practised during the reign of the Kings of Angkor, in Siem Reap in North Western Cambodia.
Beautifully ornate characters are carved and cut out of specially prepared and cured cow leather. Propped on thin bamboo sticks to aid movement, they are played behind a lighted screen which creates eery shadows, to the interpretation of voices and Pin Peat music. There are two kinds of Lakoun Sabaik; the big one "Thom" and the small one "Toch", this doesn't mean the size of the puppets, but that the big one portrays only sacred and epic stories from the Hindu Ramayana (Reamker in Cambodian) and Buddhist tales and so is considered sacred and therefore in Cambodian language "Big". Cambodia was greatly influenced by Indian culture and Hindu religion, before converting to Theravada Buddhism at the time it is thought that Ashoka brought Buddhism to Southeast Asia. Today this wonderful mix of different cultural influences can still be found.
The "Small" Lakoun Sabaik puppet theatre consists of a mix of influences from the Ramayana (Reamker), the Apsara (celestial dancer found in carvings at Angkor) and comic, tragic and grotesque characters and animals depicting daily life. The "Small" shadow puppet theatre is for the people, telling stories about history, educative and moral tales and related to their lives. It is a much loved art.
First came civil war in Cambodia between 1970-75 when King Sihanouk was deposed and General Lon Nol took power and when the United States carpet bombed Cambodia to flush out Viet Cong fighters supposedly hiding on Cambodian soil. Then destabilized beyond repair, Cambodia with 1 million refugees in the capital Phnom Penh, cut off from food, supplies, the airport and roads closed, succumbed to the onslaught of the Khmer Rouge led by Pol Pot.
The Khmer Rouge forced the entire population out of towns and cities and created a terrible "New Society" known as the "Year Zero". It is thought that between 2 to 3 million Cambodian people perished between 1975-79, a third of the population. Intellectuals, teachers, engineers, doctors, economists, artists, educated people, former civil servants, former police, soldiers, Buddhist monks, Muslim Chham and all these people's families were executed. It is estimated that 90% of Cambodian artists, both traditional and contemporary, died. In Kampot, the art of Pin Peat music died out, Mohori music was very basic and Lakoun Sabaik (Shadow puppetry) had disappeared altogether.
Imagine therefore what it must have been like in Cambodia when the Khmer Rouge regime ended- in each Province, when there were no more teachers, doctors, artisans and artists. Yet Cambodia was not allowed to enjoy peace and reconstruction. The Khmer Rouge hid in the long range of mountains stretching all the way down the country and conducted guerilla warfare, inflicting fear and suffering on the populations living in the countryside. Ironically, the Khmer Rouge enjoyed a seat at the United Nations under the name "Democratic Kampuchea Party", as the official representative of Cambodia, in international opposition to the Vietnamese backed Cambodian government. A trade and aid embargo was imposed on Cambodia and the suffering of ordinary Cambodian people seemed endless.
Reviving Lakoun Sabaik Toch in Kampot
Our school was built in the Southwestern Province of Kampot 21 years ago, during the civil war and indeed we faced many difficulties due to shelling, shooting and unrest. Gradually we developed from teaching traditional Pin Peat music, to Mohori and Plein Ka music, from folk dance to classical Cambodian ballet, Trott, Chhayam and then Yike theatre, music and dance. Our residential children graduated and more came in and then we expanded our program to include children from the local community, until today - when we teach 400 local Cambodian children traditional Cambodian performing arts, 10 blind children Mohori music and 20 scholarship children Pin Peat and Mohori/Plein Ka music.
All these years as we have developed, we have had the dream of creating our own traditional shadow puppet troupe - Sabaik Lakoun Toch and bring once more back to Kampot, this fantastic art form.
We finally received official sponsorship and we have just finished our puppet making course with the puppet master from Sovannah Phum on Phnom Penh. We shared our workshop with other local state schools and we have taken the first major step towards our goal. Now our students and teachers know how to cure leather, treat it, cut it, draw puppets, cut them out, ornament them and make them move. In so doing we have brought back to our children and to future generations the technique of skilled artisanship.
In performing Lakoun Sabaik Toch, we are able to create our own story lines and portray real educative themes, such as the prevention of AIDS, the importance of education in rural areas, where children, especially girls are often pulled out of school to work and marry early, before finishing their education.
Yet without your help and support, we could never have developed as much as we have done, because before any new project is undertaken, we must first support our children and staff.
We would like to thank you all for your belief in our work, for your unstinting and generous support and for making it possible for us to continue helping so many children and conserving the precious cultural heritage of Cambodia.
Thank You!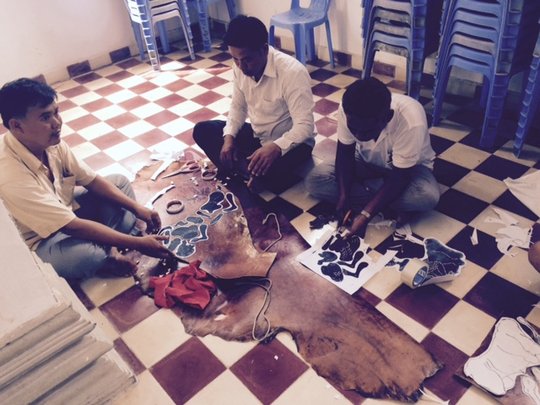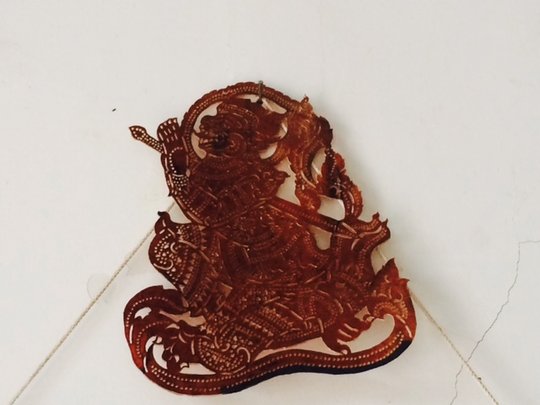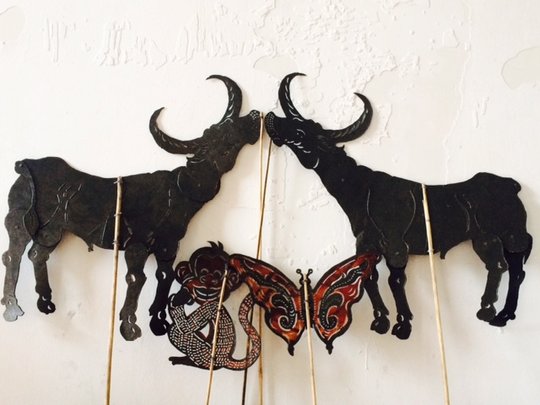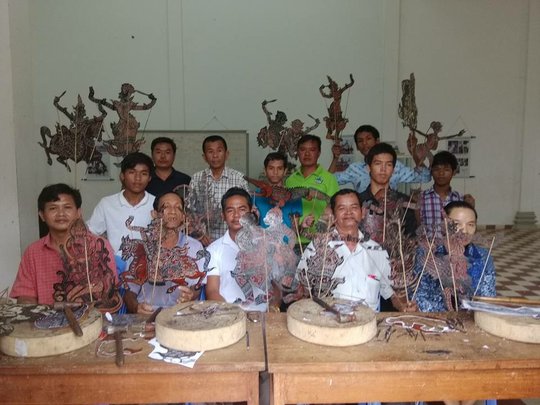 Links: