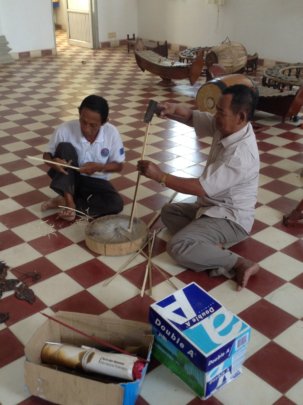 Dear Supporters,
Thank you for thinking of our school and providing so much generous support. We send you our heartfelt greeting and thanks from Kampot!
This month I would like to dedicate both project reports to one very special staff member. All our staff are Cambodian and each person is special, doing much more than just looking after our children or teaching, but really working with great integrity and a lot of love.
It can be quite challenging to work at our school:- We care for blind children, a little blind and deaf boy, orphaned children with HIV and orphaned children who have no-one left to care for them, we also give free arts training to four hundred local children, some very disadvantaged and some with physical and mental disabilities.
Today I would like to pay our respect and honour a very special teacher - Loak Kru Samoeun*. He is our Mohori ad Plein Ka teacher and has been with us for nearly twenty years!
Born in 1946 in Kandal Province to a farming family, Loak Kru Samoeun became fascinated with Cambodian music in his teens. He then studied Mohori music with the elderly musicians near his village, quickly learning both this beautiful music form and it's relation Plein Ka (Wedding Music). Traditional music dating back to the empire of Angkor, a thousand years ago. He became a professional musician, performing at ceremonies and weddings in the Province of Kandal. This happy period was during the Sihanouk era, but disturbances began when General Lon Nol gained power in a coup and fighting erupted between government forces and Khmer Rouge Maoist guerillas.
Loak Kru Samoeun was forced to flee along with many others when US B 52 bombers carpet-bombed central Cambodia and Khmer Rouge fighting erupted. Living near Phnom Penh, Loak Kru Samoeun was once more forced to flee when the Khmer Rouge gained complete control over Cambodia and entered the capital Phnom Penh on 17th April 1975. The entire population of the capital, along with towns and cities all over Cambodia were forced out of their homes. Even the sick and the wounded lying in hospitals were pushed out on their beds, anyone found left behind was shot. Children got seperated from their parents and people died by the wayside as the mass exodus into the countryside began.
Loak Kru Sameoun together with other young Cambodians, cut through the countryside trying to avoid Khmer Rouge patrols and living off fruit and vegetables from abandoned gardens. They were finally captured by the Khmer Rouge, blindfolded and their hands and legs tied and put on a boat and taken to a prison. Prisoners were interogated daily and anyone found having worked formally for the olde regime, or who had worked as a doctor, engineer, teacher or educated person, was led away and executed. Loak Kru Samoeun survived despite being a musician, because he had not worked much in Phnom Penh, but came from a farming family in rural Cambodia. After one month's imprisonment he was freed and made to go back to hsi birthplace to forced-labour there.
First made to till the fields with oxen, he was beaten by the Khmer Rouge because his thin, small frame was not adapted to the physical strength needed to plough. He was then made to form a group of six and take care of an enormous vegetable plot of six hectares. Armed only with watering cans, with no rest and no proper solid food, under a burning sun, for three years he went back and forth from the Mekong river to water the huge piece of land. Although his parents survived, being themselves farmers, they were stripped of their land and forbidden to eat their own produce. The Khmer Rouge made everyone eat communally a rice gruel, punishing by death anyone who dared to pick fruit, vegetables or catch fish for themselves or their families. People tried to survive by eating raw lizard and mice as they worked in the fields, but this was also punishable by death.
When Vietnam invaded Cambodia and in 1979 chased the Khmer Rouge back to their remote strongholds in the mountains and jungles, the Cambodian people were free to try and find their homes and see if any of their loved ones had survived. Of a pre-war population of 6.8 million, up to 3 million were killed, executed or died of starvation and disease. Every family in Cambodia lost members and not one family remained in tact.
Ninety-percent of Cambodian artists, both popular and traditional were killed. Some famous singers were exectued at the very beginning and beautiful dancers were decapitated. Only seven great music masters and five famous ballerinas survived.
Loak Kru Samoeun was called by the Cambodian Government in 1981 to come and help teach in Phnom Penh at the Royal University of Fine Arts and perform at the National Theatre. All surviving artists were called to help re-build their heritage and piece together using their memories this once great culture. Music and dance was not written down and artists had to try and remember despite their trauma and piece together their knowledge to re-create their cultural and artistic heritage. Happily Loak Kru Samoeun also married and has a son and grandchildren.
In 1990 - 94, (Catherine) the founder of the Kampot Traditional Music School - Khmer Cultural Development Institute, went to teach violin at the Royal University of Fine Arts by request of the Dean, because there were not enough teachers left alive. Loak Kru Samoeun saw Catherine as a young girl and their paths crossed, but neither knew that later on she would build a school in Southwestern Cambodia and that he would come and teach there! In those days there was still civil war and life was very difficult, few foreigners ventured to Cambodia and artists knew each other.
In 1997, Loak Kru Samoeun was officially invited to teach on the Mohori and Plein Ka program at the school and permission was granted by the Ministry of Culture and National Theatre.
I would like to take this unique opportunity to honour and thank Loak Kru Samoeun for all he has done and is doing for our school. For the love and care, infinite skill and patience and for his humanity and gentle nature through all these years. Today he also teaches our blind children and has imparted in them the skills to become professional musicians.
Thank You Loak Kru Samoeun!
* Out of respect for his privacy, I have not given his full name.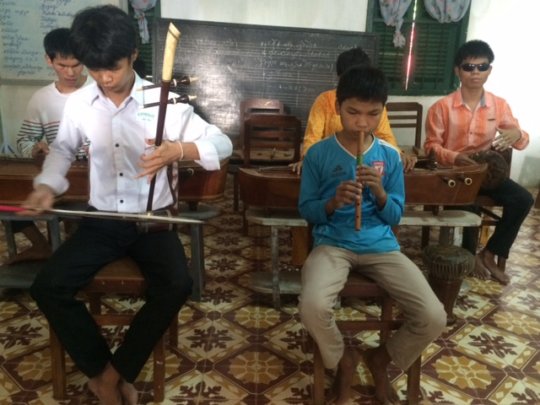 Links:
Attachments: