Since publishing the project, the funds we have raised have been insufficient to fully implement the envisioned program components; moreover, there has been a delay in the resumption of in-person classes due to a surge in COVID-19. Once funds are sufficient and the process of returning to the classroom begins in earnest, the foundation is prepared to go forward with this important aid to young people special needs. In the meantime, we continue to actively lay the groundwork for aspects of the project:
ü We are preparing a series of hygiene workshops for teachers and administrators aimed at integrating hygiene into the classroom and overall curriculum, slated to begin later this month. This will be done in cooperation with Pure Water for the World, a Vermont-based nonprofit dedicated to improving access to clean water and hygiene training in some of the most impoverished areas of the world.
ü We have been in consultations with an engineer from the USA who specializes in water delivery systems to ensure that the system enhancements are efficient, cost-effective, and durable. He has agreed to waive his usual consultant fee.
Although the original projected timeline for the project was not possible due to the reality of the situation, we remain hopeful in our ability to secure funds and confident in our ability to deliver the upgrades and training this institution so badly needs.
Humanitarian Food Aid to Street Vendors in Otavalo, Ecuador
During the COVID-19 Health Crisis
AYNI ECUADOR FOUNDATION
Ministerial Resolution MIES-CZ-1-DDI-2019-0015-R
Report at March 2021
Since the last report, we have unfortunately had to scale back our activities for this project. We were able to continue the full project for a few weeks, but due to depletion of funds we were compelled to put several aspects of the project on hold and explore alternative means of providing aid to our project beneficiaries. Luckily, although not nearly to the extent of late 2020, we have been able to provide some relief to our vulnerable participants:
Some local food stores in Otavalo have generously donated some Ecuadorian staples, namely flour, rice, cooking oil and sugar, all of which we have passed on to the program participants.
In collaboration with the local chapter of the CARE Foundation, we have been able to provide a workshop regarding legal status, rights, paperwork, and procedures for normalizing immigration status for 40 Colombian refugees, some registered in our humanitarian aid program as well as others based in Otavalo.
In collaboration with the UN's ACNUR program, we have been able to provide a similar workshop for 20 Venezuelan refugees, several of whom are registered in our humanitarian aid program. In addition, we have been able to provide some additional nutritional assistance (donated by ACNUR) to all of the Colombian migrants registered in our program as well as several others based in Otavalo, 30 in total.
The pandemic conditions remain largely the same in Ecuador, unfortunately with a current post-carnival outbreak. As of yet, only a very modest amount of vaccine has arrived, most schools are still remote, and the desperate conditions for our vendors have endured. Despite having had to pause most of the program, we sincerely believe that our efforts have been beneficial to those we have managed to continue to serve. We are still working on securing funding and hope to be able to restart some or all of the project activities in the near future.
Attachments: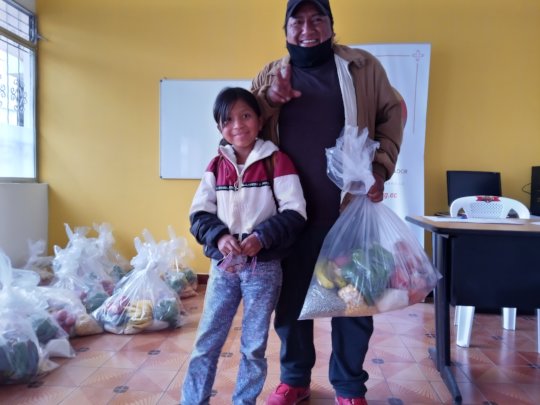 Greetings from Otavalo, where the Ayni Ecuador Foundation has been hard at work putting your kindhearted donations to use helping some of the hundreds of impoverished people selling items in the streets of the urban center in order to survive. Because of your and GlobalGiving's generosity, we have been able to accomplish the following in the past two months:
Identification and registration of 100 of the most vulnerable street vendors for active participation in the program, with another 50 on a waiting list.
Distribution of more than 4000 kilos of healthy food in bimonthly deliveries to families experiencing significant food scarcity, and in some cases, severe malnutrition.
Creation of a vocational profile for 65 of the program participants (so far) resulting from 1- hour private sessions of vocational support with an experienced professional.
Formation of coping and self-empowerment strategies for 65 participants (so far) resulting from 1-hour private sessions of psychosocial coaching with a qualified professional.
The assistance we have been able to provide thus far has been very gratefully received. Recipients have expressed how the food aid has been vital in terms of sustaining their basic dietary needs, and the professional support sessions have been very well received, with frequent requests for additional sessions.
We've uploaded an informative progress report on our website which includes more detailed demographic information about our program beneficiaries and our activities, so please read more about what your valuable contribution has enabled us to achieve so far by clicking the Your Donations in Action link below. (*Para leer el informe en español, haga clic en el enlace 'Sus donaciones en acción' a continuación.) In addition to the photos provided with this report, please check out the campaign photo gallery on GlobalGiving or visit our Facebook page (FundacionAyniEc) for more images of the assistance your kind donations have facilitated.
We've also been in the news—click the "El Norte" newspaper article link below to read one of several press reports (in Spanish) about our work. We've also uploaded photos of print articles on our campaign fundraising page.
In closing, thank you again for supporting our efforts to provide humanitarian relief to an overlooked, genuinely at-risk segment of the population. The foundation and our beneficiaries are immensely grateful for your help.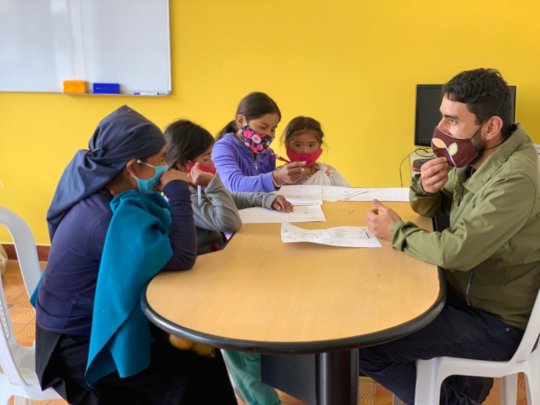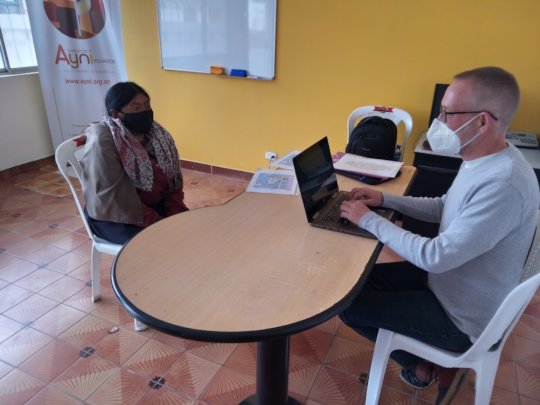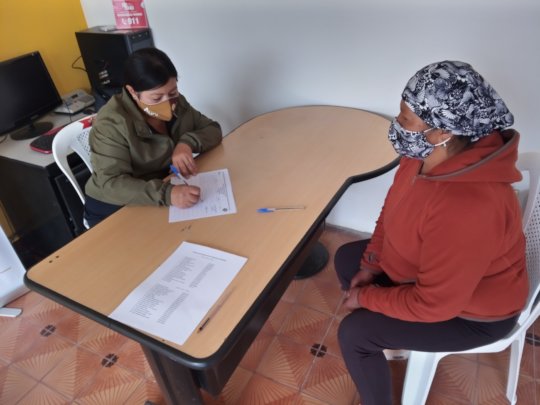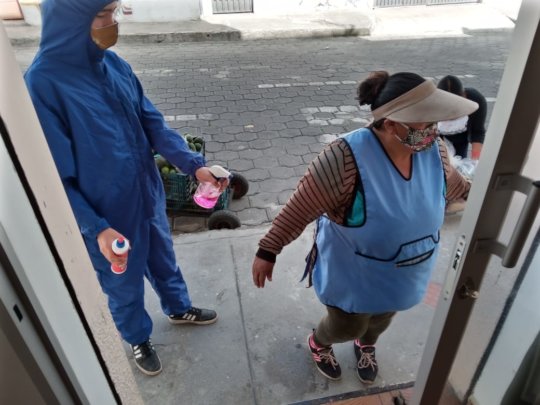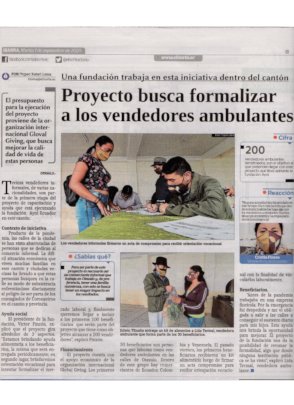 Links:
Attachments:
WARNING: Javascript is currently disabled or is not available in your browser. GlobalGiving makes extensive use of Javascript and will not function properly with Javascript disabled.
Please enable Javascript
and refresh this page.