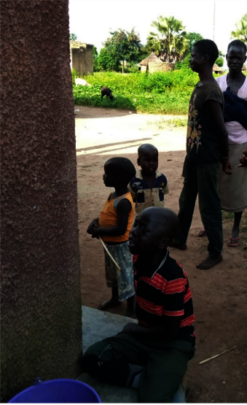 Ronald's grandfather brought him to St Mary's Hospital Lacor in Gulu, Uganda after Ronald experienced a one-month history of progressive painful swelling of his right jaw. They arrived at St Mary's in June amidst the Covid-19 pandemic after a long journey from their home in the north western part of the country.
When ten-year old Ronald was admitted to the hospital, he was a very ill. His face was very deformed due to gross swelling of the jaw and he had a visible mass protruding through his mouth. Ronald had difficulty with speech and eating. He also had loosening of his teeth. He underwent other tests which did not show spread of disease to other parts of his body. His clinical features were classical for Burkitt lymphoma and a biopsy taken of the jaw mass confirmed our suspected diagnosis.
He was then started on first-line chemotherapy according to the INCTR treatment protocol for Burkitt lymphoma. After the first cycle, Ronald's grandfather made the decision to take Ronald home – which is a very long distance from St Mary's Hospital – for financial reasons. The family's income is derived from subsistence farming. Ronald's biological father does not provide financial support for Ronald and his eight siblings. Therefore, Ronald's grandfather and mother must work to feed and care for the family.
Ronald missed his appointment for the next cycle of therapy. After contacting his grandfather, we learned that he had no money to bring Ronald back to St Mary's. Their home district was under lockdown due to Covid-19 and no public transportation was available. The hiring of a driver with a private vehicle was an option. However, this option was both cost-prohibitive and illegal. With the help of a local NGO, St Mary's was able to transport Ronald back to the hospital to continue treatment.
Even though he had a five-week delay after the first cycle of therapy, Ronald did not have any signs of progression of disease when he returned. He completed the second cycle of therapy and is just beginning the third cycle. He is doing well and has had a complete resolution of his jaw tumor. In an aggressive cancer such as Burkitt lymphoma, it is important that all planned treatment is completed and without unnecessary delays so that a child with this cancer has the best chance for cure. Ronald is now staying at the hospital's Family Home to ensure that he completes treatment and avoids delays due to lack of transportation caused by restrictions imposed during the Covid-19 pandemic.
Thanks to your generous donations to this project, poor children from rural villages have access to the necessary treatment for Burkitt lymphoma. Your support provides families and children with the hope of long-lasting cure. Thank you again for your support.
The first case of the novel coronavirus, COVID-19 was reported in Uganda in late March. Around this same time, the Ugandan government placed a ban on the use of public transportation, in addition to implementing other types of restrictions, to prevent the spread of the virus. These have markedly reduced access to care for children with cancer.
While the use of government ambulances was permitted and private vehicles could be hired for transportation, the costs were high ($20 to $50). Boda-bodas - or motorcycles - could also be hired for travel within the wider Gulu district, and although the costs were less ($15 to $30), they were still too high. This is because most families live on less than three dollars a day in the best of times and parents simply could not afford to bring their children to St Mary's at these prices.
With this in mind, we developed an emergency response plan that was put into place in April to cover the transportation costs for parents of children with cancer. Children who had been discharged to home in-between treatment cycles were brought back to St Mary's and when they completed their next course of treatment, they were taken home. We also brought children who had completed their planned treatment back to the hospital for routine follow-up appointments. Children who had been waiting for several weeks at the hospital to be discharged after all planned treatment was completed were taken home. Financial support mechanisms for children living outside of the Gulu District were also implemented. Since this plan was put into place in April, we have been able to support 45 children with transportation to and from the hospital.
St Mary's typically sees 10 to 15 newly diagnosed children with cancer each month. But, from late March through the end of May, only three such patients were admitted to the hospital. We hope to bring more children with suspected cancer to our hospital for care. Even with our best efforts to improve transportation support mechanisms, we know that many other children under our care have abandoned treatment altogether at this time.
Your donations have made it possible for us to assist families with transportation costs. With your continued support, particularly during this period, you can help us to ensure that as many children with cancer as possible receive the treatment they need. Thank you very much for your donations!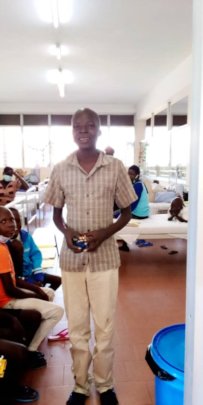 Allan, a 14-year old boy, came to St Mary's Hospital Lacor in January. He was accompanied by his mother. They reported that he had a three-month history of progressive and painful abdominal swelling. He stated that he had also lost weight, particularly in the month prior to admission to St Mary's. On examination, we found him to be very ill and severely malnourished. In addition to the visible abdominal distention, we could easily feel a well-defined mass in his upper right abdomen.
Allan immediately underwent a series of tests that showed that he had disease that was widespread throughout his abdomen. He had multiple masses in his liver and a very large mass within his abdominal cavity. A biopsy taken of the abdominal mass confirmed our suspected diagnosis of Burkitt lymphoma. He promptly began the appropriate treatment for this type of cancer which consists of six cycles of chemotherapy. In addition to chemotherapy, he received nutritional rehabilitation. The first cycle of chemotherapy was a tough one for Allan. Because of the extent of his disease, Allan had to be carefully supported prior to the initiation of the first cycle and monitored closely once treatment began to ensure that his kidneys were working well – especially when his lymphoma began to break down - which can sometimes result in kidney failure and death. After he made it through these first few days, he developed dangerously low levels of infection-fighting white blood cells that also had the potential to be life-threatening. He recovered from the first cycle and went on to complete the rest of his chemotherapy with minimal side effects. All signs of his Burkitt lymphoma disappeared after the first two cycles of therapy.
Before Allan became ill, he lived with his parents and four siblings in the Lira District in northern Uganda. He performed very well in school. He helped his mother in the family's garden to ensure that they had sufficient food to eat. He also helped his mother when she needed to go to the market to buy other food and supplies for the family. During treatment, he was always concerned about his mother because she was the sole provider for the family as sadly, his father was mentally unwell. The hospital staff thought that he was very mature for his age.
Now that he has completed treatment, Allan cannot wait to resume his normal life. He wants to continue to support his mother in whatever ways he can. He also wishes to return to school and complete his education so that one day, he can become a teacher - his big dream for the future.
Thank you to everyone who supports this project. Without your donations, children like Allan would not be able to receive an accurate diagnosis and the appropriate care and treatment for this highly curable cancer. Children with Burkitt lymphoma need to be given the chance for cure – no matter how extensive their tumor may be at the time of diagnosis – so that they, too, can be given hope to fulfill their dreams for the future.
WARNING: Javascript is currently disabled or is not available in your browser. GlobalGiving makes extensive use of Javascript and will not function properly with Javascript disabled.
Please enable Javascript
and refresh this page.