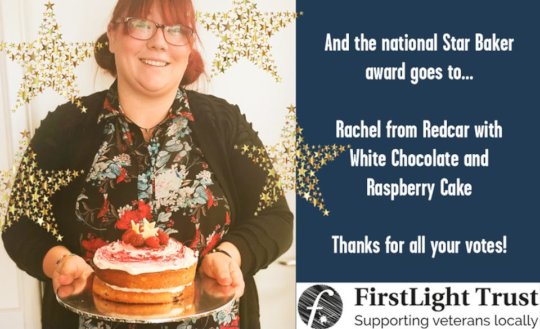 Wednesday the 18th of September was an outstanding day for FirstLight Trust (FLT). The charity received an overwhelming amount of donations through the GlobalGiving platform and cash donations in the hubs. Although cash donations do not count towards FirstLight's Accelerator target on the GlobalGiving platform, they do go to the vital cause of preventing homelessness in UK veterans.
FirstLight Trust's National Bake Off - 18th of September:
The Bake Off was a huge success and has brought awareness to the incredible work carried out across FirstLight's six hubs. The hubs are a vital recourse for many UK veterans and raising their awareness encourages more veterans to reach out for help. The Bake Off activities were thoroughly enjoyed across the hubs and by online supporters, who had the opportunity to vote for Star Baker! FirstLight will be planning similar events in the future, so please follow their social media channels to stay updated:
Twitter: @FirstLightTrust
Facebook: @firstlighttrust
Donations raised for homeless UK veterans during the Bake Off and Bonus Day on the 18th of September:
Online: £712
Cash: £640
Total: £1,352
Overall online and cash donations to preventing homelessness in UK veterans is currently at £2,055
GlobalGiving Accelerator update
FirstLight Trust's Accelerator total is currently at £1,063, with £2,958 left to reach in online donations by the 27th of September, which will earn them a permanent place on the GlobalGiving platform.
Thank you!
The fantastic fundraising efforts and generous donations given over the last few weeks has generated a vast amount of support and collaboration as well as awareness of the crucial work carried out in the hubs and on the issue of homelessness for UK veterans. Thank you so much for supporting this cause.