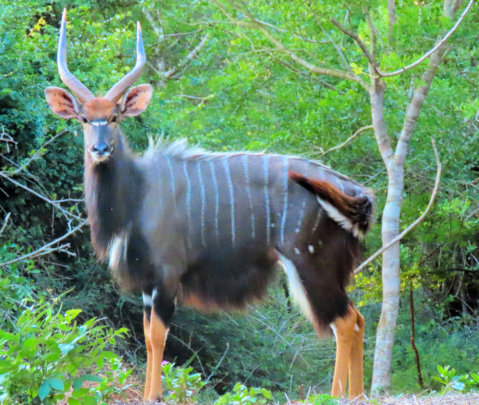 As always we report firstly, with a big thank you to all who have helped us protect our wildlife and the biodiversity of our Sanctuary.
Keeping our wild safe is always on our mind: I was pleased last night to see that one of our special wildebeest "Frankie" a lone bachelor who is particularly friendly, was resting safely close to our homestead. Then I relised that it was going to be an extremely dark night. Soon the stars were magnificently bright but as there was no moon this would discourage Poachers who prefer a bright full moon. I had been anxious because of recent events:
Last week, we had an uneasy 2 nights. It was full moon and we had a message from our neighbour telling us that poachers had set a line of snares and that one of his nyala had been killed. A bunch of about 30 wire snares were retrieved at the poacher's entry and exit point on his fence line. We were on high alert as It takes just one evening for a group of poachers to set snares that our wildlife could be caught in! We ensured that our anti-poaching patrols were diligent and we also helped by doing vehicle patrols around the reserve ourselves. The next morning, we made certain that a day guard patrolled to do a snare sweep check and also to make sure that there were no intruder footprints. Thankfully all was well.
We never relax our awareness. And this seems to be helping, together of course with your support.
Great news is that we received a disbursement on 2021.04.28 from GlobalGiving, with funds that you donated. We have decided to use this towards acquiring another outdoor monitoring camera to assist us with monitoring the security of our wildlife.
The monitoring cam cameras are movement sensitive and they capture any movement in the camera's visual field, both during the day and at night. Sometimes the wild are interested and look right into the lens. They actually each have a personality, believe it or not, and often their antics make us smile. Mostly though we get feedback of peaceful movements of the animals and also of course snaps of the guards doing their most important patrol duties! We would like to set up as many cam cameras as possible.
So life in the bush is never without a dull moment. Each day that we manage to ensure that the biodiversity of our wild and all our precious animals remain safe, we are overjoyed and most grateful for the ongoing help that enables us to do our very best to protect this beautiful "Piece of Eden"
Heartfelt thanks once again.