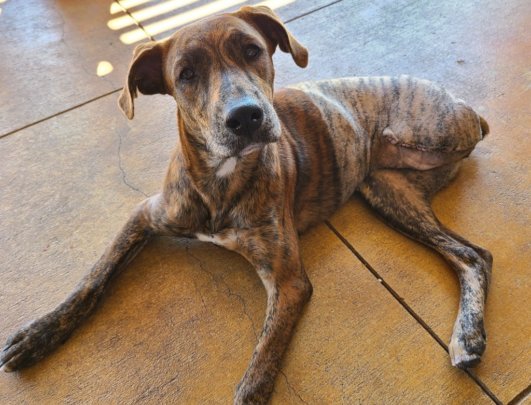 During the Covid crisis, many animal shelters and rescue groups have seen an increase in people wanting to foster pets -- but they've also seen a drop in donations, shelter closures, and the cancellation of adoption events. At the same time, pet intake has remained steady or increased.
We've helped 545 adoption groups (and counting) with Covid-relief grants, and many have used the funds to care for sick, injured and abused homeless pets. Here are just a few examples.
Trixie
Trixie found herself in a Texas shelter with a femur that was broken in two. She was pulled by Texas Humane Heroes and, with help from our grant, had her injured leg amputated. After her surgery, she spent a month in foster care and quickly learned how to walk on three legs. Within three days of being available for adoption, she found her forever home! Read her full story here.
Sadie
Sadie and her puppies were rescued from a hoarding situation by Puppy Dog Ranch in New Mexico.The dogs were close to dying of malnutrition. Sadie needed emergency surgery to remove a towel that was twisted around her intestines. Our grant purchased food for all 32 dogs in the rescue's care while food deliveries were delayed due to Covid. Sadie is recovering and her pups have been adopted! Read her full story here.
Bandit
Now nine weeks old, Bandit and his four siblings were left in a container at 1 day old. Indiana's Barkers and Whiskers rescued them and bottle-fed them around the clock. Despite the odds, they all thrived. Our grant was used to spay and neuter the litter of five kittens, and to make sure they're fully vaccinated before they're adopted. Read Bandit's full story here.
Nicky
Nicky was found by a good citizen who thought his bottom jaw was missing. His rescuers at Animal Aid of Tulsa learned that it had actually deteriorated, possibly due to poor nutrition. He was also suffering from a terrible skin condition and grossly overgrown nails. Thanks to our grant, the shelter was able to take Nicky in and get him cleaned up and on the road to recovery. Read his fully story here.
We are only able to help these pets thanks to your support. Your donations save their lives. Thank you for all you do to help pets in need.