Love to Langa is so grateful for the support of our donors, who make school a possibility for children who desperately need a safe and nurturing place to go each day. We would like to introduce you to some of the children your donations are helping.
Esona is a sweet little girl who attends school regularly. She loves socializing with her peers and outside play is her favorite activity. She is a very studious learner and very attentive in class. She lives with her brother and mother who is unemployed. Esona often comes to school without a snack however the school will always give her something so she does not go hungry.
Hloniphile is a happy, well-adjusted little boy who participates in all activities. He is pure joy to be around and a born leader. His peers are drawn to him, as are adults. He loves school and is always present, only snow would keep him away. He has two brothers and they have a close relationship. His mother is single, unemployed, and is furiously looking for work. She relies heavily on the granny to support the children and keep a roof over their heads.
Mila is a shy little boy who enjoys school. Due to the loss of his mother in 2014 he is insecure and can be sensitive in certain situations. He and his grandmother live in a shelter. There is concern for Mila as to what will happen if his grandmother passes on as he will probably be moved to an orphanage.
These children attend Mfuleni Early Learning Centre, the pilot project of the City of Cape Town and their Early Learning Development Strategy in conjunction with Love to Langa's South African Partner Southern Africa Sustainable Development Initiative.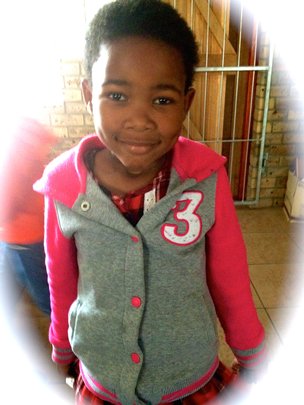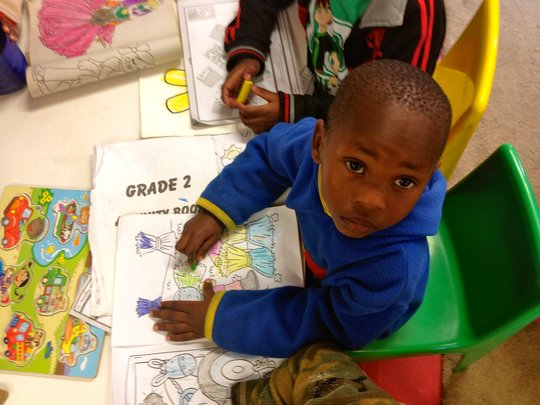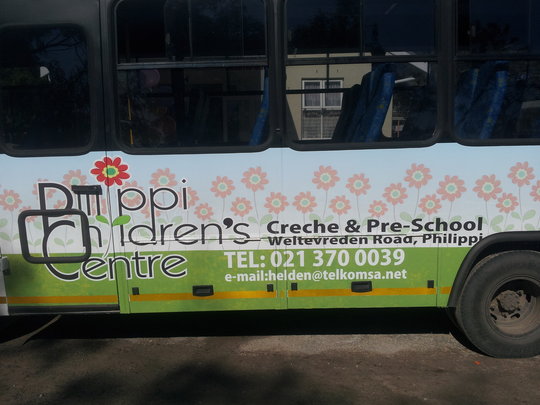 Our new principal came to us after months and months of interviews. We just could not find the right person for PCC. Sweleni was at that stage interested in the opportunity but did not have her drivers' permit. She was also understandably very nervous to come and run a school.
Sweleni was born and bred in Kwazulu Natal, South Africa. She moved to Cape Town in 1999 where she heard about the Montessori teachers training course. She enrolled and completed the course in two years while working as a fulltime Au Pair. She then started working at Childrens Workshop in Claremont where she was an assistant in the 0-3 year class. Slowly, she moved up from Assistant Teacher to Directress at Nutwood in Green Point. Going through all of the classes and the stages gave her great insight into being able to lead a school with 200 children and 17 staff members. She got her drivers' permit and started at PCC in May 2014. She is a true leader who has turned Philippi Children's Center into a place of learning and not just a place of care!
Bus:
The transport has always been a huge problem at Philippi Children's Centre. We have had numerous new and used buses over the past 21 years. Finally we were stuck with an old TATA bus that gave us all a run for our money. It broke down at least once a week and was more in the workshop than on the road. It was just not safe for our children to be transported in it.
Jana came to us as a volunteer from Germany. She instantly fell in love with PCC and the children. She wanted to do something that would help us and make a huge difference in our daily lives. Before she even left to go home she started canvassing in Germany for a new bus. She got all her family and friends involved and before we knew it, there was this amazing amount of money towards a bus fund. Jane Bodin, our fundraiser, took up the challenge and worked endlessly in fundraising for a new bus. We were blessed without measure with donors sending money from all over the world. By the beginning of May, PCC received the new Isuzu 32 seater bus! We are over the moon with happiness and relief. The pure joy of not getting emergency calls about a broken down bus is unanimous at PCC!
Changes:
Philippi Children's Centre has had it's fair share of hard times over the last few years. It has been quite the roller coaster ride to say the least. But having said that, we have never given up!! It has been such hard work and we have made many mistakes along the way. We can at this stage say that we have made a change! All at Philippi Children's Centre have put the past behind us and we are looking forward and moving forward. There is a change of atmosphere at the school. Staff are happy and are learning. There are three staff members qualifying as level 5 Montessori teachers this year. The learning has moved by leaps and bounds with weekly themes and children being taken on outings to help them learn. The numbers of children attending has improved. The school is looking so good with all the new classrooms. The property is looked after and of course our new bus is running like a dream. Sweleni has been the change and has brought an air of peace into the school. There is a unity amongst the staff and management that was not there just a few months ago. She is truly a gift from God for PCC! The work to improve will never stop and we will carry on no matter what so that the children can get the best possible teaching that they so rightly deserve!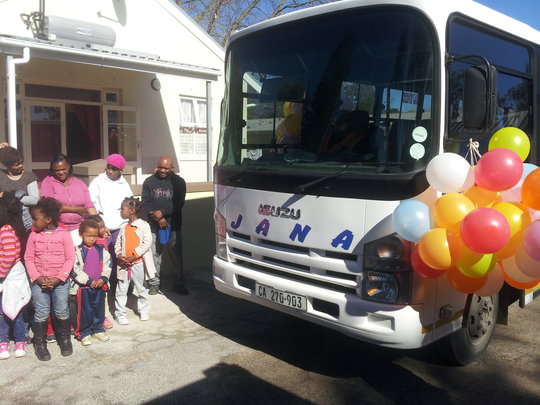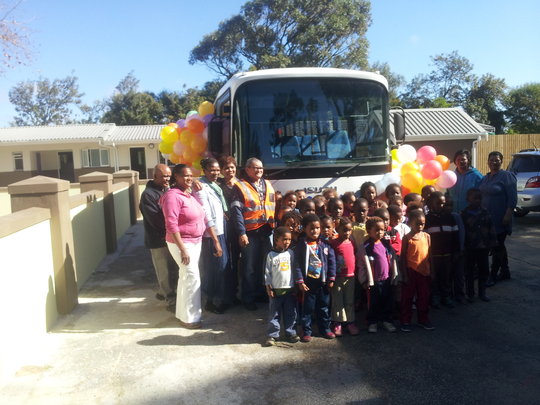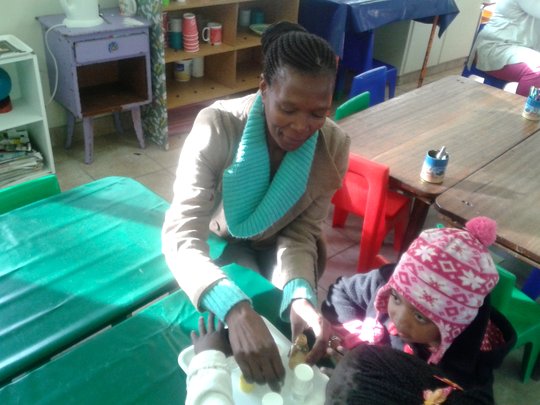 The teachers attending our workshops are so appreciative of the opportunity to expand their skills and make a difference for the children in their care. Please see this link for a video we made from our June workshop: https://www.youtube.com/watch?v=AxCuPZCbkPk&feature=youtu.be
Thanks to our supporters on Globalgiving and elsewhere, we have been able to offer two additional workshops and hope to be able to continue to make them available on a monthly basis.
The City of Cape Town has even taken notice and we are in conversation with them about offering the workshops on a larger scale. Stay tuned for our progress and thanks again for being a part of our success!
WARNING: Javascript is currently disabled or is not available in your browser. GlobalGiving makes extensive use of Javascript and will not function properly with Javascript disabled.
Please enable Javascript
and refresh this page.