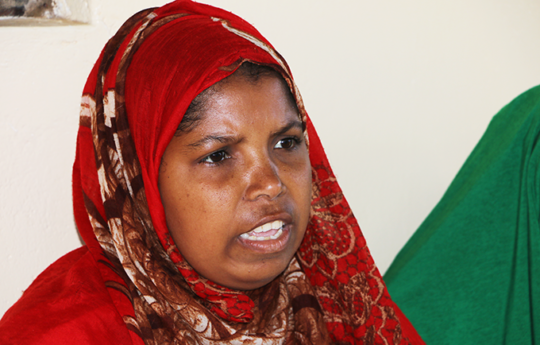 Pregnancy complications take one woman from island paradise to nightmare at sea
Aisha, now 30, nearly died during the birth of her fifth child.
Aisha lives on a tropical island, Kiwayuu, off the northern coast of Kenya where there are no health facilities and the nearest hospital is on the Lamu Island and can only be accessed by motorboat over wild ocean waves, which could take up to seven hours. As a result of these circumstances, Aisha and other women on the island give birth at home with the help of a traditional birth attendant that usually has limited skills and knowledge.
"In the event of pregnancy-related complications, or even maternal deaths, we would conclude that it was God's will," Aisha said.
Aisha had given birth at home to her first four babies with no complications, but this time was different. As soon as she went into labor, she began to hemorrhage dangerously and the traditional birth attendant did not know what to do. "I couldn't stop the bleeding. No one could," she said.
Aisha was suffering from a life-threatening complication and needed urgent medical attention. She was forced to take the journey by motorboat to the hospital on Lamu Island. The waters were rough, yet Aisha had to continue her painful and difficult labor as she continued to bleed. She delivered the baby after 30 minutes and luckily survived.
At the King Fahad County Referral Hospital on Lamu Island, she was treated for the hemorrhage and her baby was diagnosed with low birth weight from intrauterine growth restriction.It is possible that malnutrition or anemia contributed to these conditions, most likely as a result of no antenatal care.
"As a marginalized community, we were ignorant about the importance of antenatal care, largely because we didn't have a health facility in Kiwayuu." Aisha said.
Complications such as this one can be solved by increasing access to proper reproductive health care, including antenatal care, skilled birth attendance and safe delivery services. Providing these services would ensure that women can have a safe birth.
UNFPA has partnered with the local government to do just this. They opened a health facility on the island of Kiwayuu where maternal and newborn health equipment and medicines as well as family planning supplies are available for the 600 residents of the island. UNFPA has also trained health workers to provide emergency obstetric and newborn care.
One of these trained health workers is Aisha. She says, "I now work in my community to raise awareness about maternal mortality, its prevention, and access to maternal and child health services." Thanks to UNFPA and skilled health workers like Aisha, women on the island of Kiwayuu have access to maternal and newborn health care that allows them to have a safe birth.
UNFPA's clean delivery kits contain basic items necessary for a safe birth, including sterile gloves, a blanket, a plastic sheet, and soap. For only $15 you can help UNFPA provide 3 emergency clean delivery kits to women without access to maternal health services.