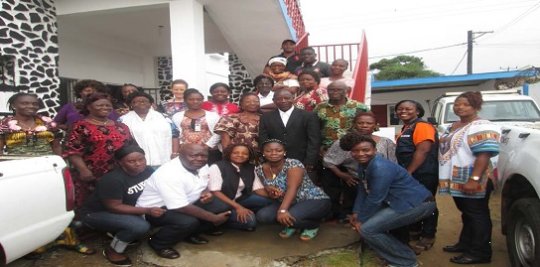 In the aftermath of the Ebola epidemic in West Africa, UNFPA's focus is now on helping the region's health systems fully recover and become more resilient so they are better prepared for future outbreaks or crises. Most importantly, UNFPA is working with communities throughout the region to re-establish confidence in hospitals and healthcare facilities.
As a result of the Ebola outbreak, fewer women have been seeking facility-based healthcare for pre-natal treatment and check-ups as well as for deliveries. Throughout the outbreak, pregnant women were either turned away or stayed away from hospitals out of fear of contracting the virus. UNFPA is working with its partners to demonstrate to women that they can return to hospitals for the care they need, especially for pregnancy and childbirth.
By employing traditional midwives to build awareness of the benefits and availability of facility-based care, UNFPA is working to reduce maternal and newborn deaths to pre-Ebola levels and beyond. According to the World Bank, the maternal mortality rate in Liberia alone is projected to increase by 111 percent.
Through regular meetings with traditional caregivers, UNFPA is reinforcing the importance of referring pregnant women for facility-based care and delivery, where infections and illnesses can be treated and complications during delivery can be addressed.
During monthly meetings, UNFPA provides traditional caregivers with refresher training on topics such as warning signs during pregnancy, the importance of facility deliveries, care for newborns, family planning and its benefits, the prevention of Malaria in pregnancy, the benefits of exclusive breastfeeding, and the dangers of delivering without the supervision of a skilled caregiver.
In between meetings, traditional caregivers, who have developed relationships with communities and individuals, explain the benefits of facility-based care and child delivery to women and families. By spreading this message, UNFPA is working to reverse the impact of the Ebola outbreak by improving access to maternal health services.