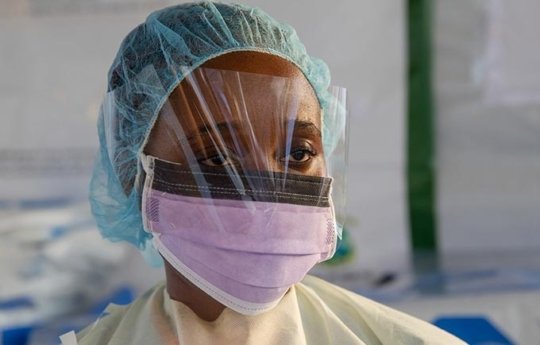 Since early 2015, Friends of UNFPA's Global Giving project, "Make Motherhood Safe in Ebola-affected Countries" has helped UNFPA, the United Nations Population Fund, rebuild health systems throughout West Africa that were devastated by the outbreak. With help from generous supporters like you, health systems are now on the road to recovery and are better situated to face future public health emergencies. With the outbreak declared officially over in January 2016 by the World Health Organization, UNFPA's work in the region will now focus on broader reproductive health needs.
Accomplishments:
With the Ebola outbreak disrupting the delivery of basic healthcare services in Guinea, Liberia, and Sierra Leone it was necessary for international agencies like UNFPA to not only work to end the outbreak, but to also re-establish health systems in order to meet the basic needs of surrounding populations. In Liberia for example, more than 50 percent of health facilities, including those that provided antenatal care services to pregnant women, closed following the highpoint of the crisis in the summer of 2014, leaving women without anywhere to turn to deliver safely.
While the Ebola virus continued to spread, funds raised enabled UNFPA to further its work in contact tracing, the process in which trained select community members located each person that was in contact with an infected individual. UNFPA's contact tracing helped stop the spread of the virus in order for the rebuilding stage to begin.
As UNFPA worked to rebuild the region's health systems with a particular focus on maternal health, its broader goal was to develop the region's resilience to disasters and disease outbreaks. By investing in the healthcare workforce, building confidence in facilities in surrounding communities, integrating traditional caregivers into the larger system, and communicating on the importance of facility-based care and delivery, UNFPA helped rehabilitate the healthcare system and prepared it to better handle the next disaster or outbreak.
As a result of UNFPA's work, the region has witnessed increases in prenatal check-ups, the use of modern contraceptives, and facility-based deliveries. Specifically, in Bomi County, Liberia, so far in 2016 there have been 528 facility-based births, nearly 5,000 users of modern contraceptives, and over 3,000 prenatal care visits conducted.
Project Conclusion:
Since the World Health Organization declared the end of the Ebola outbreak in January 2016, it is necessary for UNFPA Country Offices in West Africa to resume core activities geared toward improving access to sexual and reproductive healthcare for women and girls. Specific projects now ongoing in the region include reducing instances of teenage pregnancy through prevention education, centered in schools, via media and other forms of healthcare information dissemination.
Additional Opportunities:
While Friends of UNFPA is concluding Ebola-related fundraising, there are additional opportunities on Global Giving to support UNFPA's ongoing work to ensure that every pregnancy is wanted, every childbirth is safe, and every young person's potential is fulfilled.
Thank you for your support of this project. With your help, UNFPA has been able to provide health and dignity to the women and girls affected by the Ebola crisis in West Africa.