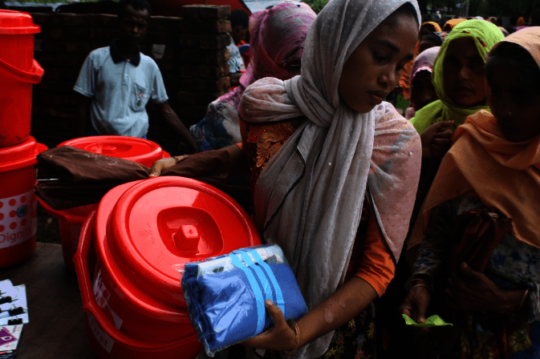 Over 1.3 million people have fled persecution in Myanmar for nearby Bangladesh. About one-quarter of those migrants are women and girls of reproductive age.
Over the last year, UNFPA, the United Nations reproductive health and rights agency, has supported 20 women-friendly safe spaces, which provide care to women and girls in the refugee camps in Bangladesh, including 30,000 women who are pregnant or nursing.
Monsoon season lasts from June to October there. During this time, flooding and storms can devastate shelters for refugees. Some of the shelters, including some safe spaces, are made only of bamboo and plastic sheets.
$1,200 supports one midwife through monsoon season. Your donation saves lives!

UNFPA has strengthened safe spaces in anticipation of monsoon season and has stepped up the distribution of dignity kits. Dignity kits contain items like soap, underwear, a whistle, and menstrual supplies. The kits ensure that if a woman cannot make it to a safe space or if she is otherwise displaced by the storms, she still has the items she needs to be healthy and safe.
It only costs $25 to give one woman hygiene supplies -and her dignity- for 6 months.
Many new moms and soon-to-be mothers have received food vouchers to ensure that they get the nutrients they need for healthy pregnancies and breastfeeding. The vouchers supplement the midwife care that UNFPA also provides at the safe spaces. UNFPA mobile clinics and midwives have led to a 40 percent increase in the number of prenatal care visits and deliveries taking place in health facilities in the camps. Both of these measures help prevent maternal death and ensure that all mothers, regardless of their situation, can have a safe birth.
YOU can be the difference between life and death for a Rohinga mother and child today!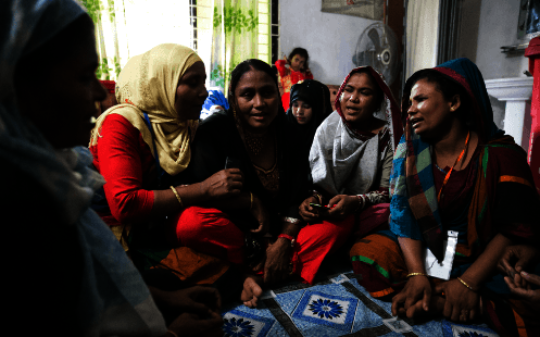 Links: