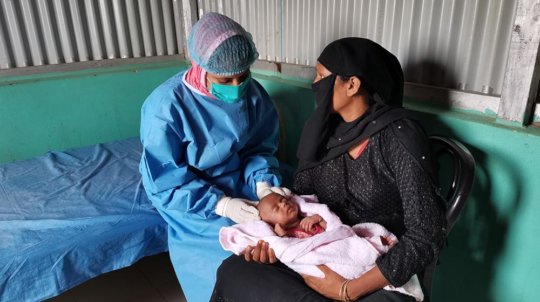 It's been three years since hundreds of thousands of Rohingya migrated from their home in Myanmar to neighboring Bangladesh. Today, there is still no end in sight for the nearly 1 million refugees.
Almost all Rohingya refugees live in the Cox's Bazar camps, where crowding and limited resources have left them vulnerable to the COVID-19 pandemic. The virus has been particularly frightening for vulnerable populations, including the elderly, pregnant women, and women with disabilities, many of whom require special medical care.
For $150, you can provide supplies, medications and equipment to health clinics that help safely manage obstetric emergencies.
Due to the pandemic, aid organizations like UNFPA have had to limit their activities in the refugee camps. Vulnerable populations, like pregnant women, have been less able to receive the care they need, like prenatal and safe delivery care.
Thankfully, despite these obstacles, UNFPA has been able to maintain reproductive health services. Support systems for Rohingya refugees include 23 women-friendly spaces, 22 health facilities, 10 women-led community centres, 144 midwives, 594 community health workers, and 224 volunteers.
It's $5 for ONE emergency birth kit that includes a bar of soap, plastic sheet, razor blade, an umbilical cord tie, cloth and latex gloves. That means you can help save 10 mothers for just $50!
Minara, one Rohingya refugee, has asscessed UNFPA's family planning services since she arrived in the camps three years ago. When she decided to have a baby, UNFPA midwife Rotna counseled her through prenatal appointments, safe deliery, and now provides care to Minara and her baby.
Midwives save lives. And it only takes $100 to fund a midwife for a single week.
Links: