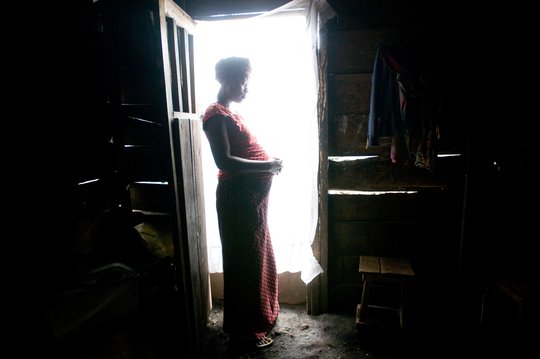 Thank you for your donation to UNFPA through GlobalGiving! With your continued support, UNFPA will be able to make safe, clean births possible for thousands of women around the world. Please consider making an additional contribution today, and sharing the following report with people you know who also want to help. On behalf of the women and families we serve, we thank you!
BOGA, Democratic Republic of Congo — "My last two children were born on banana leaves, with help from my husband and women in my village," recalls Antoinette Androsi, 32, who has been displaced by war for over six years in the northeastern region of the Democratic Republic of the Congo. "We used a machete to cut their umbilical cords, and one of them died a few days after she was born in the bush."
Thanks to your support, during her latest pregnancy Antoinette was able to give birth in a maternity ward for the first time. Health facilities in the region lack even basic supplies and usually require expecting mothers to purchase materials like soap, gloves, a razor blade and a sheet, which are needed to ensure a clean delivery. Because many women can't afford to buy these supplies, they often end up giving birth at home or outdoors without a trained health worker. However, this time Antoinette had access to a clean delivery kit, one of more than two thousand handed out to women in Ituri and South Kivu provinces through a joint effort by international non-governmental organizations MEDAIR and UNFPA, made possible through your generosity.
Women who deliver in a clean health facility with skilled personnel are much less likely to die, lose their babies or suffer a serious childbirth injury like obstetric fistula. A health worker with midwifery skills can facilitate normal delivery, identify complications early and refer a woman to emergency obstetric care, assuming such care is accessible.
Devastated infrastructure impedes progress
The United Nations High Commissioner for Refugees (UNHCR) estimates that women and children generally account for around 80% of internally displaced persons and refugees worldwide. That displacement alone may impede a woman's access to a health facility. But in the case of the DRC, conflict has destroyed much of the national infrastructure – not just health facilities, but also roads and transport and networks. UNFPA and partners recently supported national surveys of midwifery service coverage in countries including the DRC, and findings were published in the first-ever State of the World's Midwifery Report 2011, in June. Unfortunately, there was not enough data available for the DRC.
A woman's lifetime risk of maternal death is 1 in 24 in the DRC, and the maternal mortality ratio is 670 deaths per 100,000 live births. Estimates put the total number of women who die of maternal causes each year at 19,000 – making it one of six countries that together account for half of all maternal deaths.
With funding from the Government of Finland, UNFPA has been working with partners to provide basic emergency reproductive health care in the region. In coordination with MEDAIR, over ten tons of medication and equipment were distributed to three general hospitals and 28 maternity wards in the five health zones of the region. These supplies were designed to provide care for at least 900 cases of obstetrical complications, 1,000 rape cases and 2,250 cases of sexually transmitted diseases. Moreover, 2,500 pregnant women in the region received individual clean delivery kits.
Delivery kits save lives
"At first, we feared that the clean delivery kits would encourage women to give birth at home," says Agnes, one of the midwives in the health centre in Boga. "But as it was the case with Antoinette, I was able to wash my hands with soap, wear gloves and cut the newborn's cord in a clean environment. Even last week, I was able to successfully practice an episiotomy [a surgical incision to prevent vaginal tearing during delivery] on a teenage girl thanks to the razor included in the kit." The kits are assisting the work of midwives and nurses, and also help prevent tetanus among newborns, an ailment which is widespread in the region.
UNFPA is supporting comprehensive efforts to move from immediate post-conflict recovery to rebuilding. The project that supplies clean delivery kits also supported the Ministry of Health and other humanitarian partners to train sexual health coordinators. After the training, the regional government for the first time included a reproductive health action plan as part of its priorities for 2011 – 2015. UNFPA support also provides medical assistance for survivors of rape and equips health facilities with the medication and materials to treat fistula.
You can help us raise awareness and funding by passing this e-mail along to friends and family and asking them to make a gift to our project on the GlobalGiving site (www.globalgiving.com - search for "UNFPA"). Thank you!
Links: