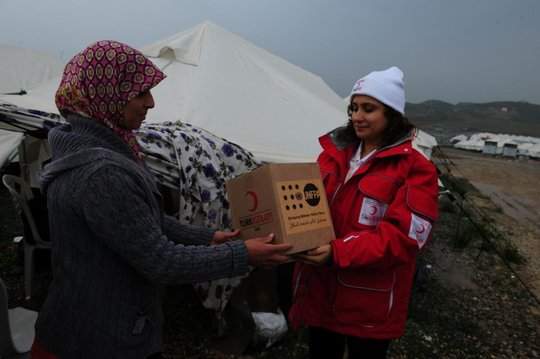 More than 50,000 Syrian refugees recently arrived at temporary shelters in Jordan, Lebanon, Turkey and Egypt in the last three months, resulting in an enormous and unprecedented strain on essential services. Women and children comprise over 80% of the refugee population, making them the most vulnerable in times of crises. Pregnant women are especially at risk, oftentimes stranded in refugee camps without immediate access to reproductive care.
A small donation of $11 or more can ensure women in these areas have clean, healthy and safe deliveries. On Wednesday, March 13th, you can double your impact! Global Giving is matching donations, with $50,000 available in matching funds – please donate today to help pregnant refugees in need.
Hear a firsthand account from a pregnant Syrian refugee on giving birth to a child in a time of crisis. Samira was seven months pregnant when she and her family fled their home in Syria. The 28-year old mother was not expecting to deliver her fifth baby in a refugee camp in Jordan.
Her labor came suddenly. "There was no time to go to the hospital, and I found myself delivering the baby in our tent," she said. "I was confused and afraid. It was late and there was no time to go to the hospital," the mother explained.
Samira was eventually transported to the Mafraq hospital where doctors told her that while her baby boy, Omar, was healthy, she needed extra care and should stay at the post-partum unit in the camp clinic.
The clinic, which is run by the Jordanian Health Aid Society with support from UNFPA, the United Nations Population Fund, has provided a range of healthcare services, including pre- and postnatal care, family planning and reproductive health education for many of the women residing in the camp. Samira is one of the few fortunate women who have access to health services provided by UNFPA and its local partners.
The influx of refugees has put a strain on existing national health services in Jordan. Increased support from the international community will be necessary for the United Nations and its partners to scale up their response. The provision of UNFPA's clean birthing kit can go a long way to save the life of a pregnant woman and her baby. By providing at least the most basic essentials (a bar of soap, clear plastic sheet, razor blade, an umbilical cord tie, cloth and latex gloves), the kit helps pregnant women who are unable to get to a health facility in a crisis or emergency situation.
While UNFPA does its best to provide reproductive care to women in vulnerable situations, it needs the support of donors like you to keep pace with the precarious humanitarian crisis faced by the Syrian people. A $25 donation would provide hygiene essentials for six months, restoring dignity in a time of immense hardship. Please consider making an contribution today. Global Giving will match donations up to $50,000 on March13th , increasing the impact of your action! With your help, we can make sure all women are afforded the right to a safe and sanitary delivery, even in times of extreme crisis.