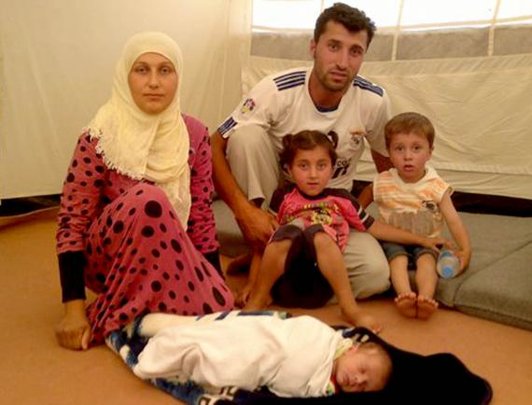 According to UNHCR, the United Nations Refugee Agency, there are 159, 017 registered Syrian refugees in Iraq. Specifically, at the Domiz Refugee Camp in Duhok, Iraq, there are 101,625 registered refugees. Within the camp there are various UN and partner organizations at work to provide relief to refugees through shelter, food security, education, and health services. UNFPA, the United Nations Population Fund is among these organizations and is hard at work providing reproductive health services and supplies, such as clean birthing kits to help refugees in need.
When people are displaced for various reasons their access to health care services becomes greatly reduced. They are put at a greater risk for trauma, malnutrition, disease, and violence. Pregnant women are especially at risk in these situations, as they often do not have access to prenatal care, delivery care, emergency medical services, and post-partum care.
For just an $11 donation, UNFPA can produce 3 emergency clean birthing kits that can provide critical help in ensuring the safe delivery and health of three mothers and their babies.
Um Mohammed, a Syrian refugee, gave birth to a beautiful and healthy baby boy in a time of crisis with the help of fast acting healthcare workers and UNFPA's clean birthing kit. After she had been having contractions for two hours, Um arrived at the reproductive health clinic in the Domiz Camp in Iraq. She was checked by a midwife and it was confirmed that she was already in the second stage of labor. At that point, the clinic workers were scrambling to get her an ambulance to the hospital, however there was simply not enough time, so the doctor and midwife quickly transformed the clinic room into a delivery room. They were able to safely deliver Um's baby using the clean birthing kit provided by UNFPA. Um is now doing better and is working to help promote the services of the clinic so that more pregnant women in the camp can find the care that they so desperately need.
In this emergency situation, the clean birthing kit was crucial in ensuring that Um had a clean delivery and that her baby was born healthy and safely. The kit consists of a bar of soap, clear plastic sheet, razor blade, umbilical cord tie, as well as cloth and latex gloves. Although it may seem simple, the kit provides lifesaving supplies to doctors and midwives in even the most remote and troubled regions where access to reproductive healthcare can be extremely scarce.
The services and resources that UNFPA provides in these areas, including the clean birthing kits, can make a life or death difference for many women and their babies. With the support of friends like you, UNFPA can help more women have safe births in these regions. For only $25, UNFPA can supply a woman with hygiene essentials for six months, helping her to maintain her dignity in a displaced situation. Please consider making a contribution today. With your help, we can make sure all women are afforded the right to a safe and sanitary delivery, even in times of crisis.