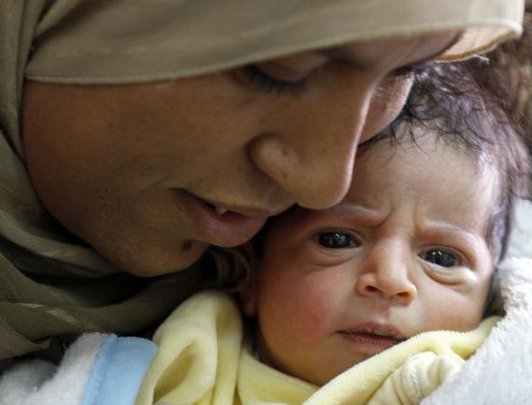 Civil war in Syria has driven over 2,000,000 people from their homes. More than a quarter have gone to neighboring Jordan where UNCHR – the United Nations Refugee Agency – has set up camps to host these refugees and provide them with basic services. Women and children who are especially vulnerable to exploitation, violence and abuse during crises make up over 78% of the camps and 1 in 5 women are pregnant.
During times of conflict, essential health care services are often interrupted, leaving pregnant women especially at risk. These women no longer have access to reproductive health services, and often are forced to give birth in unsanitary settings without assistance by a trained midwife or doctor.
UNFPA, the United Nations Population Fund, works hard to ensure that every child is delivered safely by providing reproductive health services and supplies to refugees in need. For just $11, UNFPA can provide three pregnant women with a clean delivery birthing kit. This kit, which includes a bar of soap, clear plastic sheet, umbilical cord tie, blanket, and latex, can mean the difference between life and death for a mother and her newborn child.
Khloloud Mohammad, her husband and seven children braved shellings and snipers as they made the trek on foot to cross into Jordan. Seven months pregnant, Khloloud left Syria with her family to escape the violence. "All I want is to have a safe place for my children," she said. Once in Jordan, the family was transferred to Cyber City, a rapidly expanding refugee center with a UNFPA supported mobile clinic. With the help of a quick acting midwife, Khloloud was able to deliver a healthy baby girl, Rania. When Kholoud went into labor there was not time to transfer her to a hospital so the midwife, "had no other option but to help her give birth at the clinic."
Sitting on a chair at the clinic, Khloloud was holding and breastfeeding her baby girl, Rania, with care and help from the midwife. "While I was running [from] the shelling in Syria, I was praying to God I would survive with my children and baby-to-come," said Khloloud, "and here I am holding my baby and hope one day we will go back to our country and live in peace."
Pregnancies do not stop during emergencies and UNFPA provides expecting mothers with crucial care during times of crisis like the civil war in Syria. As the conflict escalates, this care is more important than ever to over a million women fleeing the violence.
For $25, UNFPA can supply a woman with hygiene essentials for six months, helping her maintain her dignity in a displaced situation. Please consider making a contribution today. Only with your vital support can we continue to care for mothers and their children in their time of need.