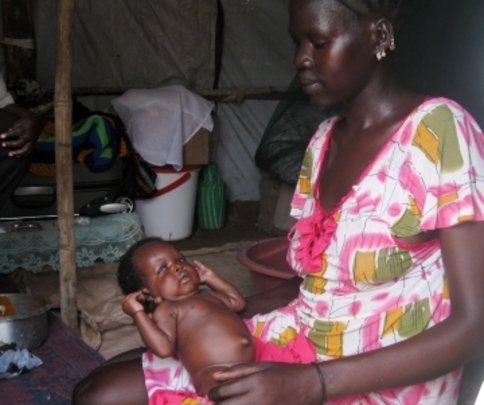 Amid escalating conflict, some 30,000 women in South Sudan are at risk of dying in childbirth, according to estimates by UNFPA, and 200,000 pregnant women will be in need of urgent care before the end of the year. In times such as these reproductive health services become unavailable causing pregnancy-related deaths to soar.
UNFPA's clean birthing kits can mean life or death for many women in disaster circumstances. For only $11 you can provide 3 emergency clean birthing kits. The kits include a bar of soap, a clear plastic sheet, razor blade, an umbilical cord tie, cloth, and latex gloves to help deliver babies safely in crisis situations.
Mary, 23, was seven months pregnant when she fled her home with her family after violence broke out between government and opposition forces in mid-December 2013. "We had to run to save our lives because there was too much killing," she said.
Health systems in the country, which were fragile before the outbreak of violence, are rapidly deteriorating as health professionals flee the country. Fortunately, before she delivered Mary was able to reach a civilian protection camp supplied by UNFPA and staffed by UNFPA-trained midwives. Assisted by trained professionals equipped with the necessary supplies, she gave birth safely. Now her healthy son is a symbol of hope amid ongoing violence.
You can help provide hope to women like her who are currently living amidst conflict in South Sudan. With a contribution of $25 you can supply a woman displaced by disaster with 6 months of reproductive health supplies, enabling her to maintain her dignity.
While UNFPA and its partners have helped to safely deliver 3,500 babies in recent months, needs are escalating rapidly. With the rainy season approaching and large areas of the country likely to be inaccessible due to flooding, the humanitarian response could be undermined.
Only with your support can UNFPA provide the necessary reproductive healthcare for women in South Sudan. Please consider making a generous contribution so that even in tough times women can live with health and dignity.