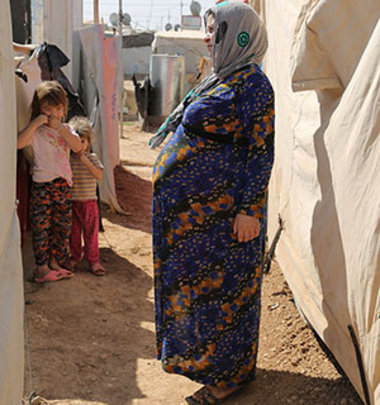 Syria is experiencing the biggest humanitarian crisis in the world today. With more than 3 million people, mostly women and children, being forced to seek refuge in neighbouring countries, the need for maternal healthcare is high. Over 400,000 refugees will give birth within the next 9 months and your help is essential to their care.
For only $11 you can provide 3 emergency clean birthing kits consisting of a bar of soap, a clear plastic sheet, razor blade, an umbilical cord tie, cloth and latex gloves to help deliver babies safely in crisis situations.
In the Dominz camp in Duhok Iraq, a UNFPA run maternity sees between 30-35 pregnant women each day. These clinics are a lifeline for many women and babies but additional supplies and trained midwives are always needed. UNFPA understands that in emergencies women's reproductive health needs are easily overlooked but women and girls are often the most vulnerable during crisis, and having a safe place to give birth is crucial.
Ruqaya, 36, leaves the UNFPA maternity clinic saying: "Despite the hardships and difficulties in making a living, other aspects of life go on normally." She and her four children had to flee their home in Qamishli, Syria and while she could not have imagined having another child, she is in the final stages of her pregnancy. "Life goes on," she said, "I am in the ninth month of my pregnancy now". Thanks to UNFPA and your donations, Ruqaya and other women like her are not alone and they are provided with the support and resources required to give birth safely, with fewer worries.
A donation of just $25 can provide one woman, like Ruqaya, with hygiene essentials for six months, ensuring that she is able to maintain her dignity and health in emergency situations.
"Having a maternity clinic in the camp is a relief," said Natja, a 25 year old refugee but your donations are still needed. Not only does UNFPA provide birthing and hygiene kits, UNFPA also provides emergency obstetric care and psychosocial support that are often forgotten about for those living in crises. Please consider making a kind donation to help save the lives of women refugees from Syria and their babies.