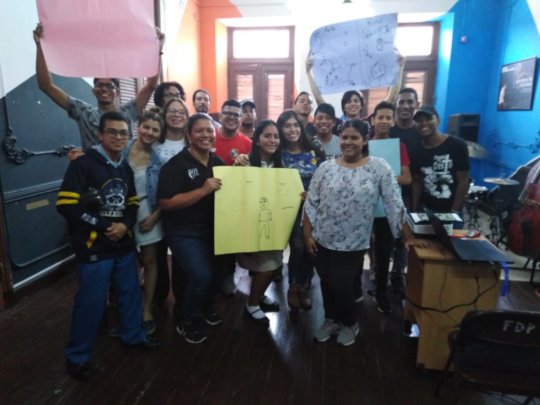 So we are at the end of June.
Pride has come, taken its stand, and gone, but the lessons it brought in its marches and flags need to stay with us. Things like equality, respect, acceptance and opportunity are values to be treasured, upholded and put into practice into everything we do.
As a foundation, especially one such as we are, they are in a way our northern star. The things towards which we strive every day. They inform everything we do, from our direction choices to our program's contents, and they are exactly what we want to provide for the women that go though our programs.
During this month, we did our part in spreading those values as an ongoing effort in 2019, working through programs parallel to CAPTA with private companies, governmental entities and other NGOs.
Working for equality, we focused on giving workshops and classes to empower people and employees through that spectrum. We finished the « Skills for Life » training with the young musicians of the Danilo Perez Foundation, we completed the first self-confidence module with the buisnesspeople at Pedersen (a company that distributes gourmet products) and we trained 300 people from the administrative personel of the Education Ministry (Meduca) of Panamá Oeste in the ways of laughter therapy.
Respect is a two-way street and we proved it by showing it in a tour of the Museum of Freedom and Human Rights and then it being shown to us through the official recognition of Calicanto as a strategic ally by the panamenian NGO Aldeas SOS.
This month, we also helped set the foundations for a better understanding of our country's situation and the reality we live in, through being a part in the creation of the Human Development Report Panama 2019 alongside the PNUD, as well as being present during its launch. In doing so, we hope to foster better acceptance and tolerance for the realities experienced by socially vulnerable communities.
Finally, we created opportunities. Teaching LGBTQI+ activists the full potential of the digital resources they have access to and how to harness them to make a lasting impact ; as well as giving a group of our graduates the chance to show their skills at the celebration of the Day of the Italian Republic held at that country's embassy on June 2nd.
Pride might be over, but to us, its lessons and values live on, feeding the change we try to make in the communities we work with and beyond. Now more than ever, they are in our mind, as we prepare to debut or new and improved CAPTA program this July. We promise to keep you updated.