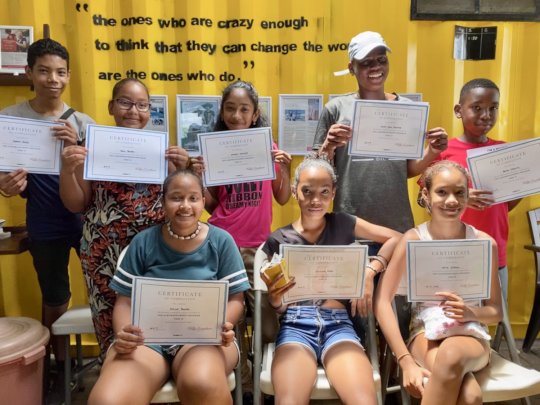 Hi there our GlobalGiving supporters,
Progress Report 4: Building Agripreneurs
This entire work was made possible through our first successful crowdfunding campaign on GlobalGiving, and with the help of several volunteers and staff who gave their time to this project. We would like to thank all of you for this.
Between 31 August and 27 November 2019, Farmcity welcomed 150 junior youths across the Northern region of Mauritius: La Tour Koenig, Bois Marchand, Cite La Cure, St. Croix, Triolet, Baie du Tombeau, Goodlands and Cottage. In Chapter 1, participants are first introduced to the possibilities of sustainable farming in a modern way through a tour of our Learning Farm. On their tour, they learn about the different strategies employed to farm in harmony with nature, taste some farm fresh produce, and even conduct a mini experiment to understand irrigation through capillary action. In the second half of the day, we turn the floor over to these bright, young junior youths! They are each given 2 scenarios to role play - first, as Minister of Agriculture to propose ways to make agriculture attractive to youths; and then taking on a superpower to solve some of the most pressing issues facing their communities today.
As Minister of Agriculture, these junior youths had some fantastic suggestions to make agriculture more attractive to youths. The most popular of all was to introduce agriculture as one of the core subjects in schools, because "if we are learning about Maths and Science, we should also be learning about agriculture too!" Besides the need for greater formative training in agriculture, the junior youths also highlighted that youths needed fuss-free and affordable access to facilities such as land, tools and equipment, and updated advice relevant to their realities. For example, if available land was far away from where they lived and difficult to access because of a lack of public infrastructure, then it would not be helpful even if the land was provided for free. The youths also recognized that litter and pollution was a direct result of people losing the connection with their environment. They reasoned that if communities were provided with greater support to care for their environment - such as making plants (in the nurseries) cheaper so everybody can afford to buy them to beautify their gardens, posters to remind community members not to litter, and more activities where parents could plant with their children, then it is likely that there people would care more about their environment.
When asked to identify some of the challenges facing their communities today, the top 3 issues highlighted were: drugs, violence, and poverty. Despite the bleakness of what they were faced with in their daily lives, and even if they had all the superpowers in the world, their solutions proposed were overwhelmingly positive and practical. Top of the list was to create more spaces for leisure - spaces such as football and basketball courts, places for community gardening, and safe spaces where people could simply sit and chat with each other. They also advocated for a complete ban on alcohol, cigarettes, drugs and pesticides. They reasoned that such measures would be for the betterment of everyone's health, would reduce the risk of alcohol-related fights and violence, as well as reduce the attraction to drugs. Another solution proposed was the need for more education on various topics including: effective parenting, teenage pregnancy, and drug prevention. These solutions were a recurring theme across each of the six groups that came to Farmcity - imagine the wonders that could be achieved if we simply gave young people a voice!
Initially planned as a single workshop to introduce modern farming to 150 youths, the learnings that emerged from the youth presentations left us reeling - we could be doing so much more, and indeed, we needed to be doing more! In response to their earnest and sincere sharing, we will be floating their suggestions to the relevant Ministries so we can give their voice a chance to be heard. Beyond that, we realized the urgent need to accompany these youths over a longer of period of time. It was from this point of realization that Chapters 2 and 3 of the Agripreneurship Program was born. In Chapter 2, participants will dive heads-in (and hands on) learning the basics of farming. As a group, they will learn how to prepare the soil, sow seeds, manage weeds, irrigate and tend to their own bed of crops on the farm. Their efforts will then culminate in Chapter 3: The Agripreneurs' Club, where they will follow a 10 week program to develop a selection of their ideas (raised in Chapter 1) into a first prototype to be tested on the ground. It is our belief (and hope) that improving their local food system, through initiative(s) that are developed by the community for the community, will pave the way for more positive changes.
Building Agripreneurs - Chapter 2: Tools Of The Trade
After having the privilege to witness such passion and potential among the junior youths in Chapter 1, we were determined to find a way to accompany the same group of 150 youths on their journey towards discovering their entrepreneurial talent. We applied for the Public Diplomacy Grant offered by the US Embassy of Mauritius, and was overjoyed when they informed us that they would be funding our project! Thanks to their generous support, Chapter 2 of our Agripreneurship Program kicked off on 25 November 2019.
In the second chapter, the focus is very much on learning the basic 'tools of the trade'. The junior youths come back to Farmcity for the second time, this time around spending the day helping out on the farm. They dive heads on (and hands in), learning about weed management, transplanting, and irrigation, as they work in teams on different areas of the farm. The goal is for them to gain some practical experience that they can easily use at home, whether they are planting in containers (such as when space is limited) or tending to an outdoor plot of their own. However, we recognize that isn't enough. To be an agripreneur, one must be able to identify opportunities where others see unsurmountable barriers, and having a keen sense of curiosity about the world around them is key! To spark that curiosity, we send the junior youths out on a journey of scientific exploration in the later part of the day. They travel into the hidden universe of the microscopic world, examining different samples of things found around the farm - from pollen grains of the squash flower, to the digestive tract of the amazing earthworm, to the beautiful exoskeleton of the Coconut Rhinoceros Beetle. They also learn about the different physical states of matter through an activity called "Drawing On Water", where they engage their inner Picasso and dabble in some hydro dipping. Finally, the participants, activating their innate sense of logic and reason, race against time to piece a 3D-puzzle together.
Chapter 2 of the Agripreneurship Program is currently ongoing, with the remaining 75 participants expected to come in January and February of 2020.
The Journey Continues With Chapter 3
In keeping with our commitment of quality over quantity, it is our hope to continue accompanying the same 150 youths that we worked with in 2019. Building on all they have done in Chapters 1 and 2, the junior youths will continue their agripreneurship program with the Agripreneurs's Club. Instead of coming to the farm however, we will be heading into the villages this time around! We will work on developing some of the ideas that was raised in Chapter 1, build a prototype using the skills they learnt in Chapter 2, and culminate in a Pitch Day where they will pitch their solutions in front of a panel of judges.
We plan to start 6 Agripreneurs' Club, one in each of the following localities: Baie du Tombeau, La Tour Koenig, Bois Marchand, Cottage, Sainte-Croix, and Triolet. Can you imagine testing out their ideas, developed by the community, for the community? We can, and we hope you can too! We will require significant resources to make this happen, and it wouldn't be an understatement to say that this will truly 'take a village' for it to come to fruition.