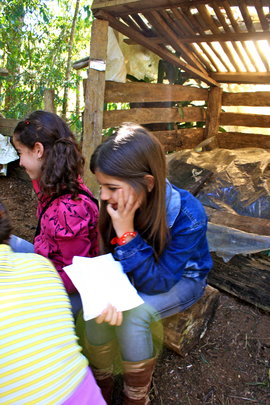 Tuesday 19th July 2011 - 0530. Still dark, first stirrings at the Iracambi Research Center as sleepy students brace themselves to face the early morning mountain chill. Sleep is dispelled by the sound of the motorbike as Carminha, the Center's cook, shows up for work. Today she needs to make breakfast for fourteen international students, two Globalgiving interns, and one professor. Plus good sustaining snacks for a hundred odd Junior Scientists, teachers and well wishers.
Meanwhile across the county, in small villages and along dirt mountain roads, Junior Scientists are eagerly awaiting the school bus to take them to the opening day of Junior Scientists @ Iracambi. Each child will be coming once a month for the whole school year, to learn how to make seedlings of native forest trees, plant and care for them in the right season, practice soil and water monitoring, and input their data into the Iracambi GIS. Doing real science with real equipment.
0700 - one of the power lines is down and the last leaflets about forest trees haven't yet been printed. Toni the nursery manager shins up a tree and together with Clovis, husband of Carminha the cook, manages to restore power. Talk about Just in Time Delivery.... There's an air of preoccupation as students scurry to their posts - the kids should be arriving any minute. A delegation has been sent to meet them off the bus, the other side of the wooden bridge which can't take a bus full of excited kids. Meanwhile in the open air dining hall, Charlotte and Krystyn are ready with stick-on labels for each team - Team Ocelot, Team Humming Bird, Team Vampire Bat, Team Otter and Team Muriqui Monkey. The children surge up the road, excitement written on every face. After tucking into hot chocolate and fresh rolls with home-made peanut butter, and it doesn't take long before the initial shyness wears off and everyone starts mingling. Each team goes to a different station, some jump into the river and measure width and depth, others go to the nursery to make seedlings in recycled milk cartons. Team Humming Bird sits in a big circle under the mango tree talking about the carbon cycle while the Ocelots head to the classroom to talk about ecosystems and the Muriquis settle themselves on the brand new footbridge (completed yesterday) and learn about forest water monitoring. The state-of-the-art equipment was donated by the manufacturers, and nothing remotely like it has ever been seen in our neck of the woods before.
You wouldn't believe that three hours could pass so fast. And everyone, from the ten year olds to the fifteen year olds, is engaged, excited and learning. So now there will be one more week of school holidays and then each Junior Scientist will visit us every month of the school year to learn how to collect and store data and care for the Atlantic Rainforest. They´ll be sharing their discoveries with their families, and growing up to be a new generation of forest guardians.
And it's thanks to you all: we couldn't do it without you! Thanks to Partners of the Americas who have supported environmental education at Iracambi over the past ten years, thanks to Vernier who generously donated our water monitoring equipment, thanks to Globalgiving who introduced us to a whole new way of fund raising, and most of all, thanks to each one of our donors. Junior Scientists @ Iracambi is up and running - yeaay!
Rainforest hugs to you all!
Binka, Robin, Fernanda, Marcos and the Junior Scientists @ Iracambi
Links: