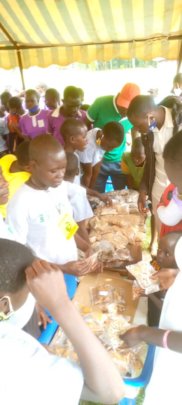 Despite these challenging times many of the young agripreneurs who have participated in Agcelerate are expanding their businesses, seizing opportunities for personal development, sharing their knowledge and training others less fortunate. A few examples are described below:
On January 9th, Denis (Bandera Farmers Network) organised an expo under the theme "Enhancing Value Addition for Sustainable and Innovative Agriculture - Transforming Youth Livelihoods in the Busoga Region". He trained 30 young people that day in basic agri-processing skills and is mentoring 56 young girls.
Ambrose has been awarded a scholarship to undertake a Master's Degree in the United States at the University of Notre Dame, Indiana. The degree is in Science, Technology, Engineering, and Innovation Entrepreneurship.
On January 27th Francisca gave a presentation in the SIANI (Swedish International Agricultural Network Initiative) Annual Meeting on "Being a young agripreneur and the consequences of COVID-19". Francisca is founder and co-owner of Hallmark Bio Enterprises which is a mushroom business. Francisca also is involved in training refugees in the Refugee Camps in the North of Uganda.
The Agcelerate Organising Committee has been working on the Agcelerate Operational Framework and the medium- and long-term strategy to ensure the future development and sustainability of this multi-stakeholder partnership.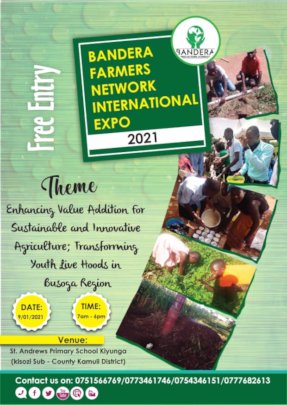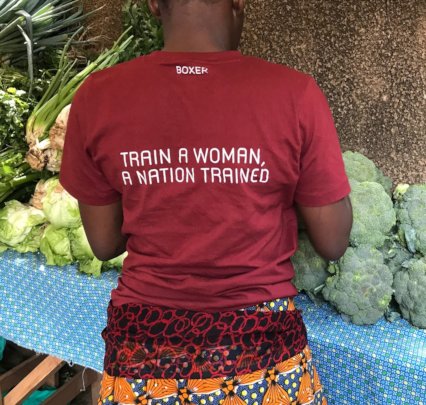 Enhanced on-line Training Course
From July to September 2020 the Entrepreneurship in Agribusiness course was organised as completely virtual course working with entrepreneurs through the GoGettaz Generation Africa Agripreneur Prize 2020. Over 300 participants actively followed the course from over 32 African countries. To enhance engagement and exchange, weekly webinars were held, and a WhatsApp group created which proved to be extremely dynamic. The course closed at the end September and close to 80 business plans were submitted. They are currently being reviewed by experts and individual feedback will be given to each participant or team. It was a strong learning experience for us to organise the course virtually and yet provide individual support to the participants across all these countries. With this support the completion rate was five times higher than the average for an on-line course!
Blended learning Training
The new cohorts are starting in our partner Universities in the coming weeks. In mid-November we are organising a virtual Training of Trainer session with several new Universities in Uganda and Kenya and in the Democratic Republic of the Congo (a new country for our activities),
Study on Agribusiness Incubation in Sub-Saharan Africa
The FAO and the African Union commissioned the Agripreneurship Alliance to conduct a comprehensive Study on Agribusiness Incubation. Before the lock-down, trips were made to South Africa, Ethiopia, Cote d'Ivoire, and Nigeria to do 'deep dives' on incubators in those countries. From the desk research over 450 organisations were investigate and over 300 mapped for inclusion in a Directory - the first of its kind. As physical workshops are not possible, the African Union and the FAO decided to organise a series of webinars 3 sub-regional webinars covered Southern, East, West & Central Africa and included a total of over 600 participants and 20 panellists. The final webinar is on November 5 and will be cross-regional. The panel includes the World Bank, the African Development Bank, and other key organisations. The aim of these webinars is to share the findings thus far and get feedback and validation from stakeholders. The webinars also aim to draft the way forward for a proposed programme to build the network and strengthen the agribusiness incubation and acceleration across the different regions in in Africa. The FAO is very pleased with the work so far and has asked us to extend the Study to North Africa in 2021.
The Agcelerate 2020 workshop went ahead as planned on August 13 & 14 with a total of 250 participants mainly students, recent graduates and young agripreneurs. 170 participants logged-on individually via Zoom and a further 90 were present physically in 4 Hub locations in Uganda at the Marula Creative Consultancy and Makerere University Business School in Kampala, Gulu University and Bishop's Stuart University in Mbarara. Thus the target to help grow over 200 current and aspiring agripreneurs was reached.
The theme was Agribusiness in a Changing Climate– Day 1 focused on the Changing Business Climate especially related to the COVID-19 pandemic and Day 2 related to Adaptation to Climate Change in Agriculture. There were some extremely inspiring speakers such as Edgar Kasenene the COO of Idex Africa who challenged the participants to "reskill and create new value in the new operating environment". There was also a panel discussion with leading Ugandan personalities including Professor Maggie Kigozi, Emmanuel Okalany of RUFORUM and Nicholas Ssebalamu of Field of Hope. We also heard from several young agripreneurs (who have participated in previous Agcelerate LABs) on their progress and how they have adapted to COVID-19. See for example Steven Balyejjusa of Mercy Farms, Mityana in the photo above who, in addition to his wine business, now has a flourishing mushroom farm. Hillary Nahurira (Active Living, Mbarara) who had a growing business producing lemon after-shave was faced with a difficult situation when barbers shops were closed due to the pandemic. He rapidly adapted to the situation and started producing hand sanitisers and disinfectants and his business has grown very significantly.
On Day 2 there was a very inspiring call to action by Vanessa Nakete, a global climate change activist who studied at MUBS, as well as practical information on various means to adapt to climate change. The entire 2-day event was highly interactive through live Q&A, the Zoom chat function and group work discussions that were held in the Hubs and virtually on the Zoom platform.
A survey has been conducted to determine the subjects of most interest to organise further on-line practical sessions. Top subjects were poultry farming, food safety and organic fertilisers and pesticides. These sessions will be organised in the coming months.
WARNING: Javascript is currently disabled or is not available in your browser. GlobalGiving makes extensive use of Javascript and will not function properly with Javascript disabled.
Please enable Javascript
and refresh this page.