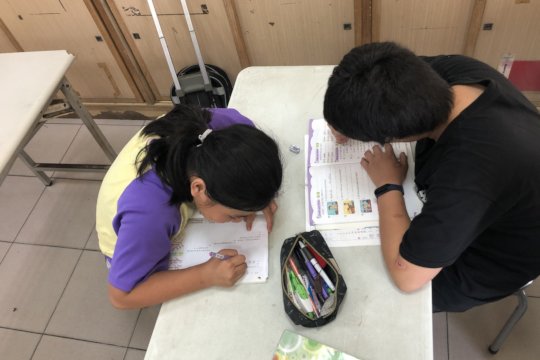 "Xiaohao has always been the pillar of the Ocarina, and it plays very well, but in fact, Xiaohao hides the helplessness in the face of family changes in the sound of Ocarina, and vents his emotions through music." The director is distressed. Talking Xiaohao.
In the eyes of classmates, Xiaohao is a happy pistachio, who talks humorously and jokes. The students who often laugh are laughing. Also, Xiaohao is a superb club post of the flute art, but it is little known that Xiaohao's father Suffering from heart disease and poor physical condition makes it difficult to find a job, so I often worry about drinking and drinking, but the more I drink, the more worried. The economy depends on my mother's teeth to support this family. My mother is tired at work, so Xiaohao shoulders Taking up the responsibility of taking care of my sister, playing the Ocarina with both hands and picking up the spatula, trying to learn how to cook, so that my sister can have hot meals after school.
"Brother's cooking is difficult to eat," my sister said naughty, but she could tell the dishes cooked by her brother like a few treasures. Later, she whispered that her brother would cook very well. I like to eat fried rice. At that moment, I saw my sister's admiration for her brother.
After school, Xiaohao had to share other household chores besides cooking rice for her sister, but the school work was not affected at all. She took notes carefully in class, even if no one urged, she could complete her homework spontaneously, and her test scores should always remain above 90 points. If there is something that my sister does not understand, Xiaohao will be transformed into her sister's exclusive tutor, patiently instruct her, and with the help of Xiaohao, she will be the best in the class this mid-term exam.
There is another month for the summer vacation. Xiaohao wants to continue training with the school's Ocarina, and he is worried that his sister will have no one to cook for her at home. In addition to the camp activities funded by the Children's League, the younger sister can have a place to go after Xiaohao's practice. The brothers and sisters can go to school together happily during the summer vacation, even lunch.