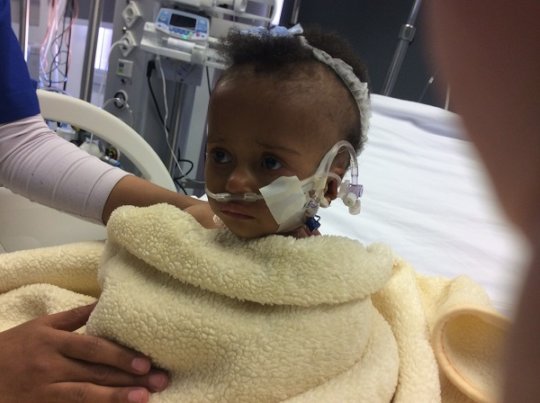 Thank you donors, partners, and well-wishers for your generous support and cooperation that motivate us to continue our efforts to help needy children with heart disease in Kenya to receive intervention. Since we entered 2018, Take Heart Association Project (THAP) has blessed over 200 children and families with surgeries, interventions, medicine, food, personal care packages, accommodation, and support to enjoy healthier lives.
During this quarter, THAP administration and staff continued to serve patients and families. Two patients underwent successful heart surgeries to correct anomalies. Patient, Conso received corrective procedures for congenital heart defect at Tenwek Hospital in Kenya in June 2018. In early July, Baby Fay was escorted to Egypt and received successful open heart surgery at Aswan Heart Hospital. She traveled back to Kenya from Egypt in late July, 2018. Baby Fay was sponsored by Chain of Hope, a UK-based Foundation that enables children to have access to care that they would not otherwise receive. Home visits are planned for August 31, to ensure both patients are making good recovery.
THAP also provided the following:
Medicine: THAP provided 10 patients with post-surgery, sustaining medicine this quarter.
Medical Reviews: 17 children underwent medical reviews this quarter. Nine of these patients were presented for screening at MP-Shah Hospital in Nairobi Kenya in July. The screenings were conducted by Mending Little Hearts, a UK based Foundation.
Accommodation: 13 patients were accommodated at the THAP Family Support Center in Nairobi this quarter. This August, Baby Tami is celebrating 2 years as a resident of THAP Support Center in order to receive weekly treatment for heart ailment at the nearby Mater Cardiac Hospital.
THAP's work is not finished. During the past two months THAP received six new patients with heart ailments that need urgent intervention, plus there are children on a Waiting List that require assistance. Thank you to the Cardiac Surgeons, Medical teams, and interested stakeholders that held conferences, and visited THAP Support Center in Nairobi. We look forward to continued collaboration to better serve those in need.
THAP and Children & Charity International are grateful for your continued donation to this worthy cause. Please spread the word to your friends, family, and social media networks so we can get the resources needed to continue impacting the lives of needy children, and families in Kenya, who would otherwise not have a chance at a successful life.