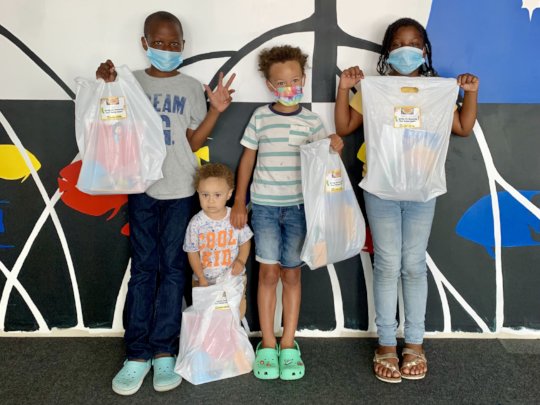 To encourage family conversations around children's mental health and well-being, the Virgin Islands Children Museum distributed a 5th At Home Discovery Kit in Fall 2021.

At Home Discovery Kit 5 was designed to help recipients support their children's physical, social, emotional, cognitive, and behavioral well-being with an invitation to "Spring into Measuring Your Mental Health". The kit was curated for ages 2 to 8 but all children were invited to increase their understanding of units and measurements in a way that allows families to have fun together! A primary goal of the kit was to help kids gain a frame of reference that is always with them by encouraging them to take length measurements of their own body, create planters from items inside the home to grow their own food-bearing plants, and through tracking both the growth of their plant and their mental health.

This At Home Discovery Kit included school supplies and a colorful 12-page activity booklet with options for independent discovery as well as the opportunity to interact with a parent, adult, and/or guardian to support engagement and learning. Games and guides to emergency preparedness were also included to get children involved in planning for a natural disaster. The book encourages open communication about extreme events which can help children express their emotions and be mentally prepared for difficult times.
This is the largest disbursement of VICM Discovery Kits to date with 2,000 kits gifted to kids territory-wide. This kit was made possible through the Virgin Islands Children's Museum's partnership with The USVI Department of Health Maternal Child Health Division Project LAUNCH Program, USVI Department of Agriculture, Storm Strong VI and Dr. Adam Parr of the University of the Virgin Islands, the Children and Youth Task Force, and through generous donations from the public via the ongoing GlobalGiving.org fundraising initiative: At Home Discovery Kits for VI Families (47832).
Thank you for helping us help kids Explore, Play, Discover, at home.

Sincerely,
The VICM Team
https://www.vichildrensmuseum.org/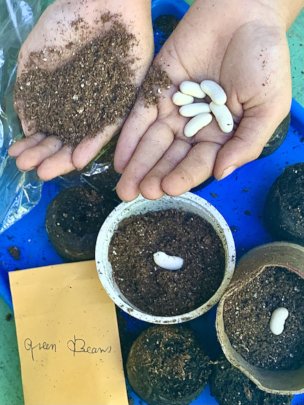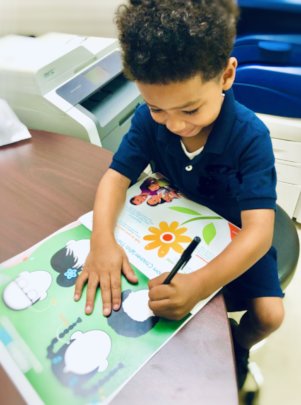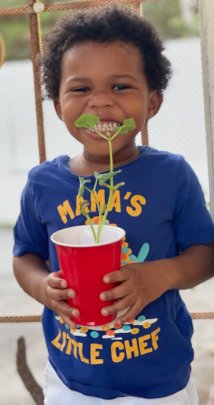 Links:
Attachments: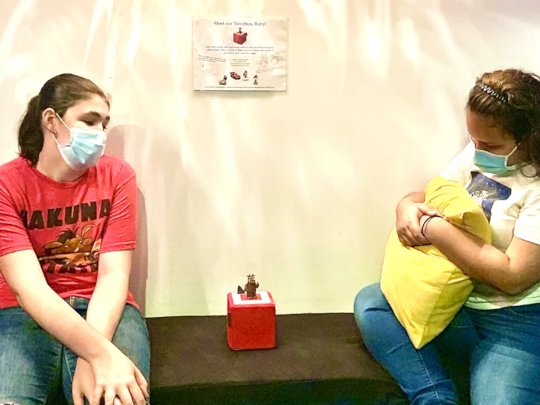 To the generous donors of our GlobalGiving Art Exploration Campaign,
We are pleased to report that your charitable contributions helped us purchase a new audio book storyteller character for our Book Nook. The books in our reading nook have been removed due to COVID-19. Therefore, in an effort to continue to provide a quiet place for families to take a play break, we have added an audiobook device to the Book Nook. Children and families can sit in the cozy reading space to explore literature and song together by coupling character figurines with the audio device.
Donations in this funding cycle allowed us to acquire a new character storyteller, The Gruffalo. This award winning children's book was written by Julia Donaldsonis in rhyming couplets, featuring repetitive verse with minor variance. The Gruffalo is a fitting addition for Fall, a time when various holidays may present scary things and monsters. The monster character in this book helps families explore human fear of the unknown and the unexplained while teaching kids not to be unduly fearful. Kids regularly ask for new song and story characters, and we are pleased your donations have helped us provide this avenue for families to explore the arts in a unique way.
The art exploration campaign is ongoing and while our Book Nook exhibit continues to be a beloved place for families to enjoy songs, nursery rhymes, and stories together, it is in need of an update; paint is worn and cushion covers are threadbear. We will continue to make improvements in this area to allow families to explore literature and song in a clean and cozy environment.
Thank you for helping the Virgin Islands Children's Museum expand the literary offerings in our Book Nook space.
Sincerely,
The VICM Team
Links:
Attachments: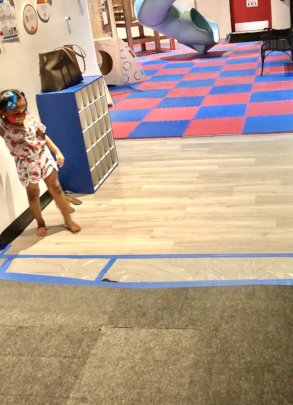 To the generous donors of the New Flooring for the VICM campaign,

We are pleased to report that your charitable contributions helped us purchase 14 cases of vinyl plank flooring. Volunteers and staff have installed the approximately 350 square feet of planks and families are already enjoying the areas of the museum that have new safer flooring!
Kids regularly kick up the existing carpet tiles still present in much of the museum. Further, the old, broken, and uneven tile underneath the carpet is not acceptable in such a high traffic environment. Vinyl plank flooring throughout the museum will give families a safer place to play and make cleaning and maintaining a healthy learning environment an attainable goal for museum staff.
This GlobalGiving campaign is ongoing as we aim to cover the remaining 1,250 square feet of museum floor that requires this safety upgrade.

Thank you for helping the Virgin Islands Children's Museum to improve the safety of the museum while beautifying the space. Your contributions have given us encouragement and the funds necessary to keep this effort moving forward.
Sincerely,
The VICM Team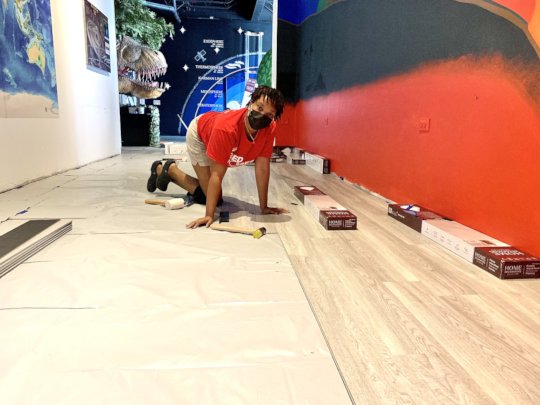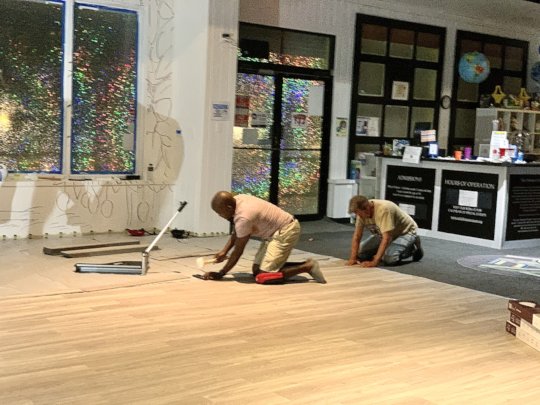 Links:
Attachments:
WARNING: Javascript is currently disabled or is not available in your browser. GlobalGiving makes extensive use of Javascript and will not function properly with Javascript disabled.
Please enable Javascript
and refresh this page.