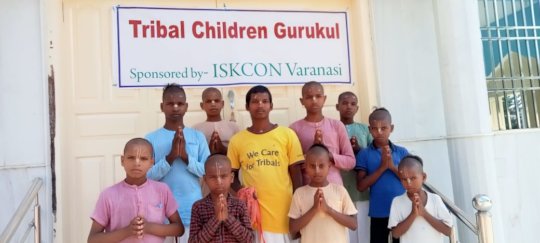 We are delighted to report about the successful progress of our initiative to Help Tribal Kids get food, education & shelter.
ISKCON Varanasi, in collaboration with ISKCON Pirpainti under the inspiration of His Holiness Bhakti Purushottam Swami, is establishing a Gurukul where tribal kids are provided with free shelter, food, clothing, education, health facilities, spiritual values, skill training, and a warm family environment, to give meaning & fulfillment in their lives.
Currently, there are 10 students along with 4 teachers and 5 employees residing at our center.
Last quarter, students at gurukul did cleaning in the nearby area, in this way they learned to contribute to society.
We also organized cultural festivals where students did cultural presentations and art performances. It helped them learn and imbibe the deep-rooted Indian Culture and many different arts.
Students here are delighted and focused on their growth in life. They are getting modern education with value education to lead a valuable and character-centered lifestyle. We are providing three times full hygienic meals to everyone residing in our gurukul.
Video for Introduction to gurukul: https://youtu.be/Bk-UXP5vuGc
We are very thankful to all our generous donors who came forward and helped us in this valuable and noble cause.
At Last, we request you to visit and share our other initiatives with your family and friends. It helps us reach more people and grow.