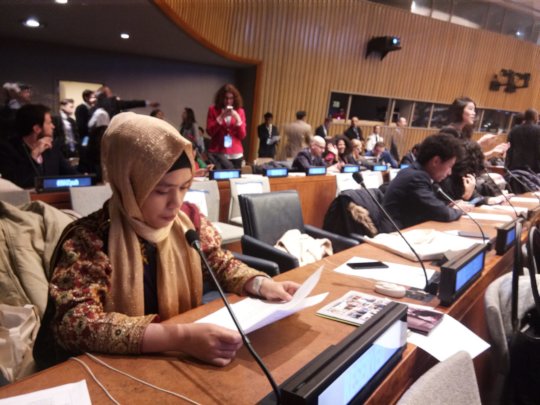 Dear Friends & Supporters,
As we begin a new year, I would like to give my warm wishes to you all and a big thank you to all of you who helped our program during in 2018. One of the unique aspects of our project is that our engagement with young people does not end after their year of volunteering. They join the pool of previous Alumni (at present numbering 115) who then are utilized by KI as project staff, trainers, mentors, resource persons, facilitators etc. They remain connected to KI and we endeavour to link them to opportunities to promote peace.
We were extremely proud and overjoyed when Alumni volunteer and current project staff, Asmin, was selected to attend the 8th United Nations Alliance of Civilizations (UNAOC) Global Forum in New York, last November, Asmin spent 3 days at the UN headquarters, where 100 young people discussed about their grassroots initiatives, innovative ideas in the areas of Peacebuilding, Media & Preventing Violent Extremism, and their inputs towards the United Nations Youth Strategy.
Asmin commented "It was such an honor to be here in UNHQ, before it was just a dream but now it is a dream come true. Indeed, young peacebuilders should continue to promote diversity as a social effort, redouble the efforts as well of tolerance, and support dialogue between civilizations of people. I personally, commit to promote young people as agents of peace and change, that they can contribute on Political decision making, faith-based, and support Gender Equality."
We at KI, with your support, will continue to work hard to give more young people from Mindanao as voice in the world.
Thank you
Mariam