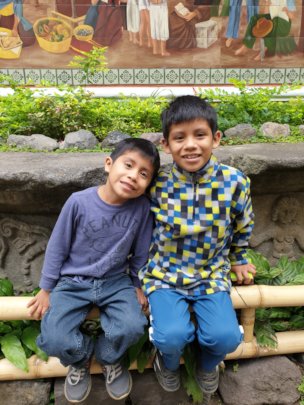 In November 2019, 6-year-old Jesus and his older brother Angel, 7, entered in to our Casa Jackson Hospital for Malnourished Children weighing 30 lbs. (13 kg) and 42 lbs. (19 kg) respectively. This was Jesus's second time in Casa Jackson, and the first for Angel. They were both severely malnourished and at serious risk of long-term health problems. Their mother, Leidy, was doing her best to take care of them but did not have enough money to be able to buy the food the children desperately needed to survive.
In January 2020, having successfully recovered from malnutrition, the two boys enrolled in our Dreamer Center School. Jesus was in our preschool class and Angel in first grade. The two boys were extremely excited to be able to begin their education, within eyeshot of the place where they had their lives saved from malnutrition.
As of November 2019, Leidy has been a part of the Mother's Club in the Project, and receives vegetables each week to help feed her children. The boys also receive two meals and a snack as part of their school day. This ensures that they are no longer at risk of malnutrition and can focus on learning, rather than on where their next meal is coming from.
Unfortunately, due to the COVID-19 pandemic, our two Schools are currently closed due to Governmental decree, but Angel and Jesus, like the other children in our schools, are receiving workbooks which they can do at home to make sure they do not fall behind. Jesus and Angel live with their mother, who is also a former student of ours, in Jocotenango, not too far from the school. Their house is made of sheet metal with an earth floor. Leidy makes tortillas and earns between Q30 and Q50 ($3-$6) a day.
Jesus loves to play, especially with footballs. He also loves drawing and painting. Jesus likes to play with his big brother who he looks up to. When he grows up, Jesus would like to be a fireman because firemen are 'buenísimo!' (great!). This year in school Jesus wants to try really hard to listen to his teacher when she is talking.
Angel loves to play, especially games where he can run around. He says that he has 'lots' of toys at his house to play with. Angel likes to play with his little brother who he takes care of when it is playtime. His favourite time in school is playtime and his goal this year is to be able to work as well as his classmates. When he grows up, Angel would like to be a police officer so that he can capture robbers.
Leidy tells us that the two boys are extremely impatient for school to start again so they can come back and see their teachers and friends. We want to keep providing them with the opportunity for a better future though education.