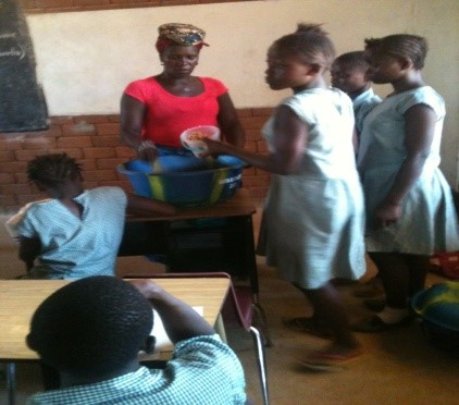 MALLORY JANSEN MEMORIAL SCHOOL – NGOLALA UPPER BANTA CHIEFDOM, MOYAMBA DISTRICT S.L
JANUARY TO MARCH 2016
In a post recovery period of Ebola, we thank you for continued support for the provision of food through A Brighter Tomorrow for Africa (BTA) funding.
This has made a remarkable impact on the lives of our school going children in Upper Banta Mokelleh Chiefdom Sierra Leone.
In a community meeting with parents of the pupils, they were happy saying the Children of the Nation school Sierra Leone is the only school in this part of the country that is feeding children at school. That is the reason why their children are doing so well in learning with the support of the teaching staff. Quality education is standard in every COTN SL schools.
The number of the school enrolment has increased over the years and parents are coming with their children for new admission into the COTN SL schools. Food has been cooked well and nutritious for the children to eat at lunch time. The girl-child education and early child-hood education is improving at the community level.
Children's Stories:
A seven year old boy who is in class 2 is doing well. He says he is happy to be in school every morning because there is good food meal (the BTA) every lunch hour for him to eat. This makes him happy to learn more and think well in class.
He said he would like to study hard to pass his exams because when he was in the nursery, the Ebola Virus outbreak did not give him any chance of schooling for fear of the attack. Now that he is in school, he is eager to top his class in any examinations.
"My future dream is to become a Lawyer to help defend the poor people and children that do not get good support from their parents," he said. At home he always asks his brothers to assist him with his school homework and he is highly curious to learn. He is thankful for the opportunity given to him in attending school at Ngolala.
A seventeen year old girl in the Senior Secondary School Ngolala wants to become an accountant after completing her Secondary and University education.

She sat to the National Primary School Exams (NPSE) and got a good grade to go to the Junior Secondary School (JSS). She continued to grow gradually in her academic work throughout the JSS and was then enrolled for the Basic Education Certificate Examinations (BECE). She passed her BECE exams and got aggregate 22 which is a very good grade.
"I have now got the courage to learn more in school. I am now in the Senior Secondary School (SSS) in grade eleven (11). In the SSS, I am currently studying very hard to complete and make sure I got good passing grades on all my class subjects. The BTA food has been really a good source of strength for me especially in the area of my hunger."
She continued. "The BTA food is more effective to me now that we have the one shift school system. It helps and keeps us full throughout the whole school day."
A ten year old girl in class 3A attending COTN SL School Ngolala lives at Jiminga Village about two miles from her school. She has five sisters of the same mother and father. The parents are farmers who lived on subsistence farming. Among these children, they have four of them that are attending COTN SL School at Ngolala.
She says she is very happy being in school because she wants to learn and finish up to become a nursing sister in her village.
When asked about the BTA food meal, she always tell her parents not to worry about lunch or school feeding because she eats the BTA every day when she is in school. "The food I eat in school is very delicious and healthy which makes me to grow more and stronger in both my academic and physical body fit" she said. In school, she is among the first five students in her class since she started school in the nursery.