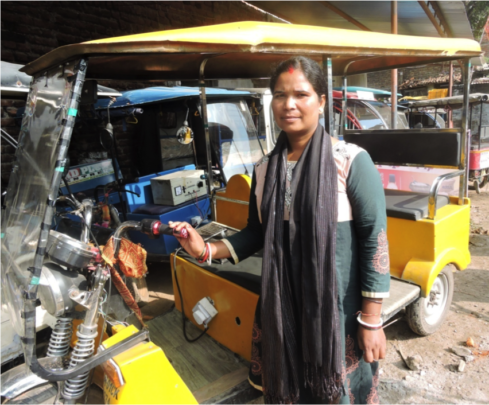 Dear Maitri friend,
Maitri wants to share a story of success that will inspire generations. Among all our benefeciaries, Maitri wants to take pride in sharing the journey of a woman as a rickshaw puller.
Driving her way;
This case study is of 25 years old woman who is an e-rickshaw driver from Guddu garage. Maitri is happy tp share a story of resilience and women power that reflects that when need arises, there is no job a woman can't do. Also poverty is not only limited to a class that is illiterate, but it can also adversely affect those who are educated and were once well off.
This young woman is married to one of our benefeciary who works a private coalfieds and earns a meagre amount. They have a son who studies in standard 4. The couple bought an e-rickshaw on loan and lend it on rent to a person to drive. The purpose was to increase their income and support the family. But the e-rickshaw became a liability for them as it often broke down. The driver who used to run it often came with the e-rickshaw either broke down. He also did not give proper rent amount and never on time. Having faced so much of complications in renting the erickshaw, they decided to stop using the service.
Struggling to make ends meet, She decided to start driving E rickshaw. With her husband's support ,she started driving it.She has been driving e-rickshaw and takes pride in being the only women driver from this garage. She commands respect.
"I drive daily from 11 am to 6pm in the route from Kutchehry chowk to High court. I earn around 600 INR per day.
I am happy that I made this decision".
She was a graduate and tried for government jobs as well but could secure none. So in the face of adverse poverty, when her education also could not land her into a job, her good decision making skill and confidence (that she owes to her education only) led herto tread on an unconventioanl path and succeed. She is a shining example of women
power as well as a believer that no work is inferior.
Activities and health camp
This month, Maitri, Ranchi, was invited to attend a daylong workshop on Basics of Complete Street organized by Institute for Transport & Development Policy (ITDP). Some other ngos like Maitri, CHSJ, Jagori, MHT, and Citizens Foundation were part of the same.
The workshop involved presentations that discussed the accidental inaccuracy in street design wherein they explained how in designing streets there is often more accidental mistake rather than deliberate ones with examples from different cities; the basic principles of complete street design wherein the principles of street design, elements of street, different street typologies, issues and challenges .
Such a workshop also helped our beneficiaries to be aware about what complete street is, and involved them in getting important suggestions and inputs for developing a holistic street design manual, which Jharkhand government is going to prepare.
Apart from this,. This month Maitri organized health camps in Dhananjay Garage, Pawan Garage and Vijay garage. Health is an issue which Maitri looks at very seriously. Owing to their financial limitations and harsh working conditions most RPs and their family cannot afford proper healthcare. Our health camps are a means to bridge the gap in the healthcare system. Regular check-ups have helped the target population get treatment and bring in awareness about their health conditions
Major cases of body ache; especially leg pain, back pain and whole body pain are seen due to the nature of their job. Due to seasonal change, majority of the Rickshaw pullers were found to be affected by fever and cold. Majority of them have problems of gastric and indigestion as well as worms were common here.
Thank you for giviging us a platform where we can salute such stories .
We couldn't do it without your support.
Thank you friend!